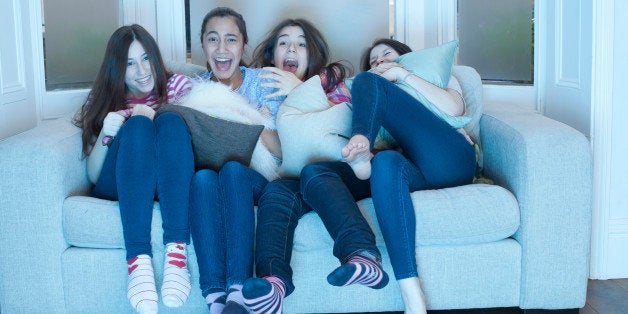 This article was written by teen reporters from The Mash, a weekly publication distributed to Chicagoland high schools.
By Nikki Pietrus, Whitney Young
Let's be honest, some of the best shows on TV might not be as squeaky clean as your parents would like to think. But is that going to stop you from watching these gems? Heck no!
OK, now imagine this: You're sitting down to watch Netflix with your parents and your mom starts talking about that new show everyone's been raving about, "Orange Is the New Black." Before you can say anything, she turns it on and you're stuck in the most awkward situation of your life.
Don't put yourself in this situation ever again. Here are five fantastic shows that are awesome for watching on your own --- but not so much with your parents. We ranked them on a scale of one to five -- one being slightly awkward, and five being painfully weird.
1. "Breaking Bad" If you weren't on the "Breaking Bad" bandwagon before, you're probably curious about it now. The series follows the story of Walter White, an overqualified high school chemistry teacher who turns to cooking meth after learning he has terminal cancer. Despite the obvious theme of drugs, the show is also filled with lots of violence, gore and downright scary scenes.
"At first, my parents saw me watching 'Breaking Bad' and thought it was kind of inappropriate, but the show is so good that they got hooked too. Now we watch it as a family," said Marist senior Kendall Maddix.
2. "Weeds" The name of this show should be an immediate indicator of what to expect. "Weeds" stars Mary-Louise Parker as a suburban mother who turns to selling pot after her husband dies. This may sound similar to "Breaking Bad," but "Weeds" takes a more comical approach to the drug-dealing plot line.
"'Weeds' is hilarious, but I always make sure I watch it late at night or when my parents aren't home," said Whitney Young senior Joey Albarran. "You never know what you might see."
You can expect heavy profanity, drug use, sex scenes and nudity -- all things that might be a tad awkward if you're watching with mom and dad.
3. "South Park" Trey Parker and Matt Stone's hilarious creation is still producing new episodes on Comedy Central. But if you find the show on Netflix, you can watch the unrated versions, which are packed full of profanity and crude humor.
"My brother was watching an episode of 'South Park' on our family room TV and I didn't think much of it," said Whitney Young senior Cortny Trueba. "That is, until some colorful language shocked my mom, dad and even my grandma."
4. "Shameless" "Shameless" focuses on the dysfunctional Gallagher family. Led by an alcoholic father and an absent mother, the six Gallagher children are left to navigate the world on their own. Unfortunately, their moral compasses aren't leading them in the right direction.
"This show should really be called 'Shameful' because that's how I feel after watching," said Nazareth Academy junior Courtney Urzen. "There is always a lot of profanity, sex, drugs and alcohol in each episode."
5. "Orange is the New Black" Netflix hit a home run with its new series. Socialite Piper Chapman is in for a shock after being sentenced to 15 months in prison, convicted of transporting dirty money for her drug dealer girlfriend. "Orange Is the New Black" is sprinkled with intense sex scenes, nudity and profanity.
"I was even shocked by how bad some of the scenes are," said Whitney Young sophomore Jessica Lathan. "But the show is so good, I don't mind it anymore, I'm addicted."
Calling all HuffPost superfans!
Sign up for membership to become a founding member and help shape HuffPost's next chapter
BEFORE YOU GO
PHOTO GALLERY
6 Reasons Sam & Cat Will Be Awesome BFFs