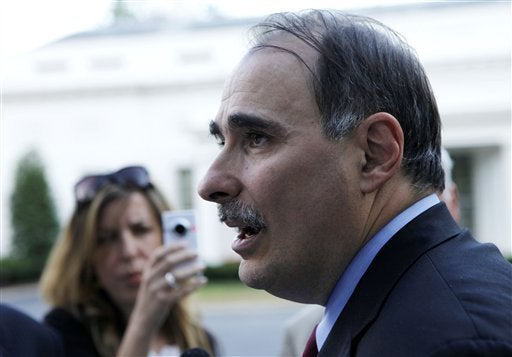 White House Senior Adviser David Axelrod said on Monday that the debate over abortion -- specifically, the extreme views of some Republican candidates on the procedure -- will "certainly be an issue" for Democrats in the fall elections.
But in the same breath, while suggesting that the hot-button topic is politically potent, he insisted that jobs and the economy will dominate the Democratic pitch to voters as November 2 approaches.
"I think [abortion] is certainly an issue in the campaign and there are some people running on their side who have a very, very extreme view of this," Axelrod told The Huffington Post and National Review's Robert Costa. "Obviously they know that that is a problem because they omitted mention of all that from their Pledge [the GOP's 21-page governing doctrine] and I think that is telling. And I am certain that that issue will be raised in issues all across the country. But the focus for Americans right now is the economy and where we go with the economy.
"I'm sure that will be an issue with [suburban female] voters," he added. "But those voters, like all voters, are primarily concerned with where we go in this economy and how the middle class is going to carry on given the pressures they have been placed under in the last decade."
With Democrats searching to close the enthusiasm gap with Republicans before voters hit the polls, several party strategists have begun looking to issues like abortions for political motivation. As HuffPost's Amanda Terkel reported, there is a uniquely large slate of "pro-life without discrimination" Republicans running for office this cycle, including 63 House candidates endorsed by the RNC for Life and a number of high-profile Senate aspirants. Sharron Angle (Nev.), Ken Buck (Colo.), Roy Blunt (Mo.), Joe Miller (Alaska), Christine O'Donnell (Del.) and Rand Paul (Ky.), all oppose abortion even in cases of rape and incest.
There has been, generally, a slow tilt towards more pro-life politics in American governance. But the position espoused by these candidates remains outside what has traditionally been the GOP mainstream. Simply pointing to past statements, moreover, has a galvanizing effect for lethargic voters. A poll commissioned by Emily's List -- an organization tasked with electing female candidates -- revealed that 61 percent of unenthusiastic Democratic women voters said their interest in voting increased a "great deal" when told that their votes could help defeat candidates who don't trust women to make their own decisions on reproductive health.
Axelrod's comments seem to acknowledge this data but he seems hesitant to distract from a larger focus on the economy. Should Democrats put a spotlight on abortion before the election, it will likely come from an outside group.
As Ed Gillespie, the former RNC chairman and high-profile GOP operative, told HuffPost: "I think right now, if Democrats are seen as reaching to raise the issue of life and talk about abortion during the campaign, it is going to seem dissonant with the voters and where their concerns are. It will look like desperation and trying to change the subject from things voters care about."

Calling all HuffPost superfans!
Sign up for membership to become a founding member and help shape HuffPost's next chapter