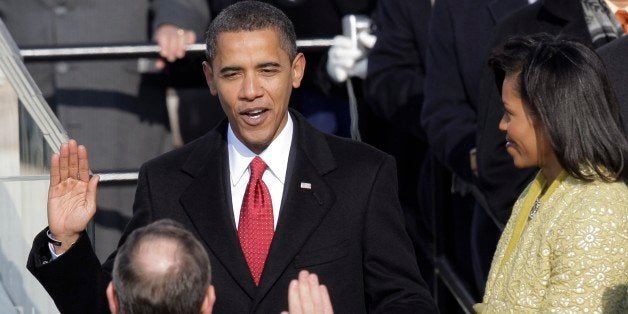 A terror plot at Barack Obama's 2009 inauguration was so serious that a statement was written for the president-elect to speak from the Capitol steps informing the crowd to disperse, according to campaign strategist David Axelrod.
In his new book Believer: My Forty Years in Politics released Tuesday, Axelrod writes of four Somali extremists affiliated with al-Qaeda affiliate Al Shabbab, who were reportedly targeting the ceremony. Informed of the threat by Rahm Emanuel, then the incoming White House chief of staff, Axelrod was tasked with composing the words to be spoken by the president-elect in event of an emergency. Obama would inform the 1.8 million people in the crowd to follow directions and leave in an orderly fashion, with 38 million viewers watching live.
Shortly before the inauguration, Axelrod writes, "I cornered [Obama] and handed him the sheet of paper with the emergency instructions. He tucked it into his pocket without even looking at it -- and thankfully, he would have no reason to read it later." Axelrod does not reveal the exact content of his written message.
Beyond the national security problem, the terror threat also had very personal implications for Axelrod. While he was appearing on television interviews during the morning of the inauguration, his wife and son joined the Obama family at a worship service at St. John's Episcopal Church across from the White House.
"What if an attack happened there? I desperately wanted to tell them to stay away, but that would have violated Rahm's edict," Axelrod writes. "As I watched my wife and son disappear through the door, I worried that I might have made a terrible mistake, one I would regret for the rest of my life."
Former Secretary of State Hillary Clinton also discussed the terror plot in her 2014 memoir Hard Choices.
"What if a bomb goes off on the National Mall during the President's address? Is the Secret Service going to rush him off the podium with the whole world watching?" Clinton wrote. "I could see from the look on the faces of the Bush [national security] team that nobody had a good answer."
Calling all HuffPost superfans!
Sign up for membership to become a founding member and help shape HuffPost's next chapter
BEFORE YOU GO
PHOTO GALLERY
Obama Inauguration