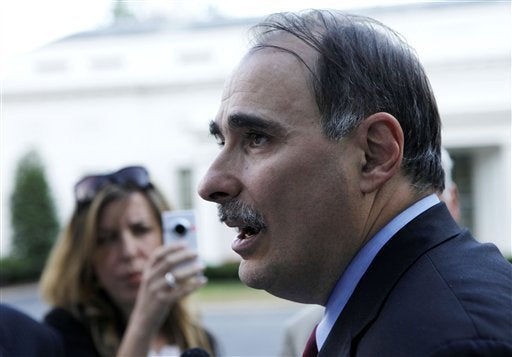 Shortly after Barack Obama addressed a Senate Democratic caucus meeting and urged them to push health care reform forward, one of the chamber's most progressive members took the president's closest adviser aside and asked him why the White House wasn't doing more to help.
Sens. Al Franken (D-Minn.) put pointed health-care-related questions to senior adviser David Axelrod following Obama's speech, multiple sources tell the Huffington Post. He was echoed by Sen. Bernie Sanders (I-V.T.) The gist of their concern was that the administration has not shown enough leadership to get legislation passed through Congress in the wake of the party's defeat in the Massachusetts Senate election. Franken insisted that "he really needed to know if the White House was going to lead," according to one Democratic aide.
Axelrod, by several accounts, didn't give a response that Franken found sufficient. And as the two continued to talk, Sanders eventually jumped in.
"My message is that the current strategy is failing and we have to stop being on the defensive," Sanders said, in a statement to the Huffington Post. "We also need to realize we're not going to get 60 votes for anything, so we have to look at a very broad, omnibus-like reconciliation bill -- including health care and jobs -- that will pass the Senate with 51 votes."
Details of what transpired after that are scant. Axelrod, meanwhile, did not immediately return a request for comment.
In expressing their concern, Franken and Sanders become the second and third progressive Democratic senator to critique the White House's role in the current health care reform debate. In an interview with HuffPost on Thursday, Sen. Sherrod Brown (D-Ohio), likewise, said that the president's involvement in negotiations has "dried up" since the Massachusetts election.
White House Press Secretary Robert Gibbs was asked about the growing dissatisfaction with the role the administration is playing during Thursday's daily briefing.
"Well look," he replied, "obviously the president has said in the State of the Union... the president say... obviously the problem exists, it continues to exist -- higher costs, small businesses struggling. That was the case before Massachusetts. That was the case after Massachusetts. I still think that the process is working its way through Capitol Hill."
"I didn't believe that the president was less involved last year since we wouldn't have gotten where we were if the president hadn't been involved," Gibbs concluded.
Popular in the Community