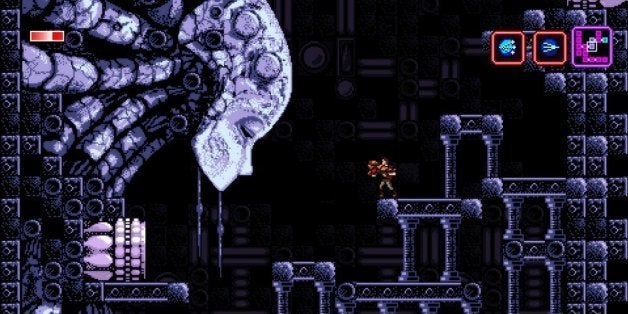 This success, for a low-budget game, shows a new world order taking hold in the video game industry, which is on track to generate $100 billion in annual sales by 2017. A breakthrough for an indie game isn't unprecedented. "Shovel Knight" for Nintendo Wii U and 3DS found similar success last year, according to its five developers. But the sci-fi, action-adventure "Axiom Verge" had an even smaller team: It was developed entirely by one person who wanted to pay homage to classics like "Super Metroid."
"Axiom Verge," which can be downloaded from the PlayStation Store for $19.99, arrives as sales of physical video games give way to a digital marketplace that allows independent developers a growing niche. While big-name studios are releasing fewer AAA titles, independent teams with small budgets and staffs can get more exposure for their projects than ever, thanks to funding platforms like Kickstarter and online marketplaces built directly into video game consoles and mobile phones. The result is squeezing mid-sized studios -- those neither massive nor tiny -- from both ends.
"At this point, it's indie or huge," Frank Cifaldi, a video game historian, told The Huffington Post. "There's very little in-between, because it's just too risky."
You don't have to look far for concrete examples. "Flappy Bird," an almost comically simple mobile game developed by a single person, accrued millions of downloads on one day in February 2014. A year later, the two latest titles in Sega's once iconic "Sonic the Hedgehog" series, "Sonic Boom: Rise of Lyric," and "Sonic Boom: Shattered Crystal," reportedly sold only 490,000 copies combined.
"Axiom Verge" was created by Tom Happ, who helped industry giant Electronic Arts create games like "NFL Street" and "Tiger Woods PGA Tour." Happ did everything for "Axiom Verge," including art, music, code and design.
"I started working on the game basically as a hobby about five years ago," Happ told HuffPost in a phone interview. "I was working full time at another job," he continued. "I would come home and try to put together ideas for what I thought would be a perfect amalgam of all my favorite, classic games."
The influences are nearly impossible to miss, with gameplay in particular paying homage to 1994's "Super Metroid."
Gameplay in "Super Metroid"... (Source)
... versus gameplay in "Axiom Verge" (Source)
Of course, "Axiom Verge" features modern graphical flourishes and gameplay elements that set it apart from the games it takes inspiration from. So do other new releases that nod to the days of dial-up and Gak: "Shovel Knight" and "1001 Spikes" will remind you of the original Nintendo Entertainment System (better known as the NES), and games like "Towerfall Ascension" look like old games, even if they play like new ones.
There's a reason why these games are successful.
"Gamers are a hungry bunch," Liam Callahan, a video game industry analyst for the NPD Group, told HuffPost in a phone interview. "They want content. Indie games are a great way to fill that need."
And they're filling the need more than ever. As with so many developments of the past decade, a lot of this can be traced to the shift from physical media to digital downloads. In the first 11 months of 2014, physical video game sales dropped 17 percent from the same period the year before, while digital downloads surged. This means it's significantly easier for individuals -- or small teams -- to make a game with less money. They know an audience will be there, because more people are downloading games, and they don't have the expense of producing discs or cartridges, cases, and a distribution network to reach retailers like Best Buy, Target and GameStop.
"There are fewer really big games, and there's a lot more really small games," Callahan said.
Cifaldi said the industry's shift also makes projecting sales tricky. "In the old days ... sales were mostly done at retail, so once you got the major stores to pre-order your product, you could make decent projections," he said. "Now that we're mostly digital, sales projections are significantly harder to make."
Perhaps ironically, the rise of digital distribution and mobile devices seems to have sparked an interest in nostalgic, retro games, while updated franchises from major publishers like Sega have a harder time getting a foothold.
Of course, chances are slim that an indie developer will spawn a multimillion-dollar hit, given their limited resources and marketing ability. ("Minecraft," a tremendous exception, has sold around 54 million copies, though it's not so "indie" anymore, since Microsoft purchased its developer last year for $2.5 billion.) And because it's so easy to produce and sell a game online, competition can come from anywhere.
"The issue becomes, 'How do I market my game? How do I get my game to rise to the top?'" Callahan said.
Happ secured funding from PlayStation's Pub Fund, which allows him to own the "Axiom Verge" intellectual property as long as he keeps the game exclusive to the PlayStation platform for a period of time. The backing from PlayStation paid off with awards and press even before "Axiom Verge" was released to the public.
Now, a few days after its official release on the PlayStation Network Store, the future looks good.
Dan Adelman, who helped with publicity for "Axiom Verge," told HuffPost the game is an indie success, though he wouldn't divulge sales numbers.
"Our initial goal was to make enough money with 'Axiom Verge' so that Tom could afford to keep making games on his own full time and not need to go back to a day job," Adelman said. "By 3 p.m. of the first day, we achieved that, so Tom will be making lots more games on his own from now on."
Calling all HuffPost superfans!
Sign up for membership to become a founding member and help shape HuffPost's next chapter