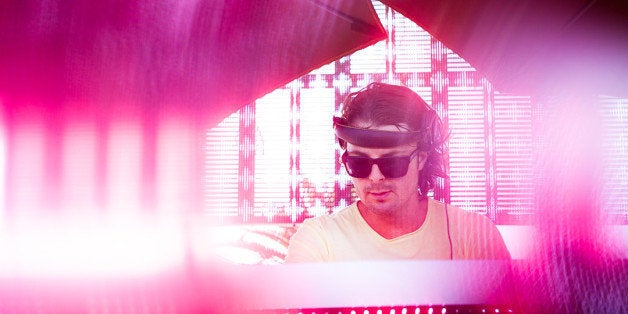 Axwell spent the last year touring as one of three members of Swedish House Mafia, dance music's largest group. Together with Sebastian Ingrosso and Steve Angello, the trio traversed the globe performing on their swan song, One Last Tour, a trip buoyed by superstar releases like "One," "Save the World," "Antidote," "Greyhound" and the huge crossover pop hit "Don't You Worry Child." And then they broke up.
In earlier interviews with HuffPost Entertainment, Angello has described Swedish House Mafia as "a humongous monster" that "wasn't fun" anymore, and Ingrosso said his post-Mafia life "is fun now," prompting some to wonder if an underlying conflict led to the group's decision to disband. Axwell, who both contributed an original song to the "Monsters University" soundtrack and has a massive upcoming summer residency in Ibiza with Ingrosso, said that's not exactly the case. "It's very easy: [Ingrosso and I] live in the same town, and Steve lives in L.A. It's much easier for Seb and I to collaborate. It's really that simple."
Born Axel Christofer Hedfors, the Swedish producer and DJ who was working in a studio in Ibiza when we reached him by phone, said he hasn't much time for misty eyes. "Literally the day after the last show in Miami, I had to go back into the studio and work on 'Center of the Universe,'" he said. "It might even be more of a heart attack after [finishing the tour] than before. But when we did the opening here at Ushuaïa, I could reflect and I was really happy about the developments. We've already done everything, all the big shows, together. But just to play here under a different umbrella and not call it Swedish House Mafia was something else. Some of the people are the same, though there are different concepts and an amazing crowd. It just makes you feel like you can do whatever you want."
He'll also be among the headliners at TomorrowWorld, the first-ever American installment of Belgian festival company ID&T's massive Tomorrowland festival. Over 300 top acts, including not only mainstays like Tïesto, Ingrosso, Calvin Harris, David Guetta and Armin van Buuren but also outliers like RiFF RaFF, will be performing at the festival, which takes place in late September just outside of Atlanta, Georgia. "It's definitely not just another gig, because it's the first of its kind for me in that part of America," Axwell said of the event. "It's going to be interesting to see how the crowd will be, and that's what I'm most excited about. As for what TomorrowWorld and their plans for America, I'm sure they have all their strategies, but for me, it's more about the crowd." (The full, just-released TomorrowWorld line-up is available at the bottom of this article, and more on ID&T can be found in our earlier coverage.)
Axwell will also be playing at Ushuaïa quite a bit this season, as he and Ingrosso's Departures residency will span the summer and feature them trying to bring back memories of a what Ingrosso calls the "rich hippy" culture that has all but vanished from the party mecca, replaced instead by tiny dance floors and gargantuan bottle service tabs. The 6,000-person pool parties have been heralded by big time releases by both performers, Axwell's remode of "Center of the Universe" and Ingrosso's "Reload," featuring Tommy Trash and John Martin. Hilariously, Axwell revealed that he refused to go to Ibiza until he was invited to play a gig, unlike Ingrosso, who went every summer as a young raver. "I guess I'm a bit proud, and I want things to happen in a certain order," Axwell shrugged.
But like Ingrosso, Axwell feels that dance music has lost its way, with too many producers changing the same, "harder" sounds that Swedish House Mafia was partly responsible for popularizing. "For me, there are two ways with this type of music," he said. "One is functional, which means you make music to get a certain reaction on the dance floor, and then there's music music. And that can be whatever -- it doesn't have to even be electronic. You just need to have your foot in both of these worlds, because it can be a bit boring if people get stuck into just making functional music."
"Center of the Universe" is the track Axwell immediately offered when pressed for how he personally strikes that balance. "I tried to really put in a lot of musical bits and have a lot of musicality and yet have some kind of functionality," he said. "There are some tricks to get the crowd jumping. It's really difficult to combine those things -- the more musical you get, the less banging it's going to be."
Given the somewhat curious way the trio have reacted to the dissolution of Swedish House Mafia, it's not unreasonable to assume they felt creatively constricted by their audience, which has been derided in the music press as one-dimensional. Yes and no, said Axwell: "Like you said, when someone makes a successful track, there will be 20 more coming that sound kind of similar but not as good. Then people will find that sound shifting and want to move onto something else. So, as soon as you've done something, you have to move away from it, and then away from that, and away from that. That was kind of hard work, but it pushed us forward. But I don't think that we were musically limited by Swedish House Mafia."
The 35-year-old agreed that Coldplay's influences were all over SHM's biggest releases, and said he's been listening to Chris Martin's rock group a lot lately, along with his old favorite Bob Marley and newcomers like David August. He's also keen on "old disco," and believes Daft Punk's album will help dance music back away from "pushing for harder and harder sounds."
"At one point, you come to the edge, where you can't come any harder," he said. "You have to go in a different angle, and I think we'll be looking back at the roots and how things used to sound before and make new interpretations of that. I think that Daft Punk will probably inspire a lot of people with that album."
Not that he's among the many "electronic dance music" fans who support Daft Punk's "Random Access Memories" because that's what's expected of them. His reaction was a bit closer to that of fellow producer Diplo, who eventually came to appreciate the album as an easy listening record. "Because of the immense build up with the YouTube series telling everyone that it is God's gift to man, that kind of built up the inspirations quite a bit," Axwell said. "And when I heard the album, I was like, 'What?!' I was cringing, and I couldn't listen to it because I used to worship them. I was feeling sick. But then, when I got past the build up of the album and listened to it for what it was -- not with all those marketing strategies in mind -- without expectation, it started to get for me. Now it's one of my favorite albums that I put on, especially when I'm not listening to it actively, but just in the background. So, once again, they've proved their point to me."
So there he is: a DJ, producer, father, husband and globe-trotter just looking for the right sound. "At one point, I missed having a lot of new music of my own to play," he said when asked if he missed anything from his earlier, simpler music career. "Music was my only life -- I didn't have a family, I didn't have a wife, a kid or money. Music was the only thing I did, 24/7, and the joy of playing my new music out was amazing. Then we started to make such big records with all the things around them, the musical output really went down, because we wanted every record to be so big. So now, I'm going back to just making music and not think of every song as such a big deal. In that way, I'm bringing back that joy again."
TomorrowWorld takes place Sept. 27-29 in the Chattahoochee Hills in South Fulton County, Georgia. The full line-up is available below the following gallery, in alphabetical order. For more information, head over to the festival's website.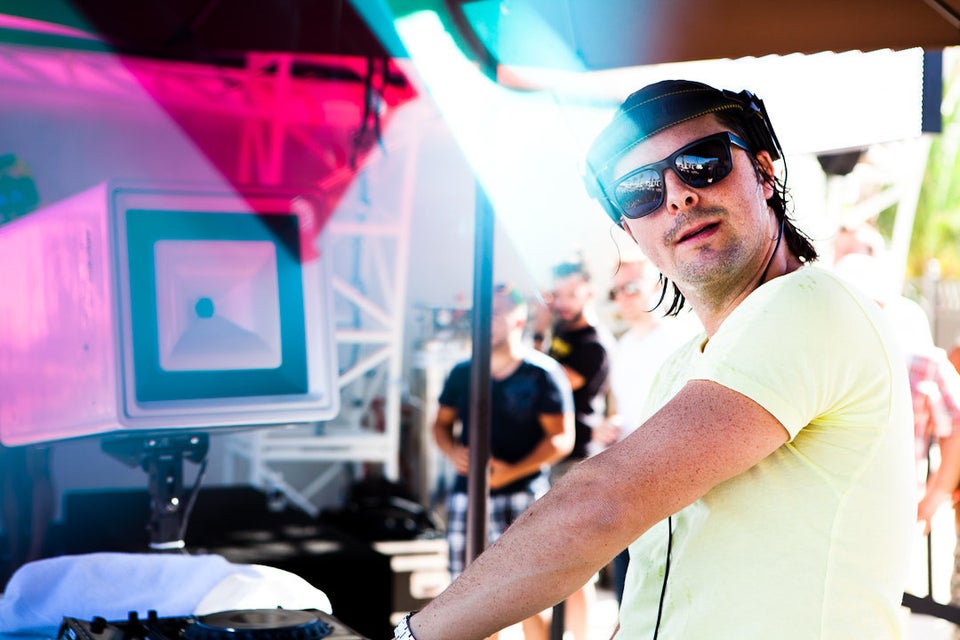 Axwell In Vegas
Dimitri Vegas and Like Mike (Fri, Sun)
MC Villain (Fri, Sat, Sun)
Sultan + Ned Shepherd (Sun)
Sunnery James & Ryan Marciano (Sun)
Popular in the Community