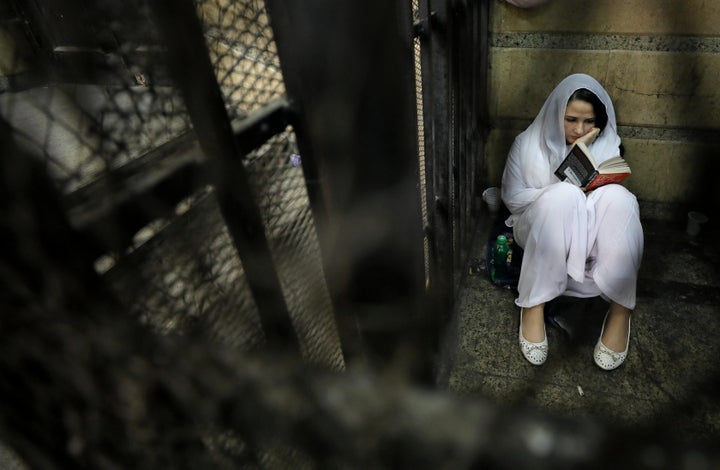 CAIRO, April 16 (Reuters) - A Cairo court acquitted on Sunday an Egyptian-American woman and seven others who worked with street children and had been detained for nearly three years on human trafficking charges, in a case that had raised concerns in Washington.
Aya Hijazi, an Egyptian who holds U.S. citizenship, founded Belady, an NGO that promotes a better life for street children.
She has been in custody for 33 months in violation of Egyptian law, which states that the maximum period for pretrial detention is 24 months.
Dressed in a white prison uniform, Hijazi stood in the courtroom cage with her husband and Belady co-founder Mohamed Hassanein. With tears of joy streaming down their cheeks, they vowed to resume their charity work.
"We were delayed for three years ... starting today, God willing, there won't be any children without shelter," Hassanein told reporters.
"Humanity became free, and the dream doesn't die. On the contrary, the dream becomes stronger," Hijazi said.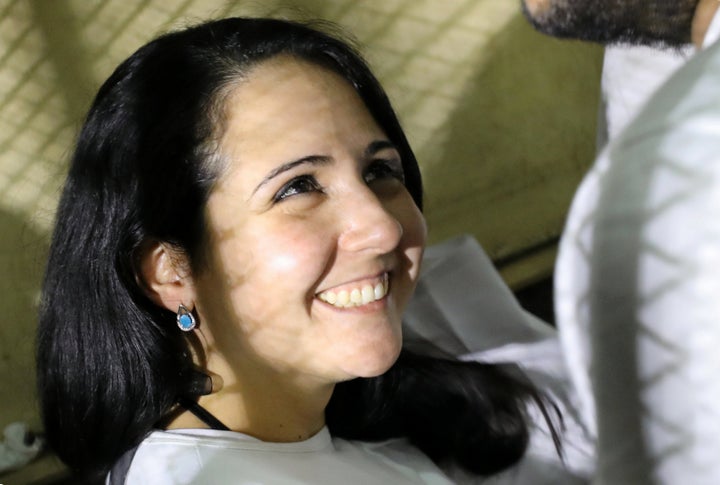 The verdict came two weeks after Egyptian President Abdel Fattah al-Sisi met President Donald Trump in Washington.
Hijazi's detention was an issue of concern and was being watched closely by the Trump administration, an administration official said at the time.
The Trump administration has proposed massive cuts to U.S. foreign aid, but the White House has said it expects Egypt's $1.3 billion of U.S. military aid will continue.
Since toppling President Mohamed Morsi of the Muslim Brotherhood in mid-2013, Sisi's government has cracked down on the opposition, killing hundreds of Brotherhood supporters and jailing thousands. The net has widened to include liberal and secular activists.
NGOs have felt exposed since late 2011, when authorities raided 17 pro-democracy and rights groups, accusing them of joining a foreign conspiracy against Egypt.
"Aya Hijazi, her husband, and their colleagues are finally free, but the system that subjected them to a travesty of justice for nearly three years remains unchanged," said Joe Stork, deputy Middle East director at Human Rights Watch.
Hijazi and Hassanein were arrested in May 2014. They were accused of "organizing a group for the purposes of human trafficking, using children to disturb the public peace and order in protests, and holding them for sexual exploitation."
The prosecution can appeal the verdict.
Minutes after the verdict, Hijazi's mother stood outside the courtroom sending voice messages to Hijazi's siblings who live abroad. "Thank God, you can celebrate now, we can all celebrate," Naglaa Hosny said in the messages.
(Additional reporting by John Davison; Editing by Giles Elgood, Larry King)
Related
Popular in the Community