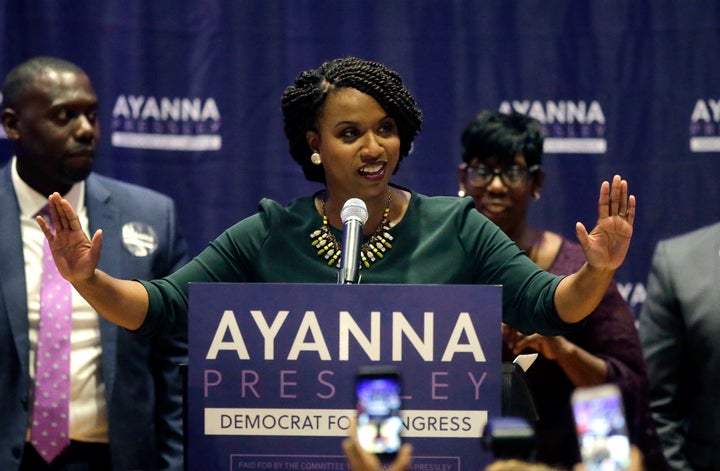 CAMBRIDGE, Mass. ― A group of progressive lawmakers joined Rep.-elect Ayanna Pressley (D-Mass.) for a health care justice rally in lieu of attending a speech by Transportation Secretary Elaine Chao at a Harvard conference for new members of Congress.
Standing in the near-freezing cold outside the Charles Hotel, which hosted the conference, Pressley called attention to the vast disparities in health outcomes between those who occupy Harvard's elite halls and the residents of low-income neighborhoods in other parts of a district she will represent in Congress in January.
Then, with an air of moral urgency that has come to define the crop of incoming progressive House members, Pressley vowed not to stop at modest remedies to the district's challenges. She planned, she said, to pursue Medicare for all with the same passion as she fought for tougher gun safety regulations, even though the former had the backing of Democratic House leadership and the latter did not.
"I was not sent to Washington to play nice," Pressley declared to a cheering crowd of single-payer health care activists from local universities. "I was sent to Washington to fight, alongside all of my colleagues ― to save and to improve lives."
Pressley was joined by fellow freshman Democratic Reps. Lori Trahan (Mass.), Andy Levin (Mich.), Mary Gay Scanlon (Pa.) and Alexandria Ocasio-Cortez (N.Y.).
The event was organized by the progressive grassroots advocacy network Center for Popular Democracy in coordination with Boston-area Medicare for all proponents.
It was an attempt to leaven a Harvard conclave that has all the trappings of business- and military-friendly Washington centrism with a touch of the youthful progressive edge that has powered segments of the Resistance to President Donald Trump.
Every two years, the Harvard Kennedy School's Institute for Politics hosts an officially nonpartisan orientation for new members of Congress that in practice evangelizes a Washington-specific brand of corporate-friendly conservatism.
Earlier on Tuesday, none other than Congressional Progressive Caucus co-chair, Rep. Mark Pocan (D-Wis.), recounted how, as a new member of Congress in 2012, a session at the Harvard conference convinced him to join the controversial centrist group No Labels. ("I was duped," Pocan wrote.)
No Labels, like Harvard's freshman orientation, claims to transcend partisan politics. But recent reporting revealed that it has used money from a handful of multimillionaire donors, many of them prominent Republicans, to fund an effort to undercut House Democratic Leader Nancy Pelosi (Calif.).
This year, the Harvard conference is co-sponsored by the American Enterprise Institute, a corporate-funded conservative think tank, and the Center for Strategic International Studies, an establishment foreign policy organ.
The most liberal interlocutor listed as a speaker on the conference's webpage was former New Orleans Mayor Mitch Landrieu, a moderate Democrat.
Prior to Pressley's health care rally, Medicare for all activists had sought to distribute information about single-payer health care to incoming members of Congress as they were entering the hotel.
The Center for Popular Democracy plans to hold a series of events on Wednesday as well, to serve as a kind of counter-orientation to the event held by Harvard. Among other activities, Harvard students and Puerto Rico activists plan to hand-deliver a letter to Harvard's president on Wednesday morning calling on the university to divest from a hedge fund that holds Puerto Rican debt.
At Pressley's rally cum news conference, members of Congress mostly let their allies in the activist community take more explicit swings at the Harvard conference.
"Make no mistake: This new member orientation is an orientation of the status quo," said Joia Mukherjee, chief medical officer of the global public health advocacy group Partners in Health. "And what we are voting for is justice."
Popular in the Community