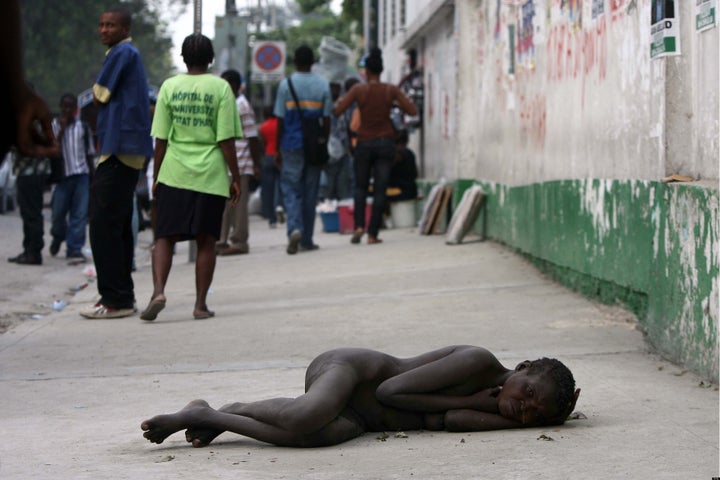 If reading about Haiti's cholera epidemic is your cup of tea on Christmas Eve, sensationalist news coverage of lynchings of voodoo priests will top your Google search. UPI, Reuters, Agence France-Presse and others are reporting that 45 Vodun (the uninformed term is "voodoo") priests were killed by angry mobs allegedly blaming them for the spread of cholera. The unchecked outbreak began in October and has resulted in 121,518 cases and 2,591 deaths as of numbers posted on December 17. The statistics represent an exponential trending of cholera cases but the real numbers are lagging, since many victims in inaccessible regions are quietly buried and remain uncounted.
45 alleged lynchings is an eye-opening number, but what about the 2,591 cholera deaths and counting? Has Haiti fatigue so infected news coverage that "voodoo" is the only cholera related statistic worth reporting today?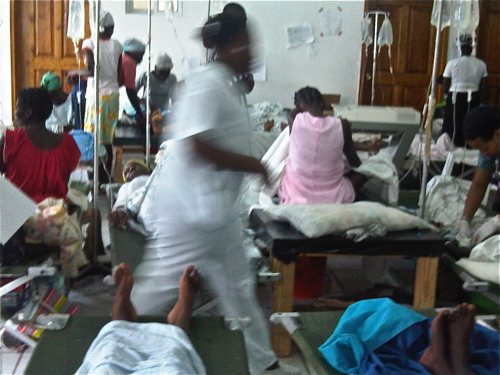 Cholera Ward in November
There is a Haitian grassroots media organization that is providing excellent reporting on the epidemic and its root cause, but it has few outlets and little publicity.
Rather than relying on parachuting American reporters or the nation's own mainstream media, they've launched a crowd-sourced, investigative reporting project to uncover whether aid is actually helping people: Haiti Grassroots Watch.
Ayiti Kale Je -- "Haiti Eyes Peeled" in Haitian Creole -- consists of a partnership that includes Groupe Medialternatif/Alterpresse, the Society for the Animation of Social Communication (SAKS), REFRAKA (a Creole acronym for Women's Community Radio Network) and the Association of Haitian Community Media (AMEKA).
By producing text, audio and video content in Haitian Creole, French, English, and Spanish for audiences in Haiti, Ayiti Kale Je is able to shine a light on the issues that have not been directly addressed by aid organizations or mainstream media. In the case of the cholera epidemic, this means clean, potable water -- a human right that has been neglected. Water purification tablets, if they are available, are not the solution.
In the video "Why Has Cholera Hit Haiti So Hard," Ayiti Kale Je journalist Samia Salomon engages the camera boldly and confidently, terming herself a "feminist journalist" as she charges that the government of Haiti has "never respected" the people's right to clean water and sanitation. Salomon fearlessly dives into her report about the hard realities of latrines or lack thereof; people defecating in rivers and plastic bags because there is no place else to "go;" and video of feces piled openly in the IDP camps. She asks the questions to one wants to hear and shows the images that cause the viewer to avert the eyes.
65 percent of people in Haiti use river water for bathing or drinking, and only 4 percent have indoor faucets.
A paltry 133 people have viewed this 15-minute video -- a concise documentary that explains more about the causes of cholera that reams written in mainstream media. For comparison, "How To Wrap a Cat for Christmas," has had over 3 million hits on YouTube.
Here are some other numbers that might give you pause for reflection as you sip your morning brew and watch the Yule log burn.
As of December 22, the total humanitarian assistance for cholera was $40,802,413, as reported by USAID.
That represents an expenditure of $336 per patient (121,518), or $15,800 per patient death (2591).
$15,800 per cholera death is stunning when one realizes that cholera is treatable and curable with immediate rehydration, meaning IV fluids and oral salts.
USAID/OFDA's response plan focuses on preventing cholera cases, reducing the number of cases requiring hospitalization, and reducing the case fatality rate. The plan outlines four elements: provision of chlorine to increase availability of safe drinking water; expansion of national hygiene education outreach; provision of oral rehydration salts (ORS) and medical supplies; and an increase in the number of cholera treatment facilities, particularly in underserved and rural areas.
How can the expenditure of $40,802,413 go unchallenged by media?
And what about holding the 10,000 to 16,000 NGOs currently operating in Haiti accountable for results? Cholera is a disease of the poor. I will not die of it if I contract it, neither will upper class Haitians, other journalists or aid workers. It is easily treatable if rehydration supplies are in place.
From Genesis to Acts there is a line of women living lives of religious vitality, cultural integrity, and political involvement... whether in the roles of prophets, judges, warriors, matriarchs or lovers... in the true fashion of rebels they made war on faithlessness, hopelessness and narrow-mindedness.
So, as we spend Christmas Eve with friends and loved ones, perhaps we should think about the water in that cup of tea, or the ice used to cool the punch at family gatherings.
We have the blessings of safety nets of water and sanitation, something Haitians did not know even before the earthquake.
The answers to our questions about cholera do not reside in sensationalism. The answers can be found by fearlessly opening our eyes -- "Ayiti Kale Je."
Popular in the Community