Ayman Mohyeldin, an NBC News journalist whose powerful reporting from Gaza has drawn widespread praise, has been pulled out of the region, Glenn Greenwald reported on Thursday.
NBC told Greenwald that Mohyeldin, who has been replaced by chief foreign correspondent Richard Engel, was removed from the story due to "security concerns." The network refused to issue any further public comment on Thursday, or to explain why the security issues that demanded Mohyeldin's exit from Gaza did not apply to Engel. The silence ensured that the reasons behind Mohyeldin's sudden departure from a story he had owned remained a near-total mystery.
Greenwald's report follows a similar one from TV Newser, which wrote on Wednesday night that staffers inside the network were unhappy that Engel had fronted an "NBC Nightly News" segment on the killing of four children on a Gaza beach, despite the fact that Mohyeldin had actually witnessed the strike that killed the children and had been transmitting harrowing and moving footage from its aftermath for hours.
The site Mondoweiss, which covers the region from a pro-Palestinian perspective, speculated that Mohyeldin's social media activity could have been the cause of his removal from the story. Mondoweiss highlighted this Facebook post, which Moyheldin later deleted: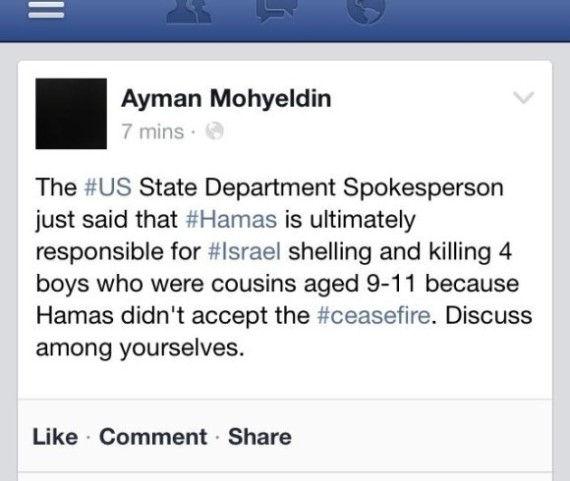 A source told HuffPost's Michael Calderone, however, that the Facebook post—along with a similar tweet—was not cited by NBC executives as a factor in its decision.
Support HuffPost
The Stakes Have Never Been Higher
Related
Popular in the Community