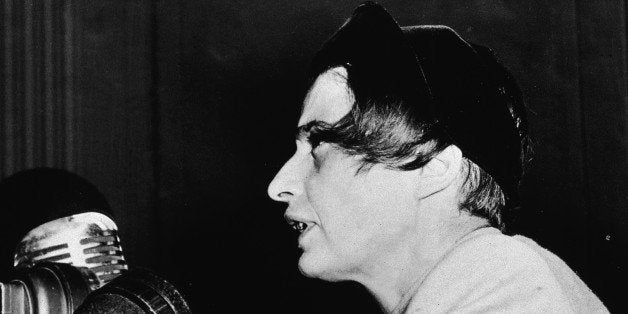 There are a number of reasons people wage criticism against Ayn Rand's 1938 novella, "Anthem." Some take issue with its negative treatment of collectivity and socialistic philosophies. Others are quick to point out the dystopia's obvious promotion of conservative-leaning individualism.
And then there are those who lament the story's lack of song and dance.
For the latter group of haters, one very unique off-Broadway production is about to make your dreams come true. According to Broadway World, "The Anthem" is set to take the stage at Lynn Redgrave Theater this May, bringing a musical version of Rand's ode to street sweeping protagonists to eager audiences everywhere. How can you not be excited for this Prometheus-meets-Pippin extravaganza?
Theatermania reports that "The Anthem" will be a sci-fi musical inspired by Rand's original work , and will be set in a futuristic society where social media has "gone mad." Individuality is still illegal, but the main character's name is not Equality 7-2521 (it is Prometheus, though) and he finds salvation not in a library but in one book in particular -- yes, it's "Anthem."
Here's a synopsis of the musical from Culture Project:
Hunger Games meets Ayn Rand in a world where individuality is illegal. Prometheus abandons everything to confront the State -- controlled by the overlord of evil efficiency, Tiberius. With a forbidden copy of Ayn's Rand's ancient tome in hand, can Prometheus overthrow the system?
There has been an Ayn Rand-inspired play based on "Anthem" already, but this new musical boasts an "expansive aerial and circus environment" to set it apart. So if you weren't already over the moon about this bizarre adaptation, you're welcome.
Calling all HuffPost superfans!
Sign up for membership to become a founding member and help shape HuffPost's next chapter