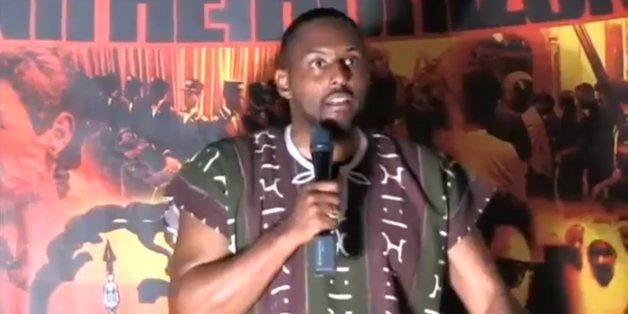 When Ayo Kimathi clocks out of work as a small business specialist working in procurement for the Department of Homeland Security, he sometimes assumes an alter ego as "the Irritated Genie." According to a new report from the Southern Poverty Law Center, this man is different than the Kimathi who has built a profile for himself as a public face at various events for the Immigration and Customs Enforcement agency, a division of DHS.
While Kimathi "fights for the little guy" at his day job, a former DHS supervisor told SPLC, "the Irritated Genie" spends much his time as a militant black nationalist preparing for what he calls an "inevitable clash with the white race." In a website, called "War on the Horizon," Kimathi has posted a variety of content telling his followers that they must prepare to "kill a lot of whites" and to engage in the "ethnic cleansing" of "black-skinned Uncle Tom race traitors."
Gay men and women were also a popular target. Kimathi dedicates an entire section of the site to warning against the "Effeminization of the Black Male," which he calls a "weapon of mass destruction" used against the black community. It appears that Kimathi has also written a book on the topic of "white sex-assault," which he is selling on Amazon for more than $750.
Black political figures aren't spared Kimathi's anger. He calls President Barack Obama "a treasonous mulatto scum dweller ... who will fight against reparations for Black people in amerikkka, but in favor of fag rights for freaks in amerikkka and Afrika." Rev. Al Sharpton, former Secretary of State Condoleezza Rice and former Secretary of Defense Colin Powell are included on a list of enemies. In a video on YouTube, Kimathi makes it clear that he prefers those who embody "black male aggression," which he claims is what "black manhood is supposed to be."
Gillian Christensen, deputy press secretary at Immigrations and Customs Enforcement, released a statement following reports of the true nature of Kimathi's second job.
"ICE does not condone any type of hateful rhetoric or advocacy of violence of any kind against anyone," she said. "Every ICE employee is held to the highest standard of professional and ethical conduct. Accusations of misconduct are investigated thoroughly and if substantiated, appropriate action is taken."
Supervisors at the DHS had known about Kimathi's side job, but they told SPLC that he had grossly misrepresented what he does as the face of "War on the Horizon." Kimathi had reportedly described his venture simply as "WOH," and had claimed that it was "entertainment website selling videos of concerts and lectures."
But some former coworkers of Kimathi's at the DHS said they had concerns about his behavior, even on the job.
"Everybody in the office is afraid of him. ... This guy is filled with hate," a former supervisor told SPLC. "People are afraid he will come in with a gun someday and go postal. I am astounded, he's employed by the federal government, let alone Homeland Security."
Calling all HuffPost superfans!
Sign up for membership to become a founding member and help shape HuffPost's next chapter
BEFORE YOU GO
PHOTO GALLERY
SAY WHAT?! The Strangest Bills Of 2013