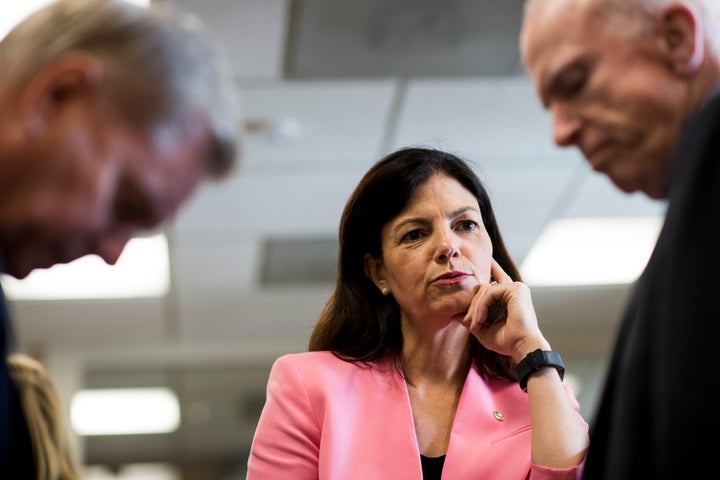 "I wanted to be able to support my party's nominee, chosen by the people, because I feel strongly that we need a change in direction for our country," Ayotte said Saturday in a statement. "However, I'm a mom and an American first, and I cannot and will not support a candidate for president who brags about degrading and assaulting women."
Ayotte added that she won't vote for Trump or Hillary Clinton, but will instead write in Indiana Gov. Mike Pence, Trump's running mate, an apparent attempt to split the difference with Trump supporters.
Tom Lopach, the executive director of the Democratic Senatorial Campaign Committee, released a statement following Ayotte's announcement about Trump.
"Senator Ayotte's career has been one political stunt after another, and today's decision is no different," Lopach said. "Just days after calling Trump a 'role model' she is now attempting the most politically craven effort at self-preservation that we've seen. The time for courage has passed, and Senator Ayotte solidified her role in Trump's party long ago. New Hampshire voters won't be fooled by this stunning example of politics at its worst."
Ayotte has struggled from the beginning of the GOP primaries on how to handle Trump. Once he became the party's nominee, she said she would vote for him but not endorse him ― for whatever distinction that's worth.
The freshman New Hampshire senator, who's in a tough race with the state's governor, Maggie Hassan, was asked Monday night during a debate whether Trump was a role model.
"I think that, uh, certainly, there are many role models that we have," Ayotte answered, "and, um, I ― I believe he's [sic] can serve as president, and so absolutely."
Ayotte was quick to abandon that position post-debate, once it became apparent that calling Trump a role model was not the correct political play.
"I misspoke tonight," she said in a statement Monday night. "While I would hope all of our children would aspire to be president, neither Donald Trump nor Hillary Clinton have set a good example and I wouldn't hold up either of them as role models for my kids."
That's apparently even more true now.
With Trump's lewd comments about women coming to light ― comments that suggest Trump has committed sexual assault ― Ayotte no longer wants to be associated with Trump, though her newest voting position isn't quite that dramatic. Ayotte saying she will vote for Trump's running mate reiterates that, even in a swing state like New Hampshire, she's unwilling to vote for Clinton to prevent Trump from ascending to the presidency.
On top of being a key electoral battleground in the presidential race, New Hampshire is also a crucial state in the fight for the Senate. HuffPost Pollster rates the Senate race as a true toss-up, with the polls averaging out to an R+0.4 advantage for Ayotte.
That could change dramatically with Trump's comments.
It's unclear what New Hampshire voters will make of Ayotte dumping Trump, but the calculation all along has been that abandoning Trump may actually anger some pro-Trump Republicans, and signal to other Republicans that they ought to just stay home. For others, it may just be too little too late.
Popular in the Community