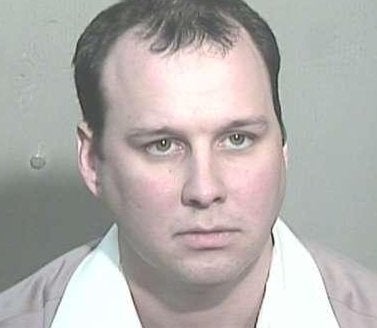 PHOENIX - Arizona Republican Party Executive Director Brett Mecum was arrested Wednesday at the state party headquarters for criminal speeding and reckless driving. Mecum, though, is claiming that the Arizona Department of Public Safety (DPS) was "playing politics" when they arrested and booked him into Sheriff Joe Arpaio's 4th Avenue Jail.
Around 10:30 AM Wednesday, Arizona Republican Party Chairman Randy Pullen and Communications Director Matt Roberts concluded a meeting just as two police offers took Mecum into custody. One staffer working for Mecum said officers confronted, handcuffed, and escorted Mecum away so quickly that fellow Republicans in the office did not really understand what was happening until the officers had already made off with Mecum in the back of a police cruiser.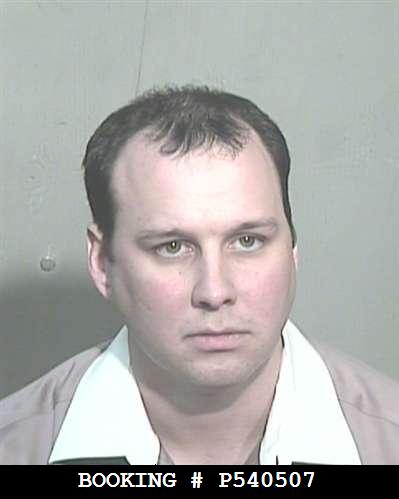 After being booked into the Maricopa County 4th Avenue Jail facility around 10:30 AM and held the remainder of the day and into the early evening, local television camera crews waited at the party headquarters for Mecum to retrieve his car and waited outside his residence for him to return home. One local station reported that he "sped away" after retrieving his Shelby GT Mustang from the parking lot of the party headquarters where he was taken into custody by the police.
In his formal statement, issued by the Arizona Republican Party, Mecum says he has not had an opportunity to review the evidence (because he was in jail all day):
Earlier today I was confronted by two officers of the Department of Public Safety who asserted that according to photo radar equipment that I was traveling at a high rate of speed. The incident in question took place nearly one month ago. I have not had an opportunity to review any of the evidence in this particular matter. As a consequence, I have entered no plea in this matter. I expect to and look forward to having an opportunity to see all the information DPS has collected and I will evaluate that information prior to entering any pleas in this matter.
The evidence against Mecum is video footage and photos of Mecum driving his Shelby GT Mustang 109 miles per hour in a 65 mile-per-hour zone -- 44 miles per hour over the legal limit. Mecum will not have to look far for this evidence. His arrest (and the video footage of his speedy driving) was covered by every local television station, radio station, newspaper, and blog in the Phoenix metropolitan area.
Here's one piece of the evidence that the police have released, which includes the computer readout of Mecum's excessive speed: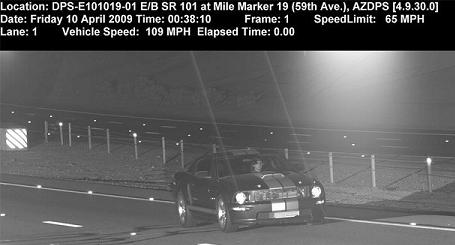 Under Arizona law, criminal speeding is a Class 3 misdemeanor that carries the possibility of license suspension, thirty days in jail and a $500 fine. Reckless driving is a Class 2 misdemeanor with a possibility of up to four months in jail.
A local anti-photo-radar group says Mecum told them last night that "DPS is playing politics" by "arresting high-level Republicans at the party headquarters." Rather than issuing an apology and putting this news story to rest, they reported that Mecum told them he is exploring his legal options and even considering "taking legal action" against the state of Arizona. CBS Channel 5 reported that "friends" of Mecum told them that Mecum's arrest is "political payback" because DPS Director Roger Vanderpool is a Democrat.
DPS has made a point, though, of going after people who violate the criminal speeding statutes. Last year, DPS officers made news when they arrested a woman for a photo radar criminal speeding violation as she returned from an overseas vacation at the Phoenix airport. The photo radar controversy has been in the news so often over the last year, most political observers are asking (off the record of course) why Mecum did not slow down for the cameras, which are permanently installed in a fixed location and clearly marked by huge yellow signs on both sides of the freeway 1/2 mile before the cameras and again 300 feet before the cameras.
In a press release issued late last year, DPS attributed a significant decrease in traffic fatalities to photo radar prosecutions, but this year Maricopa County Attorney Andrew Thomas (Republican) and Arizona Attorney General Terry Goddard (Democrat) have been butting heads over the prosecution of criminal speeding violations via photo radar for months. Thomas says he cannot prosecute criminal speeding violations when the evidence is a photograph or video rather than a live police officer because of a change to state law. Goddard disagrees, saying that the statute in question only applies to civil traffic violations, but Goddard also says these prosecutions are up to Thomas.
DPS officials insist that they treat all criminal speeding violations the same. In an official statement about the matter Wednesday, a DPS spokesperson said, "The state statute which covers criminal speeding applies to everyone equally. If there are valid criminal charges, the arrest of Mr. Mecum is like any other criminal speeding arrest. In this case, the charges speak for themselves."
In the wake of his arrest for criminal speeding and reckless driving, Mecum has also been criticized for using a photo of himself driving while typing on his PDA for his Twitter profile picture: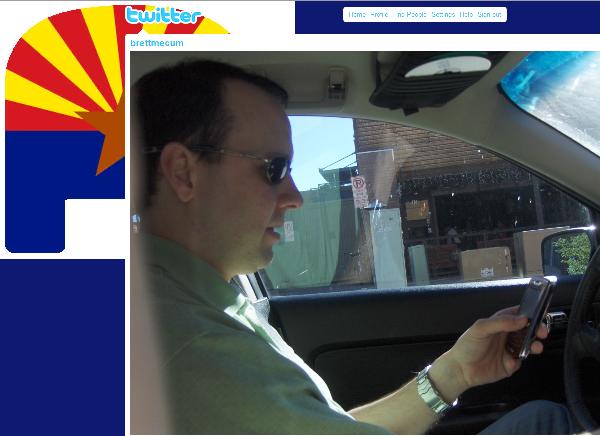 The statement released last night by Mecum also says,
I have every expectation that this matter will in no way compromise or effect my ability to do my job as executive director of the Arizona Republican Party as we continue forward right here, right now, with our aggressive plan to register more Republicans and enhance our fundraising.
However, Lee Miller, an attorney for the Arizona Republican Party, said yesterday that he does not know if this will affect Mecum's employment with the party, adding, "It was a silly, stupid thing to do and there is no excuse and there's no justification for it."
Calling all HuffPost superfans!
Sign up for membership to become a founding member and help shape HuffPost's next chapter