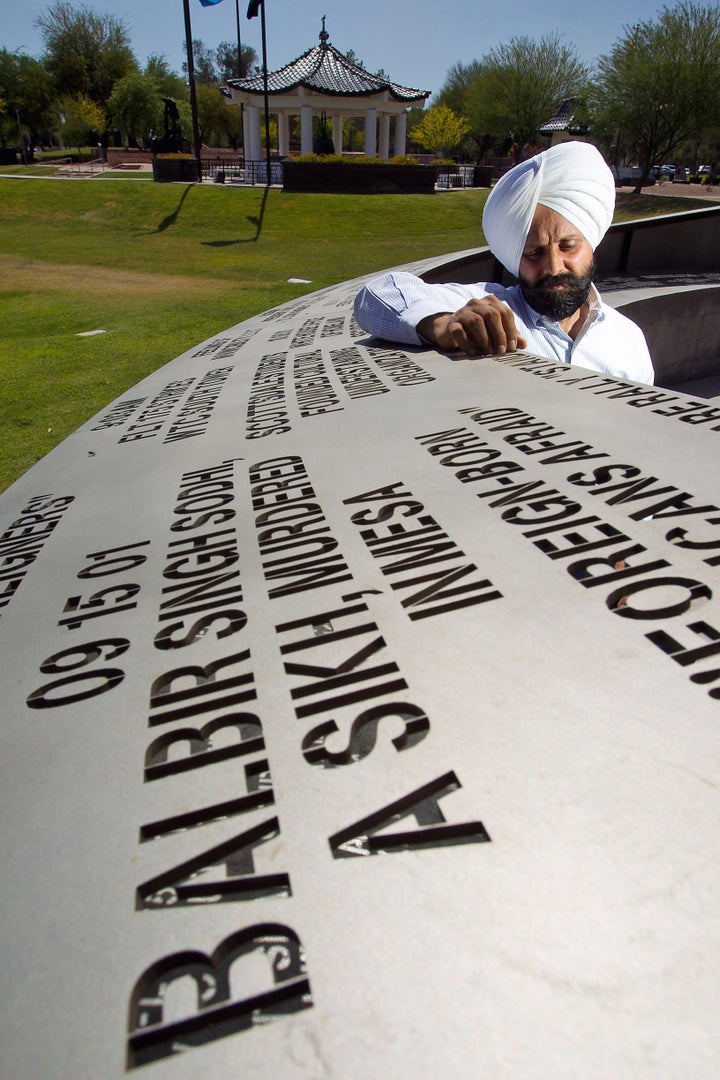 Both chambers of the Arizona legislature have passed a bill that, if signed by Governor Jan Brewer (R), would remove the name Balbir Singh Sodhi from Arizona's 9/11 memorial and sell his plaque for scrap metal.
Sodhi was shot to death four days after 9/11 by a man who later told police he wanted to take revenge on the people responsible for 9/11. He picked Sodhi because of his Sikh turban. Like most practitioners of the Sikh religion, Sodhi was from India, not the Middle East.
Arizona state Rep. John Kavanagh (R) sponsored the bill (HB2230), reasoning that he wanted to remove political statements and that the memorial should be limited only to victims who died on 9/11. He also initially insisted that "a cursory Internet search" made it unclear whether the shooting was related to 9/11.
Former Maricopa County Attorney Rick Romley, also a Republican, has come out strongly against the bill. He says there is no doubt, based on the shooter's own admissions, that the shooting was meant as retaliation for 9/11. The shooter was convicted.
After public outcry forced Kavanagh to sit down with Sodhi's family and local Sikh community leaders, Kavanagh says he has settled on a compromise: He would support a new bill next January that would add Sodhi's name back onto the memorial if the phrase describing the reason for his death is changed from "fear of foreigners" to "first backlash hate crime victim."
The bill, which Kavanagh says is aimed against phrases on the memorial that bash America, also would remove other plaques. Kavaugh told the Arizona Republic, "I really thought the other ones were the most offensive ones."
If the bill is signed into law, it would require Sodhi's name be removed before September 11, 2011, the tenth anniversary of 9/11. If the bill is signed, Sodhi's name would be missing during the tenth anniversary services, and it is unclear whether the bill Kavanagh would propose next year would pass.
UPDATE: Governor Brewer met with Sodhi's family on Friday and vetoed the bill.
Calling all HuffPost superfans!
Sign up for membership to become a founding member and help shape HuffPost's next chapter