In a narrative that will sound strikingly familiar to fans of Netflix's political drama "House of Cards," Azerbaijani President Ilham Aliyev has appointed his own wife to serve as his vice president.
Mehriban Aliyeva became the ex-Soviet nation's first-ever vice president on Tuesday, and she now stands next in line for the presidency.
The first lady-turned-VP was born into one the most powerful families in Azerbaijan, studied medicine and has held several leadership positions in various charities and organizations. She heads the Heydar Aliyev Foundation, a charitable foundation named after her husband's father, the former leader of Azerbaijan.
She was elected to the National Assembly of Azerbaijan in 2005, but reportedly attended parliamentary sessions very rarely and seemed uninformed about political issues, according to a diplomatic cable from the U.S. Embassy that WikiLeaks uncovered in 2010.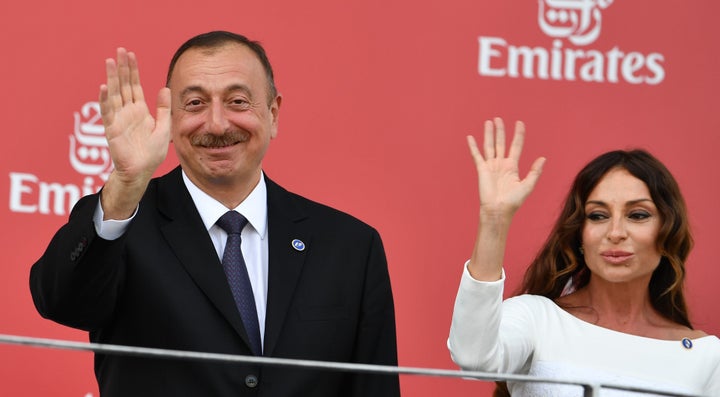 The couple married in 1983 and now sit atop a regime that has fielded damning accusations of human rights abuses, muzzling dissent, repression and corruption. Aliyev assumed office in 2003, succeeding his father. The U.S. Embassy cable compared him to a mafia crime boss.
Aliyeva's sudden and controversial ascent to power was possible thanks to a constitutional referendum her husband triggered in September 2016 that expanded his power, extended his term from five to seven years and created the office of the vice president.
Many people have noted that Aliyev's stunning move bears similarity to a plotline in the fourth season of "House of Cards."
Frank Underwood, the show's fictional U.S. president, is set to run for re-election next season with his wife Claire as his running mate.
"Call for for advice on the whole wife-as-vice-president thing," a Frank Underwood parody account tweeted at Aliyev on Tuesday.
A married president-vice president duo is highly unusual, but it's not unprecedented. Just last year, Nicaragua re-elected President Daniel Ortega while his wife, Rosario Murillo, became vice president.
When Aliyev announced his wife's appointment in the newly-created position of vice president, he gave no information outlining what her responsibilities would entail. However, the recently amended Azerbaijani Constitution declares that the vice president will assume authority if the president becomes unable to serve.
The news was received with a standing ovation, the video footage below shows.
But the move is upsetting to others in Azerbaijan and beyond. Some critics used the hashtag #AutocraticRelationshipGoals to convey their frustration.
Calling all HuffPost superfans!
Sign up for membership to become a founding member and help shape HuffPost's next chapter