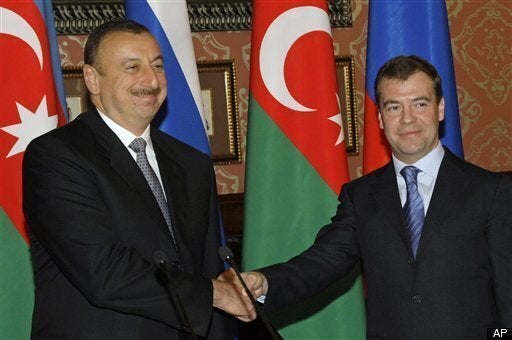 Ilham Aliyev, Azerbaijan's president, maintains an amazingly busy schedule these days, as he competes for public favor with a young generation of Azeri protesters who have built momentum in recent weeks toward what they hope leads to a society free of his authoritarian rule that clamps down on the news media and critics of his government.
Almost daily, Aliyev appears on his state-controlled TV and in other pro-government media announcing new policies, opening hotels and factories, and smiling in staged, friendly chats with middle-aged and older citizens. Clearly reacting to the demonstrations in his country that followed the lead of pro-democracy revolutions in Africa and the Middle East, Aliyev has stepped up efforts against the Azerbaijan's infamous culture of corruption and kickbacks, holdovers from its 70 years as a Soviet state before it gained independence in 1991. Aliyev, who succeeded his father as president in 2003, earlier this year made a show of firing his top prisons chief and several other state officials over bribery allegations and forbade police from taking bribes (typically $25 to $60) from motorists to erase traffic tickets.
On April 2, his Baku city police force, dressed in riot gear, used pepper spray and physical force to subdue and arrest about 150 anti-government protesters after some yelled "We want Freedom" and "Aliyev, Go!" in downtown Baku. The day before, his police arrested activists in anticipation of the rally, Aliyev was a few miles away in the rundown suburbs, talking to happy citizens on state TV about installing new asphalt roads and street lighting. He admitted, even in his own media, that some hospitals in Azerbaijan were in an "unbearable" condition. On the day of the rally, he announced a plan to spend $7 million on suburban schools and a hospital in a pair of districts outside Baku. On April 12, he revisited a suburban area to open a newly paved road.
A new pro-democracy rally -- not authorized by the local government -- is planned for Sunday, April 17 in Baku's central Fountain Park, a popular shopping and restaurant district. The city government has approved demonstrations located only in Baku's outskirts, not its pedestrian-heavy core areas, so previous protests in Fountain Square were illegal, prompting arrests. Aliyev's ruling New Azerbaijan Party insisted that Azerbaijan is a free country and complained that unlike the protests in Baku, public rallies in other free nations must comply with local laws as well.
For Aliyev, 49, who holds a PhD in history and has written on the politics of oil, his zero-tolerance police strategy against the activists belies his image as an articulate, even pleasant presence in this energy-rich Muslim nation of more than 8.7 million. Since the April 2 protests, he accelerated his already grueling PR campaign. For instance, he increased spending from his previous decree to spend another $7.5 million on improvements to two other districts of greater Baku. He tightened controls on the travel industry. In April 12, he declared that some "illegal" housing in the suburbs would be made legal, for what his state media described as "the convenience of people and social justice."
Thursday, April 7 was one of his most frantic days yet. He was praised at a ceremony held to open a new synagogue -- to replace one in an old Jewish quarter in central Baku - built and paid for by the Azerbaijan government and constructed in only six months. Aliyev then told 250 business people at the Azerbaijan-Greek Business Forum in Baku that his government had invested $15 billion into his nation in 2010, and that Azerbaijan's economy grew by 14 percent last year as much of the rest of the world was mired in recession. He boasted of Azerbaijan's enormous reserves of natural gas -- at least 2.2 trillion cubic meters -- and that Greece would be the first of other Western European nations to receive gas Azerbaijan is piping via Turkey.
Later that day, he rode through the streets of Baku to the World Forum on Intercultural Dialogue, which his government organized with UNESCO among the sponsors. There, Aliyev stated: "We give preference to ensuring national and religious tolerance in Azerbaijan at the state level."
With all that is happening in Azerbaijan, especially the constant new development in Baku, Aliyev enjoys economic advantages that the countries that underwent or are going through revolutionary change, like Egypt, Tunisia and Libya, do not. And because many Azeris are doing better, from more jobs and Aliyev policies that increased access to small business loans, few observers believe that the protesters can gain nearly enough widespread support in Azerbaijan to topple their president, who in 2009 convinced Azerbaijan voters to suspend laws limiting his terms as president.
One his side, Aliyev presides over a strong oil and gas economy that has brought prosperity and general satisfaction to an expanding Azeri middle class. His decrees promote instant reforms, such as a recent one that immediately reduced the price of eggs to consumers. He at least looks like he is constantly making things better for Azeri society. Many average Azeris have improved under his rule. Baku is filled with new high rises, D.J-music nightclubs, expensive European clothing stores, blight-lit boulevards, and a luxury indoor mall, called the Bulvar, that opened last summer.
But can he stop these determined anti-Aliyev activists who have gathered steam in only a few short weeks toward what they hope leads to a free society, with him removed from power? So far, the harsh, even brutal response by Azerbaijan police against his country's Facebook revolutionaries has only temporarily quelled a recent rise in demonstrations in Baku that began March 11. The latest protest on April 2 ended in the worst violence yet, with at least two protesters hospitalized, 24 police officers injured, and crowds -- including young and old, male and female -- estimated at least 350 to 500 people, ten times larger than the first one in March. Demonstrators smashed shop windows and damaged 25 parked cars. More protests are planned this weekend and next.
Aliyev's defenders say privately that he must remain autocratic, his decisions unimpeded, for the sake of stability with tens of billions in revenues and a society to manage for years. Aliyev is buying progress for his country from oil and gas deals with American companies, Western Europe and Russia, they say. True democracy -- including fair elections that could send opposition deputies to the Azerbaijan parliament dominated by Aliyev's pro-government party -- and real free speech would not work in Azerbaijan, the logic goes. Azerbaijan is bordered by Iran and remains in a hostile, military standoff over its former territory seized and occupied by neighboring Armenia over two decades ago. Press, speech and other political reforms would bring delays, unpredictability, unrest and clashes among competing groups. It would also complicate his promotion of Baku as a place to attract global investment, business and tourism.
Aliyev's efforts to improve Azeri life, and his hectic schedule of activities, come off as a race against time. The pro-democracy activists - who like recent social media-inspired revolutions communicate with Facebook -- bring international attention to his regime's sanctions against news media and the jailing and harassment of journalists. It brings more discussion about a society run by non-elected elites and wealthy, powerful families, and the alleged irregularities in Aliyev's 2008 election.
Azerbaijan's energy bonanza will peter out someday. Public protests against his government may well continue for the foreseeable future. But for now, among the majority of Azeris who like the money and opportunities afforded by their petroleum and natural gas reserves, and their president's persistence and popular economic policies, Aliyev has the upper hand.
Jeff Burbank is a Fulbright Scholar and writer in Baku. His opinions are his own and not those of the Fulbright program.
Calling all HuffPost superfans!
Sign up for membership to become a founding member and help shape HuffPost's next chapter