Though Aziz Ansari usually plays the silly guy on screen, he's also known for calling out our serious injustices.
Whether it's tackling racism in his "SNL" monologue or bringing attention to the sexism women face every day, Ansari has schooled everyone on issues in the no B.S. kind of way only he could. 
We invite you to treat yo' self to these seven times he was the voice of reason in the crazy world we live in.
When He Made His "SNL" Monologue About Combating Racism
Ansari, whose parents are immigrants, made it clear that the country is, in fact, great. He explained that his family still loves America despite the divisive political climate and "they're not leavin'." 
But he also acknowledged the rising xenophobia, racism and Islamophobia following the election and called on President Donald Trump to do something about it.
"Don't tweet about me being lame or the show being lame. Write a speech. A real speech," he said, addressing Trump. "Because these people are out there and it's pissing people off. And I think he could make a difference."  
When He Reminded Us All To Call Our Parents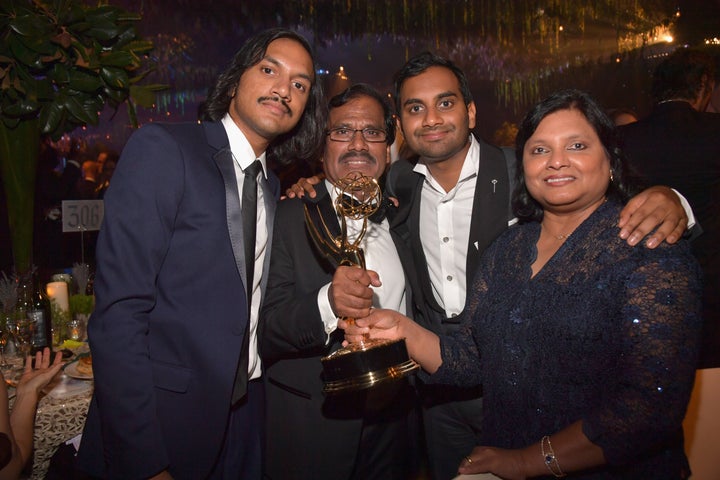 The actor wrote about his experience casting his parents in the sitcom on The Huffington Post. Working with them ultimately strengthened their relationship and made him realize how important they truly are.
"In reality, I haven't always had the best, most open relationship with my parents because we are weirdly closed off emotionally sometimes. But we are getting better," he wrote. "And if you have something like that with your family — I urge you to work at it and get better because these are special people in your life ... Enjoy and love these people while you can."
When He Urged Men To Pay Better Attention To Women's Experiences
Discussing an episode of "Master of None" that addressed sexual harassment, Ansari mentioned that it was actually inspired by a standup comedy show he did at Madison Square Garden. He said that, unfortunately, many men in the audience appeared unaware of the amount of harassment that women regularly receive.
Ansari asserted that it's necessary for men to take action and learn. 
"I thought it was interesting that this is happening, yet so many people are unaware of it," he told the outlet. "What I've learned, as a guy, is to just ask women questions and listen to what they have to say. Go to your group of female friends and ask them about times they've experienced sexism at their job, and you'll get blown away by the things they tell you." 
When He Explained How Ridiculous It Was To Be On The Fence About Voting 
During this past election cycle, many celebrities came out to urge citizens to fulfill their civic duties. But no one quite did so like Ansari. 
In a video by climate change advocacy group NextGen Climate, the actor boiled down exactly how crucial it was to get out to the polls. 
"What the f**k do you need?" Ansari said in the video, later adding: "There's a f**king guy running that says he hates brown people. That's not enough?"
When He Called Out Hollywood For Limiting Roles For Asians To Stereotypes
During a The Hollywood Reporter roundtable discussion featuring several actors, including Anthony Anderson and Jeffrey Tambor, Ansari spoke about how many viewers were surprised to see actors of diverse backgrounds playing characters who deviated from stereotypes on "Master of None." Usually, this isn't the case. 
"A lot of times when people write for Indian actors or Asian actors or anybody somewhat different, it is insulting because they have a certain view of, "... Oh, this Indian guy, let's put him in the cab or in the market,'" he said. "Let's not make him the guy who is this woman's love interest," or something like that, 'Let's get the white guy for that, of course.'"
When He Wrote A Sobering Op-Ed About Islamophobia In The New York Times 
Following Trump's offensive tweet about Muslims after the Orlando shooting, Ansari, the son of Muslim immigrants, broke down why hate speech is so harmful to those of the faith. And also why it's just absurd. 
"The overwhelming number of Muslim Americans have as much in common with that monster in Orlando as any white person has with any of the white terrorists who shoot up movie theaters or schools or abortion clinics," he wrote. 
When He Dragged Rupert Murdoch For Tweeting Islamophobic Comments
After the Charlie Hebdo attacks in Paris, Rupert Murdoch tweeted inflammatory comments about Muslims around the world being held responsible for the actions of extremists. And Ansari unleashed a Twitter rant.  
The actor flipped the script on Murdoch, and launched the hashtag "#RupertsFault." Ansari tweeted about incidents relating to the Christian community and how the billionaire could be responsible for them, showing the flaw in Murdoch's logic.
Calling all HuffPost superfans!
Sign up for membership to become a founding member and help shape HuffPost's next chapter
BEFORE YOU GO
PHOTO GALLERY
Celebrities On Immigration Ban