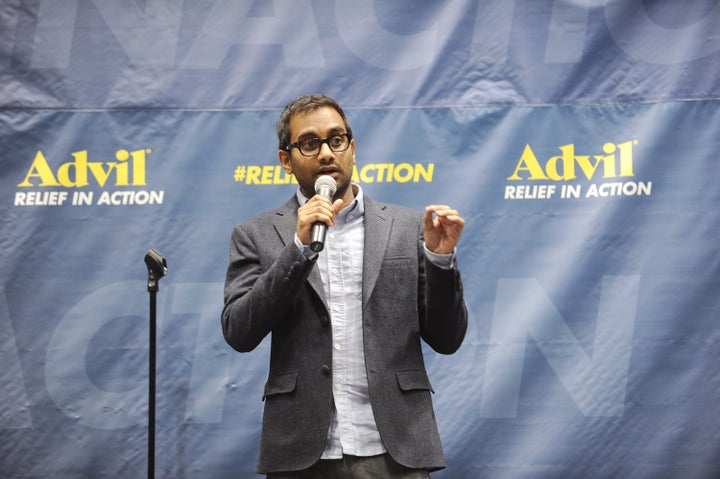 While we were dubious about his character's charities of choice on a recent episode of "Parks and Recreation" (see: Tommy's Tummy Foundation, The Clean Sheet Foundation), we can fully get behind Aziz Ansari's involvement with Advil's Relief in Action campaign. At last night's kickoff event at Brooklyn's Barclays Center, the scene-stealing funnyman treated 100 local Habitat for Humanity volunteers who helped their communities recover from Superstorm Sandy to a hilarious private standup performance, in which he reflected on the absurdity of marriage and recounted the time he crooned "Kiss From a Rose" for Seal. We caught up with Ansari, 30, to find out his dating deal-breaker, dream sidekick and what's up with that photo of his parents with Kanye West.
Why did you want to work with Advil to honor the Sandy relief volunteers --having lived in New York, were you affected by how hard the storm hit the city?
They contacted me and said they were doing this show for all these Hurricane Sandy volunteers, so I said that sounds like a good idea. I'm on board. I lived in New York for a long time and anything to give back to these people who were kind enough to volunteer is great.
Your recent standup touches on relationships and dating. Is there any dating advice you'd take from your "Parks and Rec" character, Tom Haverford?
No way! I wouldn't take any advice from him -- except maybe clothing advice, a little bit.
Such as peacocking?
Maybe some peacocking advice, yes. But other than that, I wouldn't take much advice from him.
What's your dating deal-breaker?
Really aggressive racism. I don't stand for that. I'd say that's the deal-breaker.
You studied business at NYU. What do you think has been Tom Haverford's best entrepreneurial idea?
Rent-a-Swag is working, but I personally like the idea of baby tuxedos. That's pretty cool. That might be a small market though.
You talk about your friends having kids, in your act. Would you raise a child in Pawnee [the fictional Indiana town where "Parks and Rec" is set]?
I don't know. I'd probably be scared of all the raccoon problems and the obesity issues. Whatever's coming out of Sweetums is probably not going to be good for the kids growing up there.
You have a sidekick on the show, Jean-Ralphio. Who would be your ideal sidekick in real life?
Axel Foley from "Beverly Hills Cop."
Do you have "Treat Yo' Self" days in real life and, if so, what do they entail?
I'm bad at vacationing and taking time off. I'm a real workaholic. My "Treat Yo' Self" day is like, go do a bunch of stand-up sets at night, which goes against the whole idea of "Treat Yo' Self" day.
Several weeks ago, a photo of you and your parents with Kanye West circulated the Internet. Where was it taken? Your parents don't look too impressed.
No, they were excited. That was after I did a show in New York at Carnegie Hall. I think it was the first time I did Carnegie Hall and my parents came to see it and he came to the show, so someone took a photo of all of us.
The trailer was just released for "This Is The End," in which you attend a party hosted by James Franco that turns apocalyptic. Aside from the apocalypse, what's the sign of a bad party?
Again, aggressive racism, always bad. I mean, you don't want to be at that party.
You tweet about "Hitch" a lot. What's the biggest lesson to be learned from Will Smith's masterpiece?
You want me to narrow it down to one lesson? The lesson is, aren't we all just Albert Brennamans trying to find our Allegra Cole?
Everyone enjoyed your British accent at the Emmys. Are you working on any others?
It's hard. I've been trying to work on an Australian accent, but it gets mangled with the British one. So, I'm taking a breather from accents at the moment.
Your cousins Darwish and Harris are frequent subjects of your comedy. Are they now celebrities in their hometown?
Harris is going to college at NYU and eats a lot of Chobani Greek yogurt. Darwish goes to school in Chicago and he's up to antics as well. They're both good.
You're a big foodie. If you were on death row, what would your last meal be?
This is a dark question! Why am I on death row? What did I do to get on death row?
You tell me.
No, I'm going to proclaim my innocence. I shouldn't be executed. Why am I being executed in this interview? It's not fair. No one else has sent me to death row in interviews. My last meal would probably be something simple -- like a Shake Shack burger and fries and a Coke. A very classic American meal.
Calling all HuffPost superfans!
Sign up for membership to become a founding member and help shape HuffPost's next chapter
BEFORE YOU GO
PHOTO GALLERY
Aziz Ansari