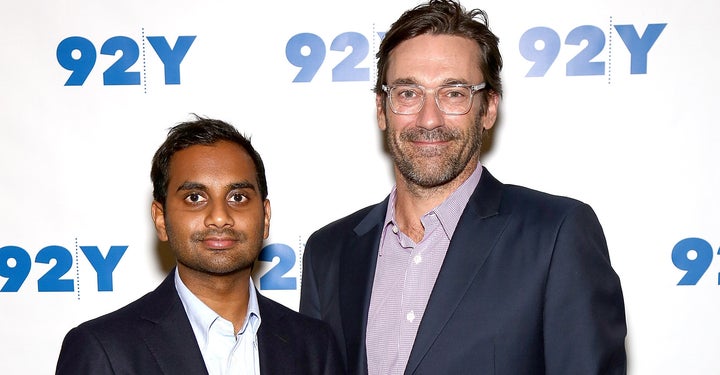 In conversation with Jon Hamm at the 92nd Street Y in New York on Monday night, former "Parks and Recreation" star Aziz Ansari talked about his upcoming Netflix series, "Master of None." As a series of vignettes based on Ansari's own life, the show casts a light on modern romance, friendships, life with immigrant parents, launching an acting career -- and all the accompanying pitfalls.
Wearing "fun" socks, Hamm mentioned one episode in particular where Ansari's character Dev responds to an open casting call. Ansari explained how the setup was based on an unwritten rule where showrunners claim they're open to casting actors of any race or ethnicity, so long as there aren't two of any one race or ethnicity.
"It's true! They do these shows, where they're like, 'We already got our guy, so.' They don't know any other Asian people," Ansari said, laughing. "These things really happen."
"I think sometimes there's a thought that people are like, 'Well, I don't know. I don't know if white people are going to watch that and care about that,'" he explained. "Yes! They will. It's fine. There's an episode of our show about parents who are immigrants, and I know white people that have watched it and they have not been totally [turned off]."
(A quick note to network executives: As a white person whose white parents were born in a Midwestern hamlet and Detroit, respectively, I'd like to say that I was, indeed, able to connect with the episode in question, which was fantastic.)
The comedian, whose parents were born in India, also joked about the monotony inherent in reading roles for minority actors. 
"It's like, 'Oh, what am I reading for? Is it the cab driver? Is it the gas station guy? Is it the scientist? Like, which one is it?'" he said, later suggesting his own version of the Bechdel test, the feminist litmus test for TV shows and movies created by cartoonist Alison Bechdel. Only projects showing at least two Asian people, neither of whom are either playing a stereotypical job nor talking about a stereotypical job, would pass "the Aziz test," he joked. 
Obviously, "Master of None" clears the fence. But it does so spectacularly -- Dev's best friends are the Taiwanese-American Brian (Kelvin Yu), a gay black woman named Denise (Lena Waithe) and, yes, a white guy called Arnold (Eric Wareheim). (White people exist, they're just not everyone.) Brian's father plays a part. And so do Dev's parents -- played by Ansari's real-life parents Fatima and Shoukath.
Hamm, whose interview style feels less as if he's recalling a list of questions than a list of commands, ordered Ansari to then talk about his parents. They each play versions of themselves -- a doctor and a homemaker -- because none of the other actors who auditioned "felt real," Ansari explained. But it worked out great.
"In the beginning he was very nervous," Ansari said of his father. "Then, by the end, he's improvising and stuff. It was awesome. He made the crew break more than anyone else on the show," he recalled. "You know, so much of that is just making unexpected choices, and my dad would make the weirdest choices." 
"He's already trying to find his next thing," Ansari laughed.
"Master of None" will be available on Netflix Nov. 6.
PHOTO GALLERY
Chocolate Fashion Show
Calling all HuffPost superfans!
Sign up for membership to become a founding member and help shape HuffPost's next chapter