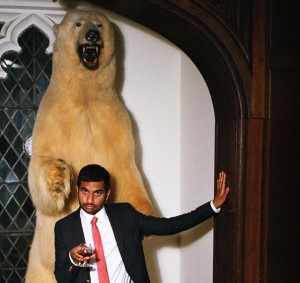 Photo/Ruvan Wijesooriya
There are several things in life that you can count on for certain: Peter Cetera never returning to Chicago, Cher's If I Could Turn Back Time video making your pants dance, and comedian Aziz Ansari making you laugh. Let's focus on the latter, because, well he actually spoke to me last week. OK, it was email but I digress. With his unique sense of humor and wit, Ansari's been a reliable comic for years but it seems he's finally getting his due lately thanks largely to his scene stealing turn on NBC's "Parks and Recreation." Prior to that, Ansari drew laughter as 1/3 of Human Giant along with equally funny Rob Huebel and Paul Sheer.
Ansari's first CD and accompanying DVD were just released entitled Intimate Moments For a Sensual Evening, and it's hysterical. Watch him talk trash about Coldstone Creamery one minute, and Celine Dion the next. Here's what he had to say about the CD, DVD and totally irrelevant things that came to my mind during the wee hours of the morning.
What was the the thought process of titling your album and DVD Intimate Moments for a Sensual Evening?
I spent a day looking at old R & B and singer songwriter LPs because that was the vibe I wanted to go for. After a little brainstorming, that was the name I landed on.
Are there any benefits to watching the dvd in hi-def?
My beard looks so much better in HD.
Would you ever trim your beard into a mustache?
Thus far, I haven't shaved my beard for anything, even when I was doing a sketch comedy show (Human Giant on MTV), which is kind of stupid because you kind of limit yourself to just playing bearded characters.
What was the worst night of stand-up comedy you've ever had?
My bad nights are stories like "Oh this one time, my set didn't go well and the audience wasn't that into me." I don't have one of those nightmare stories like "I was performing on a cruise ship and the whole audience started throwing crab cakes at me!"
Is velcro overrated?
Yes and green tea is underrated.
This is true. You've appeared in film and regularly on Parks and Recreation would you ever expand your credits to the stage?
I kind of get my fix for live performance with stand-up, but it would be fun to do a live staged performance like a play. Perhaps I could star in a Broadway version of R. Kelly's Trapped in the Closet.
I'd see that. Parks is really growing into quite a hysterical show -- do you notice a difference between season one and two thus far?
Everyone involved has just figured out how to do the better. Our first season was only six episodes, so we had a lot of room to grow in season 2, which I think we have done.
I should say so. Speaking of which, only not really, have you ever put raisins in seltzer and been amazed at the results?
I have not. I have put almonds in Trader Joe's Greek Yogurt with honey and that is f---ing delicious.
What were you like as a child?
Same as now. Just smaller, not bearded, and usually on a dirtbike.
What was I like as a child?
You ate a lot of grapefruits.
I didn't, but that's OK. Lastly, what are you currently working on?
Filming Parks and Rec, writing some movies for Judd Apatow with Jason Woliner, working on stand-up for a new tour in 2010, and I'm managing several Whole Foods locations throughout the southern California area.
REAL LIFE. REAL NEWS. REAL VOICES.
Help us tell more of the stories that matter from voices that too often remain unheard.