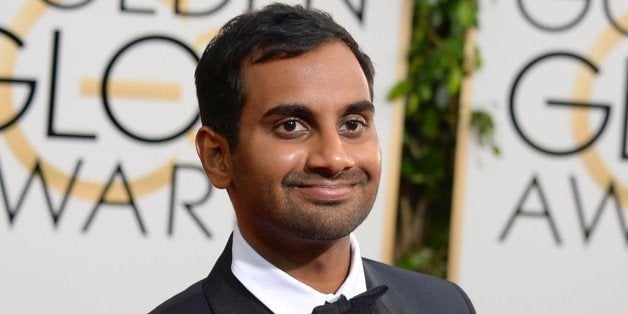 This weekend marked the release of Aziz Ansari's Master of None, an original Netflix sitcom that is almost impossible not to binge on during a single weekend. It has been a unanimous success, lauded across both old and new media for presenting a fresh take on what it means to be a young adult in the 21st century.
It is a comedy of manners that simultaneously reflects and satirizes the lives, ideals and behaviors of its multicultural characters through a broad range of situations, from trying to find the perfect follow-up text, to trying to establish a deeper relationship with their grandparents.
Master of None is an excellent use of the Netflix format that forgoes serialization (because, let's be real, you aren't taking any breaks while watching this show) to allow each self-contained episode to tackle its own specific theme. Of all these incredibly well-written episodes, my favorite is Episode 2, "Parents," a profound meditation on what it means to be a second-generation immigrant.
"Parents" starts with Aziz's dad asking Aziz to fix his iPad as the "ding dings" from his calendar did not transfer over when he switched devices, causing him to be late to pick his friend up at the train station. Aziz blows him off, for lack of a better term, as he is on his way to see the new X-men movie.
We see a nostalgic montage from the point of view of Aziz's father (charmingly played by his real father, Shoukath Ansari), that goes from his poor childhood in Tamil Nadu, India, where he lovingly carried around an abacus that was broken by the village bully, to his struggle to leave the job at the zipper factory where he and his father both worked to move to the U.S. and become a doctor, a depressing first dinner in the country at the hospital cafeteria as a newlywed, and, finally, Aziz's birth, a symbol of hope that has made the whole journey worth it.
We see a similar story with Aziz's friend Brian, whose father left Taiwan to move to the U.S. and start a restaurant, after dealing with discrimination and isolation. Having these two cross-cultural stories on screen overcomes the danger of a single story we are often faced with when seeing immigrants in the media ("there can't be two," as Aziz realizes in a later episode).
Rather than presenting a tokenistic immigrant story in contrast to a dominant Caucasian tale, the very fact that we are privy to multiple immigrant narratives elevates them to mainstream status, allowing the audience to understand the similarities and differences between them.
The immigrant experience is construed generationally: The chasm between first and second generation experiences is vast, and not often fully discussed or understood. First-generation immigrants grapple with the challenges of leaving their home countries, the financial and social implications of adjusting to life across the world, and the difficulties of raising their children in an unfamiliar culture.
Second-generation immigrants experience cultural conflicts between that of their parents and that of mainstream Western society, finding assimilation to varying levels. In Master of None, we get to see this intergenerational dynamic from both points of view: the parents' perspective on the sacrifices they made, and their children's failure to properly appreciate what they have, and the children's view that their parents are unable to understand and celebrate their American ways of life, indicated by Aziz's dad's critique of his roles, or Brian's dad's stoicism.
As I watched the episode with my other second-generation immigrant friends, we took pause to reflect on what we knew of our own parents' experiences: how long-distance calling prices meant my dad could only speak to his parents in India once a month when he moved to the U.S. for graduate school, or my friend's mom walked an hour barefoot to get to school every day.
We discussed how true this episode rang, and how we felt compelled to call our parents immediately. We discussed how we had not been able to identify with any other shows in quite the same way, a way I can only describe as a combination of the emotional anguish of seeing your parents' "I'm not angry, I'm just disappointed" looks, the vigorous-head-nodding need to share of reading a Buzzfeed listicle that perfectly describes your behavior, and the awkward but glaring reality of hearing yourself on tape.
Someone brought up the idea of showing the episode to their parents... and then hesitated. While that was an initial impulse for all my friends who watched it, we collectively toyed with the idea, trying to anticipate our parents' reactions.
Underlying these conversations was a wave of immigrant guilt: the hard-wired need for the children of immigrants to prove that we weren't taking our opportunities for granted, and we could both make something of ourselves and connect deeply enough with our parents in a way that their journey and sacrifice were worthwhile. We are both so ingratiated to our parents and so ungrateful. We all related to the episode to varying degrees, but the common theme is: how will we ever be able to fully repay our parents for what they gave up in order to give us better lives?
What strikes me most is how bittersweet the episode is. As in all the other episodes, the show does not try to provide any conflict resolution or even suggest that these microexistential situations (love, family, identity) can be resolved. Such are the realities of our increasingly nuanced lives -- the situations are often unprecedented, and the solutions do not necessarily exist, but maybe they don't need to.
The dilemma that second-generation immigrants face in Master of None is at the center of a broader question that all young adults face: How do we take this remarkable privilege we have and make something out of it? In a time when the world is the most technologically advanced, peaceful and happiest it has ever been, a time where, in the words of Aziz's mom, fun is a luxury that only our generation has, how do we prove our worth without squandering the opportunities we are provided? Maybe we'll find out in Season 2.
Popular in the Community