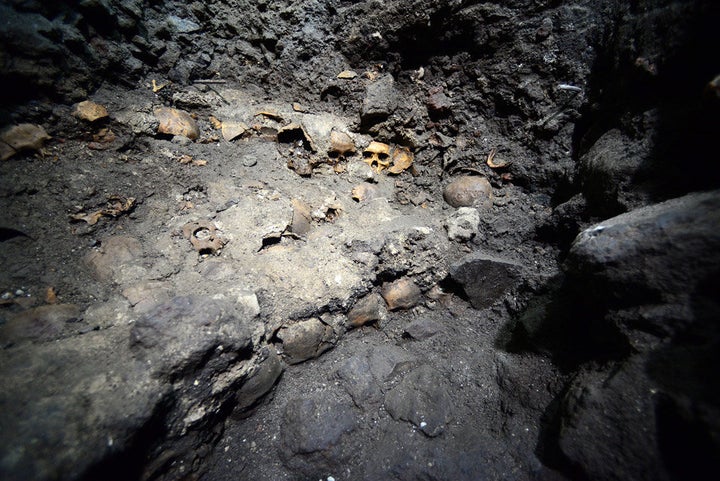 So far, at least 35 skulls have been found at Mexico City's Templo Mayor Aztec site, but archaeologists believe there may be many more still to be uncovered, Mexico's National Institute of Anthropology and History said in a news release. 
The display was called a "tzompantli." These racks were created by pushing a wooden pole through the heads of those who had been decapitated, and the poles were then placed on posts. 
Although called a "skull rack," the heads were usually impaled while fresh and left to rot and decompose before onlookers, according to the Associated Press.
(Story continues below image.)
The recently uncovered display dates to a period between 1486 and 1502, the National Institute of Anthropology and History said. Most of the skulls were those of young adult men, but there are some women and children in the rack as well, the organization said. 
Along with the skull rack, the researchers also made another grisly discovery. Part of the platform on which the rack was displayed was made from skulls arranged in a circle and cemented together with a mortar of lime, sand and volcanic rock, they said.
Susan Gillespie, a University of Florida archaeologist who was not involved in the project, told The Associated Press that while other tzompantli have been found before, scientists have long been searching for the main one at the Templo Mayor site. 
"They've been looking for the big one for some time, and this one does seem much bigger than the already excavated one," Gillespie told the agency. "This find both confirms long-held suspicions about the sacrificial landscape of the ceremonial precinct, that there must have been a much bigger tzompantli to curate the many heads of sacrificial victims." 
REAL LIFE. REAL NEWS. REAL VOICES.
Help us tell more of the stories that matter from voices that too often remain unheard.