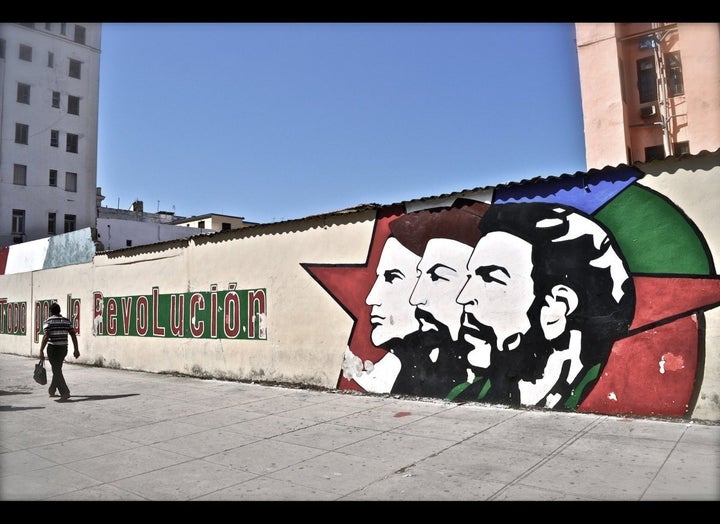 Life, on occasion, makes us wait. This quirk of experience often seems most true when the want goes deepest. Perhaps these pauses are self-administered. After all, what is "life" beyond the patterns we perceive or choose to perceive from the pickup sticks of our past. Well, for whatever reason, my delay in visiting Cuba -- after years and years of wanting -- somehow landed me there in exactly a moment, a manner, and a mode of mind that dissolved all to opening.
My interest in Cuba had been bound up with history -- Dad's trips to catalog the island's butterflies, a youth spent in Miami, policy battles on Capitol Hill, and the novel I've finally put to bed. I arrived in Havana this July full of memories and anticipation, but left with only a sweet, sweet taste on my tongue and a healthy hunger to return.
There is plenty that makes Cuba magical. Much has already has been captured and written about its unique architecture, art, and culture. Words and images only tickle, however. Havana is such a penetrating physical presence. Its vibrancy rises up from the cobble stones, pours down out of windows, careens loudly along the road ways, and moves through the lips and hands and feet of its huge-hearted inhabitants.
I have never been anywhere that feels so richly and meaningfully alive. How can such simple pleasures be so intense? Listening to evening unfold in the flutter of bird wings and the tangle of bright car horns crowning a city square, passing by the iconic seawall of the Malecón still bustling with the cheerful chatter of multiple generations in the early hours of morning, watching kids racing barefoot up a darken street before an audience of all neighbors. One sips participatory scenes in like Cuban coffee -- quick tastes that linger long and melt some inner resistance, longing to give way.
Traveling does have a tipsying effect and maybe this all seems a bit like the ravings of a reluctant re-entrant to regular life, but I don't think so. I've been and enjoyed many places and people around this great globe. Each has been a gift and a teacher. My way of saying thanks is to share when I come across that which is and those who are singular.
I can't list here all the marvelous people who made this trip unforgettable, but one individual who made my visit feel like a homecoming is Collin Laverty. We were introduced by a mutual friend, but I came to discover that he seems to know everyone. Reach out if you plan to go and he'll look after you.
Two of his friends are the husband and wife hip-hop duo of Obsesión Alexy Rodríguez Mola and Magia Lopez. My travel mate and I spent a morning with Collin, Alexy, and Magia, in the Obsesión studio in Regla, an industrial suburb a ferry-ride east of Havana. Alexy and Magia are making great music with a distinct social edge. They gave us a disc of some of their most recent work, which we'll upload to YouTube for them, as the site is blocked in Cuba. Stay tuned for these fresh selections, but in the meantime, enjoy some of what's there now. A shot of café cubano from me to you -- que rico.
It's true that travel is as much about coming back as it is casting off. It jolts us into locating the truths that are right there beside us each day. And so, a final thing to share -- a taste of something singular, arising not from behind the cordon of a political embargo, but stirred from a story of a different kind of prison. Life and death, right and wrong, man and society, beastliness and beauty, all this and more surface in Werner Herzog's film documentary of a capital punishment case in Texas.
One experiences Into the Abyss through Herzog's own distinct interview style, the tales of those affected by the triple murders, and through the remarkable musical score that gives a haunting cohesion and counterpoint to the whole. This sublime soundtrack by Mark degli Antoni, admittedly a friend and artist I greatly admire, has created something that enters the bloodstream. It too melts something longing to give way. Let it.