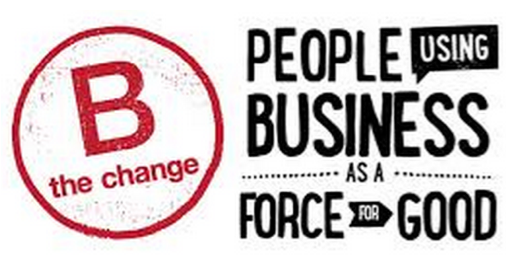 Much has been made of last week's listing of Etsy, the online marketplace for Mums & Pops to sell their wares. The media attention given to Esty was due to the fact that it was just the second B Corporation (www.Bcorporation.net) to go public.
B Corps are a new type of company that uses the power of business to solve social and environmental problems. They have passed a rigorous assessment using criteria including governance, workers, community and environment. There are 1,200 certified B Corps globally including well-known American brands such as Seventh Generation, Patagonia and Ben & Jerry's, as well as some large overseas brands like Natura, a Brazilian natural cosmetics brand. These businesses want to do well by doing good.
Articles of Incorporation language typically state that companies are in business to "maximize shareholder value". By becoming a B Corp, the word "shareholder" is replaced with "all stakeholders." If the company is ever approached by a multiple of suitors offering to acquire them, under the B Corp structure, the Board is no longer compelled to accept the highest financial offer. Other factors such as how the acquirer will treat the employees and the effect the acquisition will have on the company's environmental mission can be considered and a lower financial offer can be accepted by the Board without fear of being sued by shareholders. As one of the first B Corps to become a publicly listed company, Etsy is a pioneer. It is a story of note.
Challenges for B Corporations

There is however a bigger story here. As we see the emergence of entrepreneurial Millennials including the growth of access over ownership business models (the shared economy), more and more startups are adopting the B Corp ethos. Of the 1,200 B Corps, most are of the smaller variety.
B Corps by definition are driving world-changing agendas. The majority of them require external capital. They need two things that are diametrically opposed in the current VC funding model: large amounts of capital (changing the world is quite an expensive business) and a long runway (changing the world takes longer than say the time it takes to develop and market an app that helps you find a parking spot -- as much as that app is really convenient!).
Problems with the traditional funding model

While it is well known that 80 percent of new businesses fail within the first five years (Inc. magazine and the National Business Incubator Association) what is less known is the success rate of Venture Capital when applied to "normal" start-up companies. According to research by Shikhar Ghosh, a senior lecturer at Harvard Business School, 75 percent of VC-backed companies fail. In addition to this, the research shows that 95 percent of VC-backed companies never meet their financial targets.
No one can disregard macroeconomic factors, the timing of entry into a market, and the other dynamics that play a role in success or failure. But even taking all this into consideration, could it be that many businesses fail in part because of an investment model that doesn't maximize the chances of success. It's not that the existing investment model isn't still producing stunning examples of achievement. It's that these are so few, and the failures so many. In an article on its website, Founders Fund, a technology venture capital group launched by PayPal founder Peter Thiel concurs that the mainstream VC model isn't working very well. Its diagnosis is compelling: in recent years, venture investing has "shifted away from funding transformational companies." Think of Intel and FedEx who were VC-backed when they started 40+ years ago. These companies created the backbone of our current economy. Founders Fund believes that this shift away from transformational companies "broke venture capital."
Today B Corps are the very transformational companies that Peter Thiel refers to. A shift by VCs back to these kinds of companies is one solution to the problem of how early stage B Corps can raise capital aligned with their values and help VCs improve their current low strike rate for success. But it is not that easy.
The complexities of B Corps are many. They measure three bottom lines -- people, profit and planet using tools that are still in development. Their time horizon is inordinately long, much longer than the five to seven-year time frame that capital needs to be returned in the traditional model. The focus on accelerated growth for the forever is an anathema for world-changing, transformational B Corps. And B Corps are about as far away as you can imagine from the current VC obsession with "Instant Unicorns".
Attempts at an alternative to the existing model to fund world-changers such as a 10-year term instead of the usual five to seven years and the requirement for a lower Internal Rate of Return than a "normal" investment are simply iterations off of a broken model and have not solved the problem. To fund B Corporations, a new model is needed.
A new funding model
B Lab, the non-profit that looks over B Corporations have done an incredible job in three main areas.
They have developed benchmarks that are used to assess companies wanting to become a B Corp
They have gone state by state across the US changing legislation to support B Corps
They have been very effective in enrolling companies large and small across the world to become B Corps. The community of B Corps is very strong and the annual global gathering is evidence of that. The last remaining piece of the puzzle is to find an approach to funding start-up B Corps.
The current investment model emphasizes the mitigation of risk. The horizon is usually limited, with exit often contemplated even before entry. As a result, a great deal of time and energy is spent managing risk and producing short-term returns. This can prevent management and investors from focusing on larger goals that could produce much greater long-term rewards. The investment model suggested below supports a B Corp's pursuit of ambitious, long-term goals.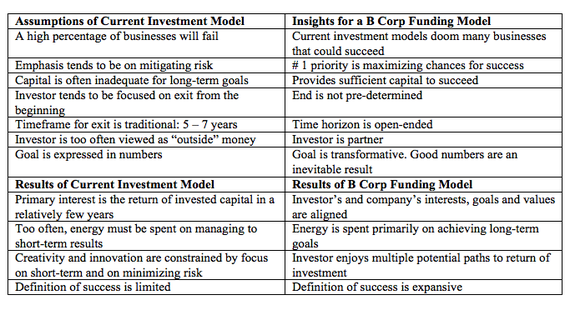 Sufficient capital to succeed. To achieve major, transformative success, a business needs sufficient (but not unlimited) capital. This will allow the company to focus its energies on implementing its long-term plan.
Capital that is an equal partner. There is immense power in capital that comes in as a true partner completely aligned with the business in its underlying values and its understanding of what defines success.
A long-term horizon. Transformative success takes time.
A redefinition of success. Traditionally, success is defined as sufficient growth over 5-7 years to enable investors to exit and management to cash in. All too often, this doesn't provide fertile ground for the seeds of true transformation. The investment model being proposed allows a much more ambitious definition of success.
Tesla, while not being a B Corp, shares all the ethos of one. It is upending the automotive and home energy world so it clearly qualifies as transformative. However if it not for its founder Elon Musk's PayPal millions early on, the business would not be here today.

For founders who haven't made millions in an earlier venture and if we assumed this new model stacked up, who could step up and fund these businesses? As mentioned before, one possibility is for existing VCs themselves to move back to their roots when investment time horizons were longer, the businesses being backed were transformative and unicorns were the stuff of My Little Pony books. With a 75 percent failure rate on the one hand and examples like Tesla on the other, it would seem attractive. They would need, however, to shift their thinking in line with the approach set out above. And that is quite a massive shift.
Another possibility is the role of high net worth families who have a particular passion for disruptive startups. This may be especially the case where Family Offices are run by the younger generation. They often have a focus on transformation and legacy rather than fast returns. The paradox is of course that in focusing on transformation, the long -term returns will dwarf anything earned in the short-term sprints the current model attempts to deliver. When Tesla is powering our homes with renewable energy at lower cost than the coal-fired incumbents and we are all driving $20,000 100-percent electric cars at near zero fuel costs, I believe they will be one of the most valuable companies in the world. And that is what all investors want to be a part of. B Corps are Tesla kind of companies. And B Corps need a funding model worthy of their lofty goals.
This page contains materials from The Huffington Post and/or other third party writers. PricewaterhouseCoopers LLP ("PwC") has not selected or reviewed such third party content and it does not necessarily reflect the views of PwC. PwC does not endorse and is not affiliated with any such third party. The materials are provided for general information purposes only, should not be used as a substitute for consultation with professional advisors, and PwC shall have no liability or responsibility in connection therewith.