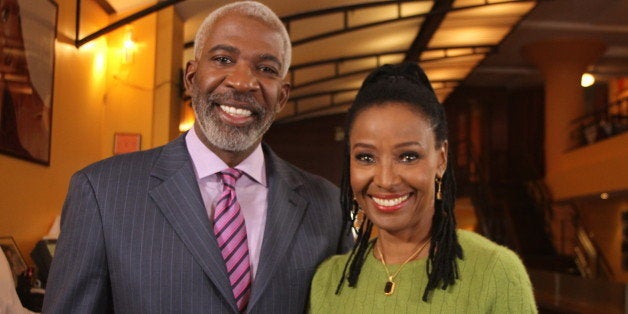 During a recent interview with the Huffington Post, Gasby explained the couple's goals to have more people of color involved in Alzheimer's research, and to work to dismiss preconceived notions about the disease.
"The biggest misconception is people believe that only old people can get it. And the reality is people now in their 40s and 50s are showing signs of early-onset Alzheimer's and dementia," he revealed. "And then within the African-American community we don't want to deal with things that have certain stigmas to them. And so, we don't want to talk about it and we try to hide it. And that's not the way to get it done."
Studies have suggested up to five percent of people living with the disease have younger-onset Alzheimer's, affecting people under the age of 65 and as young as those in their 40s and 50s.
"The big thing that Barbara and I talk about is that we need more black people to take a chance on being a part of the drug trial movement, because if we don't get this right and get the right medicines our kids and our grandkids – 30,40, 50 years from now, while groups may have figured out how to combat or change this -- they could still be at a disadvantage because they don't have the right sampling and representation."
Gasby went on to explain to HuffPost through his experiences raising awareness that African-Americans often express a significant amount of mistrust with the medical community. In fact, the television producer compared their apprehension to the ongoing mistrusts of policing in many of America's black communities.
"It's all systemic. This is at the very root of race and government and feeling oppressed, and so we the people don't trust these organizations," he admitted to HuffPost. "And we gotta find a way to build trust, because it's in our own selfish interest to get the best medical care because we deal with all the other issues that some people don't have to deal with by the virtue of not being black."
"This is a 21st century civil rights issue in terms of understanding that Alzheimer's have to be dealt with, and that we have to find a way to work with pharmaceutical companies and research companies to get involved so that the data that they collect is going to help us."
To help close the gap on clinical trial diversity, in 2011 President Obama signed the National Alzheimer's Project Act. In addition to Obama's efforts, last year the Pharmaceutical Research and Manufacturers of America (PhRMA) partnered with the National Minority Quality Forum to launch a national education program, "I'm In," to raise awareness amongst underrepresented participant populations to help researchers develop potential life-saving medicines.
Calling all HuffPost superfans!
Sign up for membership to become a founding member and help shape HuffPost's next chapter
BEFORE YOU GO
PHOTO GALLERY
10 Symptoms For Alzheimer's