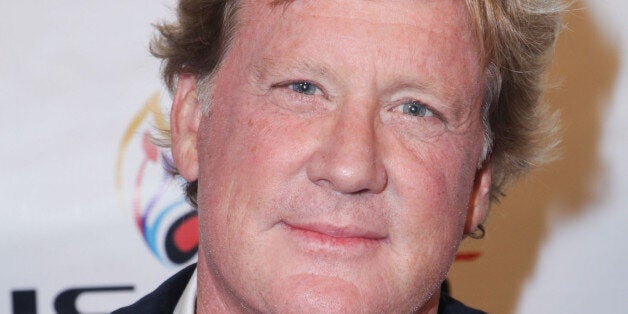 Thousands of California prisoners could be released if state voters pass a referendum downgrading certain non-violent felonies to misdemeanors next month. If that happens, the inmates will owe a debt of gratitude to a conservative multimillionaire named B. Wayne Hughes Jr.
Hughes is that rare businessman who manages to embrace Hollywood, Wall Street and the church pew: He invests in real estate, surfs in Malibu, plays cowboy on his ranch and prays in the prison ministries he supports. Now his fortune may help power California Proposition 47 to victory at the ballot box, marking a milestone in Americans' changing attitudes toward incarceration.
"I was approached by some of my friends on the left. I didn't know I had friends on the left," Hughes told The Huffington Post. "I said, 'OK, I will go ahead and write the first check.'"
His passion began in an unlikely place: at the Ronald Reagan Presidential Library, an institution devoted to the man who dramatically expanded the war on drugs in the 1980s.
At an event there in 2009, Hughes met Chuck Colson, a former Richard Nixon henchman who founded a large prison ministry after serving seven months for the Watergate cover-up. Colson pitched Hughes, who says he became a serious Christian only in his 40s, on backing Prison Fellowship ministries in California.
For Hughes, the call coincided with his own growing disillusionment with Washington politics.
While he received a welcome political education, Hughes recalled his disappointment when he realized that "I was going to be told whatever I wanted to hear as long as I wrote a check."
So back in California, he turned his attention to projects that might more directly benefit his home state. After the meeting with Colson, he took a trip to the Louisiana State Penitentiary in Angola, where he observed the prison's Bible college in operation.
"Ninety-nine percent of everybody's going to get out," he explained. "And who do we want getting out -- someone who's angrier and more dangerous than they went in? Or do we want somebody who's thinking about issues about peace and praise and forgiveness?"
If Prop 47 passes, Hughes noted, it could cut down on the target audience for prison ministries. But, he said, "anything is better off than being in prison for these men and women who have committed these felonies."
Nationally, the burgeoning network of prison ministries has attracted criticism from some on the left for favoring the Christian faith over others. But Hughes has received a warm embrace from many liberal groups in California fighting to reverse the state's tough-on-crime policies of the 1990s.
"The notion that we have spent too much money on prisons and that we need to do something different with criminal justice is a notion that's shared across the political spectrum," said Lenore Anderson, the leader of the Proposition 47 campaign. She was the "friend on the left" who first approached Hughes.
By 2012, California voters had had enough, deciding overwhelmingly to curb the three-strikes law's most draconian provisions. Separately, the U.S. Supreme Court ordered the state to release tens of thousands of inmates in 2011, finding the prisons' overcrowded conditions to be unconstitutional. That slow process is ongoing.
Now comes Prop 47, which would downgrade drug crimes and other non-violent offenses like petty theft from felonies to misdemeanors. The initiative is sponsored by the nonprofit Californians for Safety and Justice, which is led by Anderson.
Since January, she said, Hughes has become an "absolutely critical" spokesman, cutting television ads to show that the referendum has meaningful conservative support.
For Hughes, not previously much in the news, the campaign has been a public coming out of sorts. It has also been an opportunity to mix with faces on the left. He has met liberal Christians ("all of them know the precept of love your neighbor"), civil rights activist and former Obama official Van Jones ("a very nice guy"), and other Prop 47 supporters like Dionne Wilson, a police officer's widow who found solace in Buddhism and prison rehabilitation programs.
"I really believe in the power of redemption and so does Wayne, deeply," said Wilson.
Hughes' personal plea to the California Republican Party to back prison reform was shot down, but a recent poll found that rank-and-file Republican voters support the measure by a 50 to 32 percent margin.
"When it passes ... the next place for parties to come together are issues around mental health," said Hughes. "I'm doing what I'm doing and I'm not going to quit. It's fun helping people."
Support HuffPost
The Stakes Have Never Been Higher
Popular in the Community