"It was the best of times, it was the worst of times, it was the age of consumers, it was the age of businesses."
Many marketers will argue that Business-to-Consumer (B2C) marketing is more emotional than Business-to-Business (B2B), but in fact, a B2B purchasing decision is typically reliant on more people and thus becomes exposed to more potential emotional filters.
Relationships are important for both B2B and B2C interactions. Depending on the industry, these relationships will vary. Most B2C interactions favor a consumer having an understanding of your brand, while most B2B interactions require a point-person having a direct relationship with someone in another company. Forging a B2B relationship takes time, empathy, and sometimes a free lunch or two.
So let's focus on one difference that's not debatable. B2B, for most markets, is more complex and takes more time when compared to B2C.
A byproduct of this is that the cost of a sale for the Business-to-Business market is typically higher than for the Business-to-Consumer approach. This is because the B2B purchasing process involves decision-making groups with members from many teams, and the final call gets routed up the ladder.
Before we get down to brass tacks, it is essential to understand which strategy is right for you. You may think you already know the answer to this question, but innovations in technology have caused the two of these strategies to overlap more than ever before. Be sure to redouble your efforts to assess your business needs.
It's very possible that you could end up deciding that both strategies are necessary. There is nothing wrong with this approach. When done right, both options can be effective and even possess a symbiotic relationship when run simultaneously.
Once you've decided on an approach invest in the resources you need to do it right.
Let's take a closer look at how this breaks down:
When it comes to messaging potential business clients, focus on the logic of your product and the ROI it can provide. Highlight what your product does and what it means for their business in the long run.
Structure a touch-point focused strategy that emphasizes how your company can save a potential buyer time, money, and resources. This requires spending the time to understand who your buyer is, how they fit into their organization, and what that organization needs.
In the B2B world, buyers will need more proof. For you, that means investing in more in-depth marketing materials to make your pitch. Be aware that you are proving your value to a group, as opposed to just one customer.
When you've made your argument, back it up with hard data and leave less room for emotional decision-making. The more relevant data you provide, the faster the buying process will be. If there's a clear return, businesses tend to speed up their decision processes.
Adding non-repetitive sales data to touchpoints requires quality and diversity. This sounds daunting, but it doesn't need to be. Research shows that adding video to email communications, for example, can increase click-through rates by 300%. Simple additions like videos or podcasts in your marketing efforts can help show the intricacies of your product, how it's best used, and solidify yourself as a trusted source in the industry.
Finally, one of the best ways to improve your B2B campaign is to invest in creative freelancers and other digital marketing experts to help you reach your goals. There's a reason major companies rely on sales departments. No need to do it on your own.
B2C: Timing and Competition
How can you capitalize on the accelerated arena of B2C commerce?
Make sure your messaging is simple and easy. Focus on the benefits of your products or services and how they can positively impact your customer's life.
Because this process is so much faster, it also relies on immediately capturing potential patrons' attention. Invest in the materials needed to disrupt the humdrum of your customers' daily routine. Hiring creative freelancers or specialists is a great way to freshen up your marketing ideas.
Another implication of a shorter process is that you need to reach customers at the point of purchase. This is where they might make a decision to buy. Depending on the product, this point can be over in just a few minutes, rather than a few days like it is with B2B.
Even though the lines overlap for B2B and B2C strategies, the business systems that support communications, transactions, and sales administration differ in complexity, scope, scale, and cost. It is important that you implement the right system for your business.
Now that you've got a handle on these two strategies, call in the experts from Rebuild Group to help you do it right.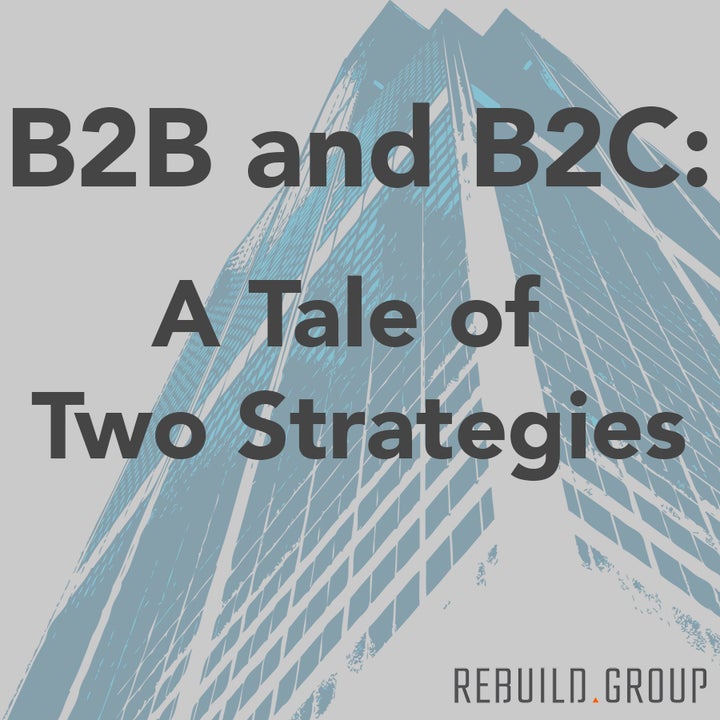 Related
Popular in the Community