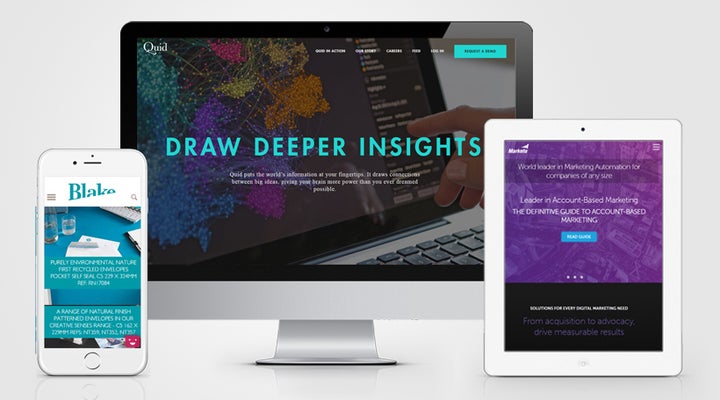 B2B marketers know that brand awareness is only the first small step in the path to conversion, and that what comes next -- the process of convincing a user to become a customer -- is an even more prolonged and challenging process. Widening the funnel is one thing, but making sure you're able to efficiently move users closer and closer to a sale is a task that requires strategies and tactics tailored to that goal.
At Blue Fountain Media we have experience working with B2B clients across a range of industries, from technology to finance and everything in between. We work with our clients to find ways to increase brand awareness and bring users into the funnel, and then we develop creative strategies to educate and engage those users even further, driving them toward conversion. Below are some of the tactics we employ to help our B2B clients move leads through the funnel to close more sales.
Content marketing is one of the most effective tactics for B2B brands to move users from an awareness phase to an interest and evaluation phase. This is the phase where your brand gets to show off your know-how in your industry with the goal of persuading users of your expertise and capabilities. Content with perspective that provides something of value to users is the best way to encourage deeper engagement with your brand. And content opportunities for B2B brands abound. Whitepapers, case studies, blogs, podcasts, and video tutorials are all formats well-suited to telling success stories and imparting professional advice and insights.
With that said, it's important to note that not just any content will do. We're living in the golden age of content marketing, and that means competition to capture audiences through top quality content is high. Your content needs to be thorough, engaging, and informative if it's going to bring results. It should be designed to appeal to the needs and desires of the user personas you've established as part of your digital marketing strategy. What questions can you answer? What problems can you solve? What new skills can you teach? Always be on the lookout for ways to create content that's unique, whether it's a particularly surprising case study or a report based on your own internal research.
Create drip email campaigns
Email marketing has been a go-to channel for lead nurturing pretty much since its inception, and it remains a powerful tool to this day. Drip email campaigns allow your brand to speak directly to users with content that's tailored specifically to whichever phase of the customer journey they're in at that moment.
In order to move your leads down the funnel, you can design drip campaigns with a variety of objectives and audience segments in mind. Customized campaigns can be created to re-engage leads that have grown cold, while education-focused campaigns can be deployed to target prospects who have shown interest in specific products or services.
The beauty of email is how targeted it allows you to be in your segmentation. Deeper segmentation allows you to create and deploy more personalized content that is more likely to resonate with users.
Use retargeting display and RLSAs
Retargeting display ads are not just for ecommerce brands. These ads, which are shown to users on other sites on the web after they have left your website, can be tremendously effective for B2B brands too. You can use retargeting ads to highlight your best content, feature a promotion, or incentivize an action. Retargeting ads will get users to come back to your website and re-engage with your brand. They're also inexpensive to run and relatively simple to manage.
Remarketing lists for search ads (RLSAs) are another way of re-engaging prior website visitors. RLSAs are a Google Adwords feature that allows brands to customize ads and tailor bids for relevant search terms when the search is conducted by a previous website visitor. For example, you might choose to set bids higher for certain terms if the user conducting the search has visited your site before. Or you could choose to write ad copy that speaks to those users more directly. Either way, RLSAs offer a way to ensure that your brand is prominent in the search results when an interested user conducts a query relevant to your services or products.
Hosting events is a good way to get new leads into your funnel because you can advertise them to users who are interested in your event's subject matter but have never heard of your brand. But beyond attracting new leads, events can also be used to nurture existing ones. Through email marketing, retargeting ads, and organic and paid social media, you can encourage your existing leads to attend a seminar, webinar, conference, or class that your brand hosts.
These types of events are an effective way of demonstrating expertise and they are better positioned than any other channel to allow your brand to establish a meaningful, in-person connection with your prospects. Establishing that connection can help pique interest and move users to evaluate your services further. If nothing else, it will ensure your brand is top of mind when the prospect is ready to take the next step.
Moving users down the funnel requires persistence. B2B sales cycles are much longer, generally, than B2C ones and B2B decision-makers need to engage with the brand across many touch-points before a sale can occur. In order to close more sales, B2B lead nurturing strategies should focus on high-quality content tailored to the different stages of the customer journey. Pushing this content out across channels is the best way to continually re-engage prospects to move them down the funnel.
To learn more about B2B marketing tactics, visit Blue Fountain Media online.
Popular in the Community