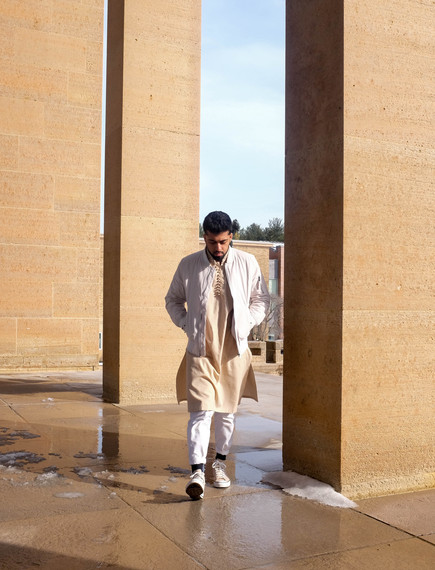 Babar Harrie describes himself as a driven 23-year old, hustling hard to transform his dreams into a reality. He wears trendy jackets, traditional Pakistani kurtas paired with fitted jeans, and matching boots. He also raps and freestyles while referencing Islam in his day-to-day conversations.
Harrie, based in Detroit, is on a journey to merge religious obligation with his artistic passion for rapping. He's on a quest to break the stereotypes that media portrays young Muslims to fall under -- being closed minded, backward and bland, while also redefining the way rap music is represented in today's society -- being profane and disrespectful.
"I'm just trying to die with the kalimah, kick it all day with the ulema," he raps, in his single "Kalimah", which refers to a Muslim's declaration of God's glory.
Harrie's career in rapping began during his senior year of high school. He would record in his room with his younger brother, using a $30 point-and-shoot camera. He wasn't particularly great at rapping due to his lack of rhythm, but he kept at it, continuing to draw material from every aspect of his life. Inspired by the witty metaphors of rappers like Lil Wayne, Harrie began writing his own lines. He would be absorbed in a world of analogies, similes, and rhymes while his classmates were focusing on the lesson being taught.
Slowly, Harrie said, the meaning behind his songs began to transition. His lyrics began to reflect on his identity as a Muslim Pakistani-American, instead of the parts of himself he'd see in other artists.
"I felt like I didn't fit into any group because I went to a high school where everyone was predominately white," the hip-hop artist said. "That's why I could relate to rap -- being the underdog, rebellious kind of music.
While being devoted to his faith and simultaneously having a passion for music may seem contradictory to outsiders, Harrie is confident that he won't need to shroud his beliefs with a blanket to find success in the music industry. However, he admits to having a fear of losing his faith. He says he constantly asks God to preserve his beliefs, having undergone doubts about Islam after releasing his "November" mixtape in 2012.
"The thoughts I was having really started messing with my mind and the way I looked at myself and my lifestyle," the artist mentioned.
He began to seek guidance from scholars and spend time with people who were more religiously inclined. While questioning his career in music and learning more about Islam, Harrie decided not to rap and record for about a year. He cut off several people he knew and went back to school. While searching for the middle path and putting a conscious effort into striking a balance between the mundane and divine world, he ultimately acquired the mindset of being a sinner that's Muslim. So, he began to reconnect with old friends and improved his rapping skills.
Harrie then gained popularity and worked alongside the TakeOver Music Group with MTV artists Trigg Da Kidd and Fuco Bunkin. However, his fear of gaining success earned in a way counterintuitive to Islam began to surface. He quit music at this point, left to Makkah for a religious pilgrimage known as Umrah, and started creating music without using any instruments. After about a year, he consulted scholars such as Shaykh Mohamed Masmari and Shaykh Muhammad Ishtiaq, who told him there was a difference of opinion and that creating music using instruments is okay, as long as the message is a positive and clean one.
The hip-hop artist's first single after his break from music, 6 A.M in IAGD, included several Islamic references and only the tabla was used as an instrument. In his next single, R.I.C.O., he brought in more instruments and proceeded to complete 12 songs in two months. The end result was his best received album -- Bear Witness. Harrie received support from religious scholars around the nation, from Imam Mika'il Steward Saadiq in Detroit to Imam Suhaib Webb in Boston.
Millennials are constantly searching for new faces they can see themselves in. Harrie, still being on his journey, presents a different perspective. His story illustrates the way struggle reaps success when coupled with perseverance. Despite all sorts of obstacles, Harrie continues to strive in light of his religion as a means to remind him of his purpose -- deconstructing stereotypes and redefining norms.
"Islam has helped me be more like me," he said. "It's helped me become truer and cleaner, which has only given me a larger audience. At the same time, the scholars who I follow tell me not to be narrow minded. They tell me to be a rapper who is Muslim -- not just a Muslim rapper."
Having found the balance he was previously searching for, he's decided to continue making music with instruments, while still conveying positive messages that can be appreciated by both non-Muslims and Muslims alike. He has had numerous successful performances all over the nation and is now working on his next album.
To hear Babar Harrie's music and connect to his social media, click here.
Calling all HuffPost superfans!
Sign up for membership to become a founding member and help shape HuffPost's next chapter