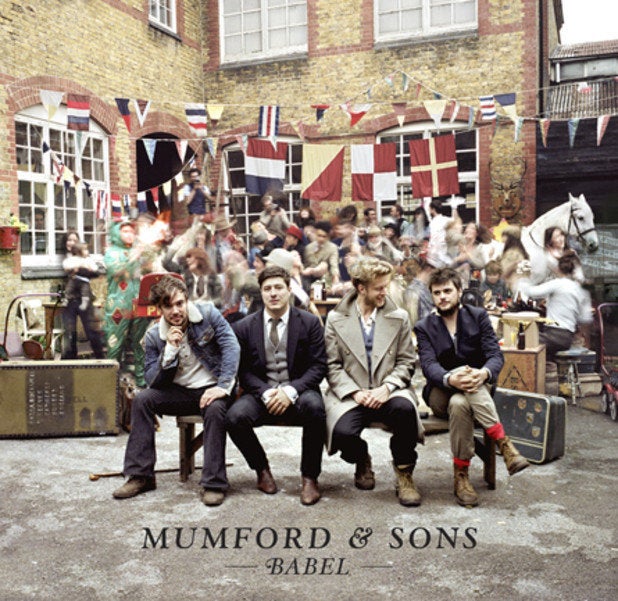 After hearing Mumford & Sons' "Little Lion Man," shortly after the release of Sigh No More in 2010, I remember thinking, "These guys are so amazing! It's a shame they'll probably never break into the mainstream." Who would have ever thought that this band -- this knee-slapping, banjo-laced band of turn-of-the-century looking hipsters -- would ever crack into the Top 40? Not I. But then again, who ever thought Katy Perry would have success in the music industry after "I Kissed a Girl?" It just goes to show, I suppose, that the music industry cannot be fully predicted.
Despite my doubts of how successful they'd become, I've always loved these four Brits. I've always wanted them to achieve great success because their music is truly excellent in every way. From their wonderfully composed songs with heart-breaking lyrics to Marcus Mumford's passionate, gritty voice and the beautiful stringed instruments, this band is the whole package.
Babel, their second full-length studio album, starts with a fiery blast. "Babel," "Whispers in the Dark" and "I Will Wait" are fast-paced, passionate songs that a have massive, full-bodied sound. "I Will Wait," the album's first single, is packed with intricate, plucking guitars and banjos, keys, and harmonized vocals from all of the members.
Even in the songs that are a bit slower, "Broken Crown" and "Reminder" in particular, there is still something churning and brewing. Some rage and scathing anger, some love and helplessness. These songs really showcase Marcus Mumford's fantastic voice. For me, the degree to which I can like a band depends a great deal on the lead vocalist. I have to innately love the tone of his or her voice. The rest of the band could be composed of the best musicians on earth, but if I don't connect with the vocals, I can never love that band. With Marcus, that combination of power, grit and emotion is something that I fully connect with. And I think a there are a lot of other people who do too.
While the album kicks off with a fiery blow, things become much more delicate as the album comes to a close. The band delivers a beautiful cover of Simon and Garfunkel's "The Boxer" on the second to last track. And really, when you think about it, them covering this song isn't a huge stretch. Simon and Garfunkel were known for their beautiful vocal harmonies and their soft, intricate guitar work. "For Those Below," another track on the album, could very well be a Simon and Garfunkel song. And with "Where Are You Now," Mumford has saved one of the best songs for last. A simple, yet beautiful song that anyone can relate to, Marcus wonders about a long-ago ex, asking, "Where are you now? Do you ever think of me in the quiet, in the crowd?"
I shouldn't have doubted Mumford & Sons' potential for commercial success for a second. The may not fit in among the rest of the current Top 40 artists, but they connect with people in such a real way. Their passion, their grit and their beautiful lyrics are more than enough to garner millions of fans throughout the world.
The article was originally published here.