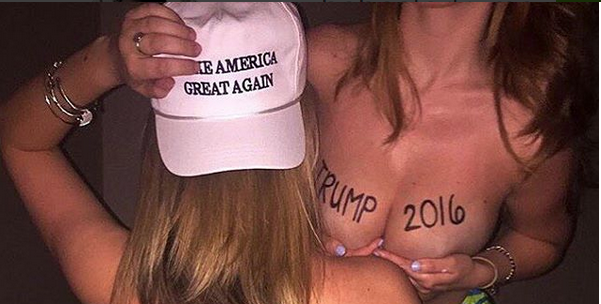 Women have strong political convictions; women have the right to vote. More importantly, though, women have boobs and butts.
At first glance, you might gather that's the message behind a growing Instagram account, "Babes For Trump" which proclaims to be, "Making America Great Again One Babe At A Time." (After this article was published, the Instagram was taken down, but they are still up and running on Twitter and Snapchat.)
The account, that is run by men, houses dozens of images of conventionally-attractive women baring it all in the name of supporting Trump. The photos range from women covering their nipples with Trump stickers, to others where support for Trump is expressed through campaign slogans Sharpied onto women's butts. There are also a number of photos posted on the account that make no reference to Trump at all, but viewers can glean the subjects' political preferences based on the accompanying hashtags: #babe4trump #babes4trump #babefortrump #babesfortrump #trump #trump2016 #trumpgirls #donaldtrump #bootypics #bootybootybooty.
The below images may be considered NSFW.
The four college men behind Babes For Trump, which is also on Snapchat and Twitter, wouldn't disclose their names, but told The Huffington Post their goal was to "create a unique platform for college students, primarily women, to express their political views."
When asked how posting pictures of almost-naked women helps to elevate female voices, the guys said that simply drawing attention to their account, which has over 3,000 followers and only posts photos that were submitted to them, does just that.
"Just recently a woman from California reached out thanking us for giving girls the chance to be heard and praised for their thoughts without being attacked," the creators told HuffPost. And they don't deny that sex sells: "These pictures represent women in a manner to which they can be desired."
Of course, there isn't anything inherently wrong with women showing their bodies. To the contrary, a woman's right to exercise bodily autonomy, however she chooses to do that, is exactly why it's so important for women to be involved in the political process. But the Babes For Trump account is uncomfortably reminiscent of their favorite presidential candidate's sexist proclivity for ranking women based on their appearances.
Donald Trump has a long and storied history of equating a woman's value with her looks. Most recently, the GOP frontrunner retweeted an image of his wife Melania juxtaposed with an unflattering shot of Ted Cruz's wife, Heidi -- presumably to prove that Melania is hotter. One post on Babes For Trump seems to echo that meme, showing a split-screen image of a female Bernie Sanders supporter and the butts of two Trump supporters. The caption charmingly reads, "You decide. We know who we're going with."
Troubled by the notion that a candidate's worth might be determined by the perceived hotness of his or her voters, we suggested to the creators that, maybe we shouldn't be voting based on whose supporters have nicer asses.
The Babes For Trump masterminds agreed -- though they didn't feel that their account was pushing any such idea.
"People shouldn't make a decision based off an ass, that's ridiculous," they said. "The people who follow our account are more likely to be attracted to a woman like the one associated with Trump in our picture, compared to that of the Bernie supporter. It's also evident that some people may find the opposite to be true, where the Bernie supporter may be found more desirable."
Though the captions posted under the Babes For Trump photos don't explain why the women in said photos are voting for Trump, the male creators believe that the candidate's female supporters are able to reconcile his questionable views about women because he has other things to offer.
"We think people have the capability to move past those sort of things and look at the bigger picture," they told HuffPost. "People align with his policies and philosophies more than his comments and look past them."
If you are a woman who is voting for Trump, we'd love to hear from you. Email women@huffingtonpost.com.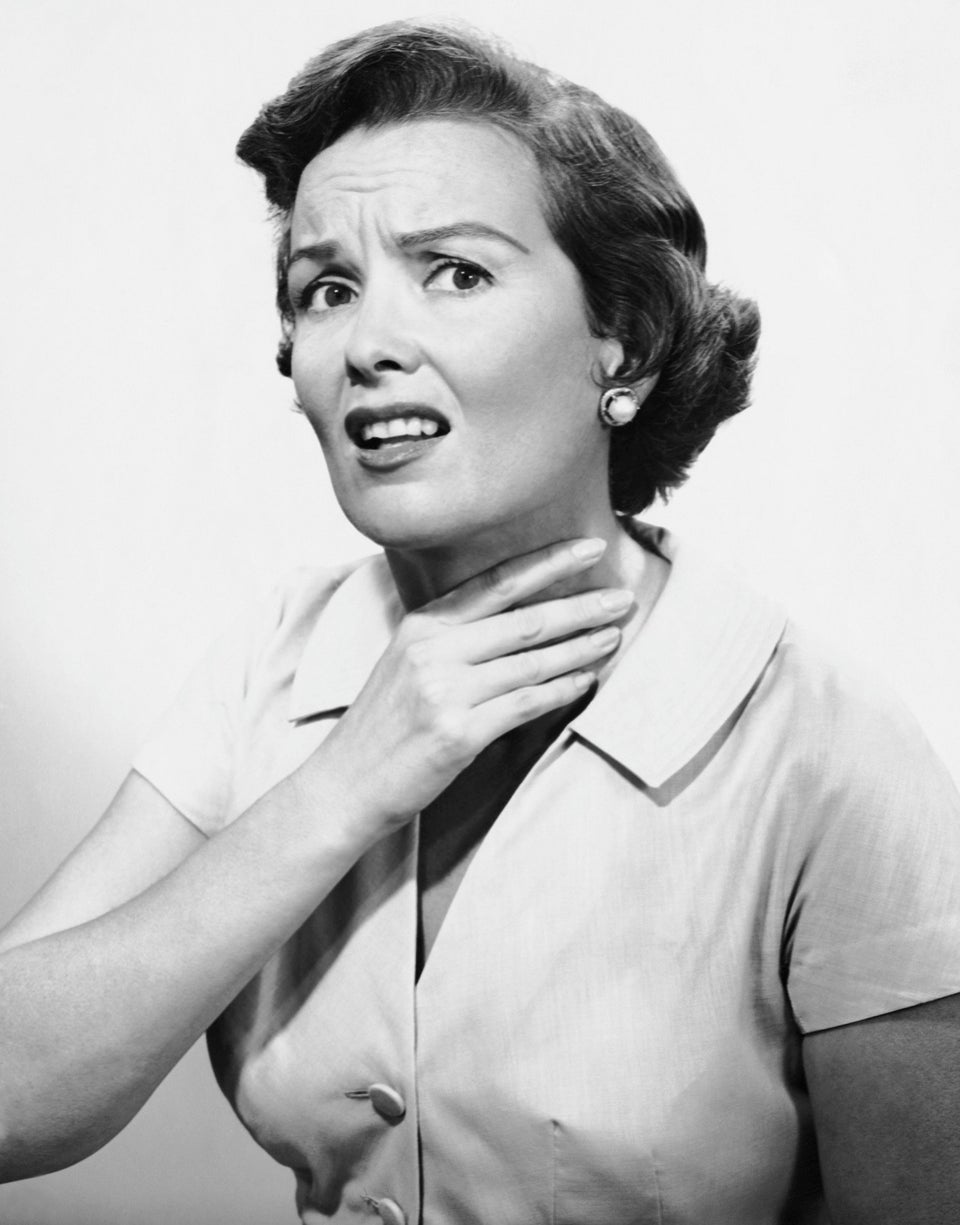 Signs You May Suffer From Being A Trump Supporter
Popular in the Community