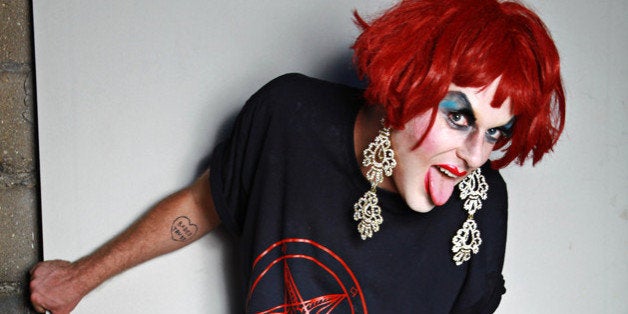 This is the seventh installment in an ongoing series that explores drag culture and the nightlife scene in Brooklyn, N.Y. Over the past several years, following the large-scale exodus of artists across the East River and into northern Brooklyn, those engaged in drag culture in this outer borough have created a new, queer world entirely their own. Accompanied by a larger movement to understand drag culture outside of the pageant circuit, many individuals engaged in the drag community in this borough approach drag culture through a nontraditional lens of "alternative" drag or performance art, enabled largely by the malleable and queer nature of this part of New York. Visit HuffPost Gay Voices regularly to learn not only about the individuals involved in Brooklyn's drag community, but more about the culture of the community itself.
The Huffington Post: How did you get your start in the drag world?
Babes Trust: I started when I was 16 -- there was an old drag club in Manchester, England, that was just across the street from the New Union public house on the infamous "Gay Village." It had this amazing sunken dance floor.
I met the resident drag queen there as I was searching for a job. She said she couldn't afford to pay me, but in return for me handing out flyers for her nightly shows she would transform me into a drag queen. Which she did -- to post flyers for her show! Me in a full sequin gown 16 years old posting flyers for a drag show! It was such good fun and that was my first brush with drag.
It's now a Chinese restaurant.
How would you characterize the kind of drag that you do?
Punk. It's hard to classify. I kind of dislike the word "drag," I'm more of a bad tranny. My linage is that of Divine, so an agitator. I try to put my looks and shows together that attack the status quo, the nuclear family and strict gender roles.
Some transgender people are critical of drag performers using the word "tranny." What are your thoughts about it?
First of all, I can only tell you what I've experienced. I have at some points in my life identified as transgender. I lived in a trans anarchist house in London for three years, my closest friend is transexual and sometimes uses the word to describe herself and comrades.
I have issues around this wider idea of community; such as the gay "community," the trans "community" -- we are not a generalized generic community or binary. Although we share some basic values, we are many different communities with varying values, speech, meanings, codes and languages.
Tranny means different things to different people. Do I know some people who feel more comfortable with explaining their gender and sexuality as "tranny"? Yes. Is that okay?
By one "community" effectively silencing and oppressing another to "not say" certain words or be so untrusting of people that you believe that everything comes from a place of violence, is sad.
If someone identifies as "tranny," the people who attack the term as offensive are oppressing the people who have a valid claim over the term.
Do I think the term should be banded around by popular media? No. Perhaps it's an idea of who has a valid claim to it. Being a cross dresser, a drag queen, a queer, a faggot, a tranny -- a non-binary person and living in and experiencing my drag community that explores these ideas of non-binary gender and sex, alienness and fluidity I would say gives validity to the term and deserves to be celebrated. Not all of us live in such a defined state of being.
How does Brooklyn as a community shape and construct drag culture?
Well, the Bushwig/Brooklyn community is very new and embryonic. Yes -- some queens right now are getting some press. However, it's all very geared towards this idea of being "the next big thing," which I find rather boring. I keep thinking we need some kind of radical community guidelines, to form a communal space or, like Warhol, create a Factory. Make our own culture, rather than join one. I think if this happens it would definitely shape drag culture in a more direct way. Right now, however, I feel we just feed the mainstream and RuPaul's drag farm.
(The interview with Babes Trust continues after the slideshow.)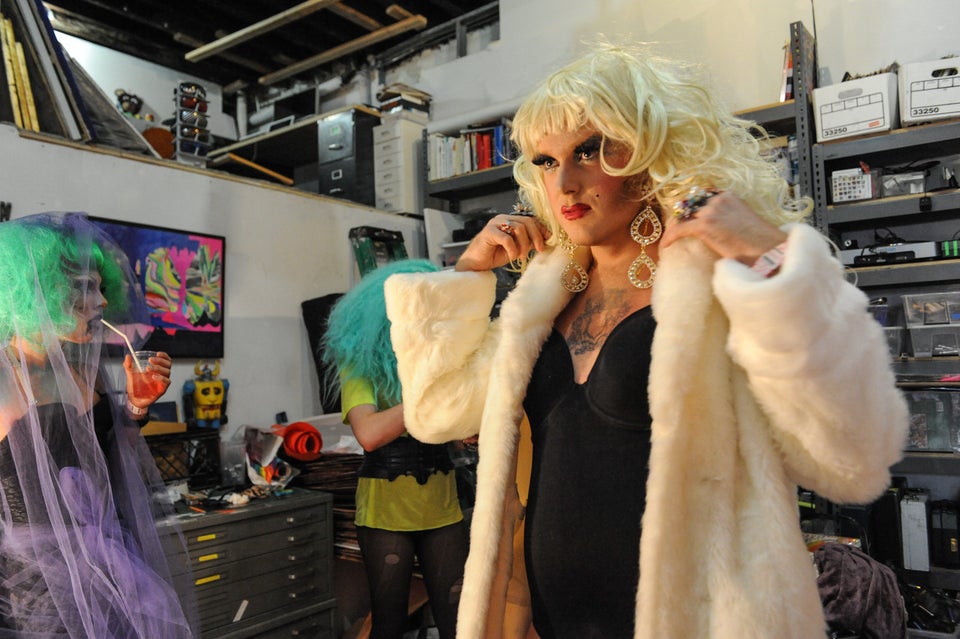 Babes Trust
Describe the drag scene and community in Brooklyn -- how is it different from drag culture elsewhere?
In Brooklyn it is more raw, more experimental and more queer. It is similar to other cities like London and Berlin. However, I think in NYC there is more of a crossing of "scenes." For example, there is a "queer" drag scene, although small, in Berlin, but those queens would never really cross paths or play at the same places with the "fish." I think that this happens more in NYC due to economics and the city's readiness to consume.
Why did you decide to co-found Bushwig?
After moving here from London I was fully aware and inspired by the Wigstock festival. After doing some shows over here with what is now know as "The House Of Bushwig" I realized that there were so many drag queens, more than any other place I had encountered. I thought it would be amazing to create a community festival that could showcase all of these amazing creatures and to create a meeting point for them all. Also, the wider goals were to give everyone a larger audience to showcase... so yes we do want it to be huge.
Where can you be found throughout the week?
I work a lot bartending so it's hard for me to get in drags after an 11-hour shift. But you can find me in a dress at HappyFun Hideaway in Bushwick on Friday nights.
I'll also be doing a New Years Eve Dance & Drag Party at Secret Project Robot! with my sisters Macy Rodman and SCHWARZ.
I'm also part of a new band called BOTTOMS, which includes myself on programming, Micheal Promistat on drums and the performance artist Jake Dibeler on vox.
I should also mention my new magazine that we just successfully launched in Amsterdam called SISTERS that documents the more left of field and one-time drags! We launch in NYC in February -- so look out for that.
...or come find me at Bushwig next year. Life is drag.
Any parting words?
"Kill everyone now! Condone first degree murder! Advocate cannibalism! Eat shit! Filth is my politics! Filth is my life!"
The next installment of this series will take a look back at the past two Bushwig festivals. Missed the previously featured drag performers in this series? Check out the slideshow below.
Support HuffPost
Every Voice Matters
Before You Go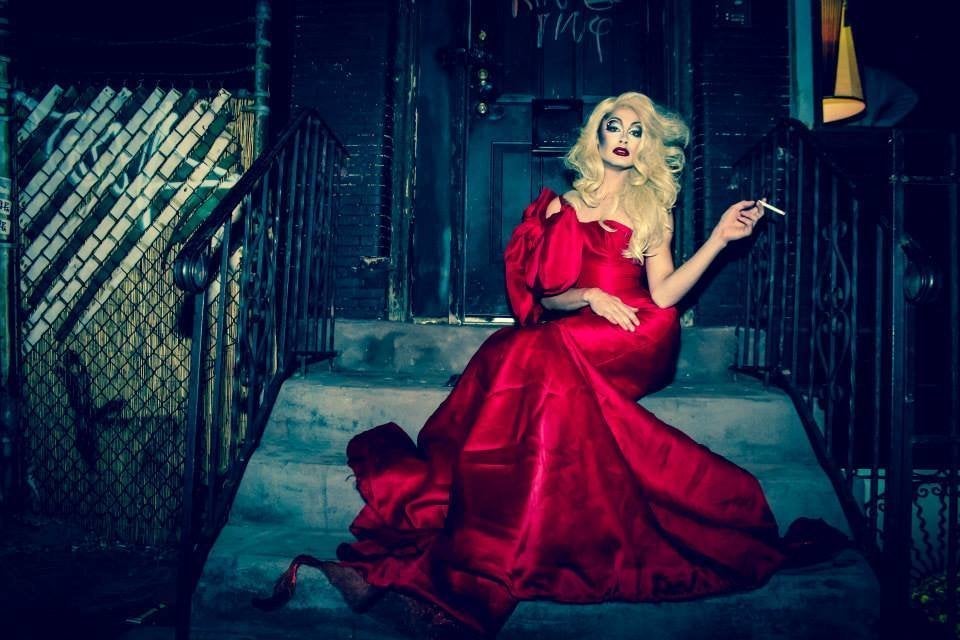 Queer New World: Brooklyn Drag Culture
Popular in the Community