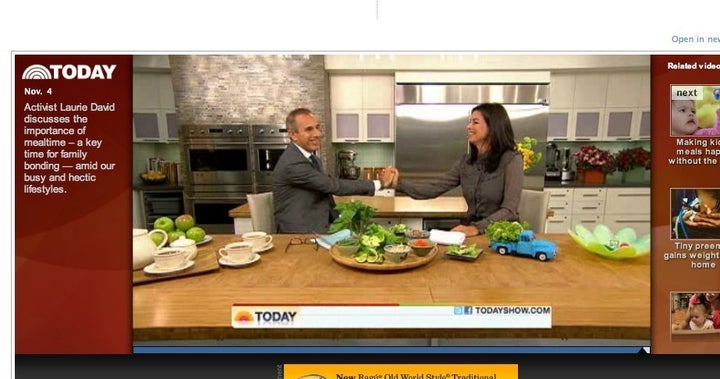 The first time I "met" Laurie David it was over the phone, to talk about her new project, The Family Dinner. Despite the miles between us, there was an instant connection, and I felt like I was talking to an old friend. Eating together as a family was something I had been thinking about a lot too. The fact that someone like Laurie had tuned into the topic was exciting -- I'm not the only mommy who needs encouragement in this area.
You see, my "family dinner" used to be defined as my husband and I having lovely, relaxing restaurant meals around New York at least once a week. When we weren't hanging around Saul or Butter, or driving into Queens in search of Korean barbecue, I'd be in the kitchen testing healthy recipes for a magazine article or coming up with a new twist on Sarson ka Saag (a Punjabi dish made with mustard greens) for the amusement of friends, and sometimes my dubious older sister.
That was B.B. (Before Bix -- that's our son's name). A.B. (After Bix), especially those first two weeks spent in an anonymous mid-western hotel room waiting for a judge to tell us we could go home, I knew life wouldn't be the same -- but what about our food life?
I had discussed this topic, pre-adoption, with my mommy friends. "Oh, you'll be making separate meals for your kid or eating a lot of plain pasta and hot dogs," one friend, and mom of a five year old, told me. Another gal pal, who has three kids and a nanny for each, recommended having him fed early and leaving him with the help, "So you can have dinner in peace." Sorry girls -- I love you both -- but no and no.
For the first two weeks of Bix's life my husband and I had to take our little bundle out to dinner. And so we did, for 14 straight days. Maybe because he was brand new, Bix slept or gurgled contentedly through these meals -- the more raucous the restaurant the harder he snoozed. During one meal, at a Mexican place complete with Mariachi band, six-day-old Bix cooed happily. As the trio serenaded us, we decided then and there that this kid liked life -- and the louder the better. Maybe we could keep having one too.
For the first year of his life we took Bix everywhere -- he was absolutely fine, perfect, dare I say, even in "fine-dining establishments." Cooking at home continued, and our meals were shared at our long oak dining room table with Bix, the night nurse or nanny, friends and neighbors, skeptical sister -- whoever happened to be around. After nearly 20 years of marriage, a baby in our house was big news in our Boerum Hill 'hood -- so there were always welcome drop in's.
I tell myself the little guy noticed what we were eating during those meals -- Indian food (this Irish-Danish-German Apple Pie American girl's specialty), Middle Eastern fare from Sahadi's on Atlantic Avenue in Brooklyn, fresh fish, esoteric vegetarian dishes -- and as a result he showed a charming eagerness to try anything when he finally started eating solid food.
As Bix went from one to two we had to shift the kinds of restaurants we went to -- as a toddler he was less patient with the leisurely pace of white tablecloth places, and at three years old he's famished when he comes home from nursery school. So, modifications were in order: when we eat out as a family we usually pick ethnic restaurants because the food is imaginative, and the owners normally love children and have their own culture of inclusion when it comes to little ones. At home, we tend to eat a lot earlier, sometimes as early as 5:30 (sophisticates -- please don't faint!), and we feel it's actually healthier that way.
We still take Bix to "nice" restaurants on occasion. Sometimes it works and other times it doesn't. It's not always easy, and sometimes it's downright painful to have to remove a cranky kid and miss your main course. But it's important to keep trying because it's part of how a child learns the unspoken social contract we should have with other people, especially in public places.
And yes, Bix eats French fries and hotdogs (although not at home). He especially loves pizza. Despite the snarky sideway snickers of my sister, ever the doubter, I refused to dumb down dinner, and committed to cook as I always have, with no special orders of PB&J. As a result, Bix is an adventurous eater and loves hummus, spinach, wild Alaskan salmon, curried anything, hot sauce, plain yogurt, lentils, kasha, red cabbage, whole wheat pasta, sautéed mushrooms, green beans, broccoli, raw nuts, carrots, and yes, tempeh and tofu. In fact, we know when he doesn't like something (raw radishes wind up rolling on the floor) and when he does (curried sweet potato wedges are swiped off my plate).
The other day Bix and I met a friend for lunch. It was the first time this man would be meeting Bix, and I admit I was a little nervous. He's a pretty sophisticated guy, and although he's got children and grand children of his own, you just never know how an urbane New Yorker in a perfectly tailored suit is going to react to a three year old, and vice versa. Well, I'm happy to say Bix sat in the Shake Shack for 45 minutes completely enthralled with our lunch date, fellow customers, the passing vehicles outside, and his hot dog and chocolate shake. He didn't need toy cars, crayons, books or coddling -- and neither did our grown-up companion!
As a mommy, I was bursting with pride. I know it's partly the lucky stars of my son's natural disposition, and partly the result of three years of consciously choosing to include my son as often as possible in family dinner, restaurant meals and parties. Yes, of course my husband and I have dinner out together (that's what babysitters are for), or we go out separately with friends. But the overarching and consistent message is, Families Eat Together. And then they become individuals who can share a nice meal or a conversation with anyone, anywhere, anytime -- including a snappy fellow from the Upper West Side.
That's why I think all parents of small children, and especially those embarking on a new adventure of eating with a baby, should get themselves a copy of The Family Dinner. Aside from all the great information in it, Laurie provides sweet and gracious reassurance that it's okay to sit with your kids at dinner, to take them out with you. Don't leave them behind is the message that bubbles from every page. I also know that if you happen to be in the same restaurant with Laurie and your little one starts to rumble, she'll smile, not scowl, and offer up a (wonderfully distracting) silly game.