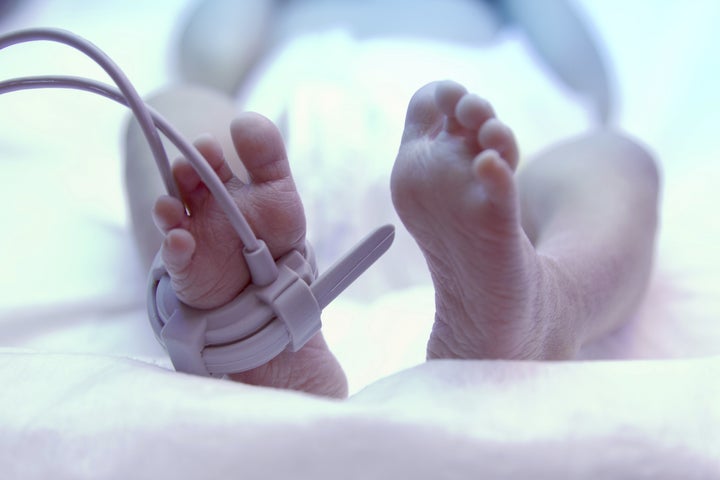 The number of babies born with symptoms of opioid withdrawal spiked between 2004 and 2013, driven by opioid use in rural areas, according to a study published Monday in the journal JAMA Pediatrics.
In 2004, rates of infant withdrawal, known as neonatal abstinence syndrome, were roughly similar in rural and urban areas, with about one out of every 1,000 babies born with withdrawal symptoms. By 2013, there were approximately five babies born with NAS for every 1,000 births in urban areas, and eight babies born with NAS for every 1,000 births in rural areas.
"Although our data cannot explain the reasons why NAS is happening so much more commonly in rural areas, we know that rural communities have unique challenges around achieving good health," Dr. Nicole Villapiano, lead author of the new study and a pediatrician at C. S. Mott Children's Hospital at the University of Michigan, told The Huffington Post.
Historically, the drug overdose death rate in urban areas outstripped the overdose death rate in rural areas. But that phenomenon reversed between 2002 and 2014, according to the New York Times. Today, the largest concentration of overdose deaths are in Appalachia and the Southwest.
Part of that flip can be attributed to poverty in rural areas, which tend be poorer than urban ones, and shoulder the brunt of the chronic disease burden along with high smoking, obesity and substance use rates.
"These economic and demographic differences on top of poor access to medical care – both primary care doctors and specialists, especially mental health and substance use specialists – create a perfect storm of barriers to good health for our most vulnerable rural patients," said Villapiano.
According to a 2015 study of more than a million Medicaid-enrolled pregnant women, more women are filling opioids prescriptions during pregnancy. The study found that one in five women filled a prescription for opioids during her pregnancy, and that prescription rates were highest in five rural states: Utah, Idaho, New Hampshire, Wyoming and Tennessee.
Addressing women's health is key to turning the tide on NAS
Dr. Anne Johnston, an associate professor of pediatrics at the University of Vermont, told The New York Times that shame is a key reason more pregnant women don't seek treatment for opioid addiction.
"Behind every incidence of neonatal abstinence syndrome, which is relatively easy to recognize and relatively easy to treat, there's a case of a mother dependent on opioids, and that's complex to treat," Johnston explained.
The women who give birth to infants with NAS aren't solely those actively abusing painkillers and heroin. Others with opioid-addicted infants were prescribed painkillers by their doctors for serious medical problems or are taking methadone or buprenorphine to treat their opioid addiction.
Being exposed to opioids in utero can have consequences for newborns such as high-pitched crying, temperature instability, tremors, seizures, central nervous system problems and gastrointestinal dysfunction, according to the U.S. Centers for Disease Control. There's also a financial toll. In 2012, neonatal opioid withdrawal treatment at U.S. hospitals totaled $1.5 billion, according to STAT.
We don't know what health care access will be like under Trump
If President-elect Donald Trump fulfills his promise to repeal and replace the Affordable Care Act, even more people in rural areas could find themselves without health care. According to Congressional Budget Office estimates, an additional 22 million Americans could become uninsured if the ACA is dismantled.
For now, policymakers are striving to address the crisis. In July, President Barack Obama signed the Comprehensive Addiction and Recovery Act, authorizing the creation of grants to help pregnant women with substance use disorder. And in December, Congress approve $1 billion to fight the opioid epidemic as part of the 21st Century Cures Act, which pledged to prioritize the hardest hit states through measures such as prescription drug monitoring and expanding access to treatment over the next two years.
"We now have the opportunity to make sure that these provisions are working to protect rural moms and babies," Villapiano said of the Comprehensive Addiction and Recovery Act. "It's my sincere hope that as the new administration takes a closer look at their health priorities in the coming months, that addressing the root causes of rural-urban health disparities like we see with neonatal abstinence syndrome moves towards the top of their list."
Need help with substance abuse or mental health issues? In the U.S., call 800-662-HELP (4357) for the SAMHSA National Helpline.