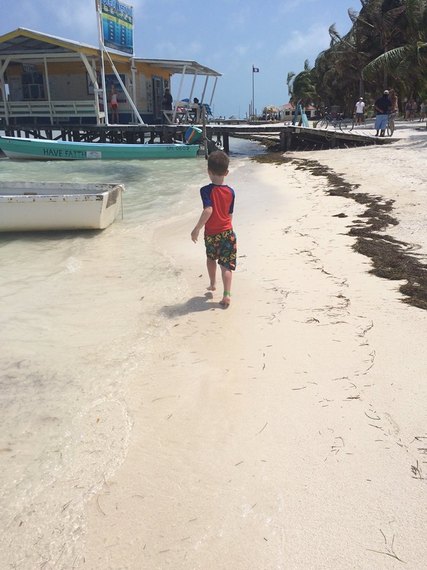 We recently returned from our family vacation. This was our very first cruise! Last year, a girlfriend and I took a vacation that was remarkable which was appropriately named "Bitc#es in Belize." I decided to keep the same theme going this year and drove my children insane by referring to the vacation as "Babies in Belize." Although, to be clear, we only spent a very small time in Belize, but whatever.
Here are the top 10 reasons why we loved this trip
1. NO PASSPORT REQUIRED
That statement alone deserves all caps. This is a great way to nonchalantly take your children out of the country without having 16 pieces of papers signed to do so. Let's face it. Some exes get stressed with the thought of their children going all gypsy, free spirit and traveling the world with the other parent. However, it's not like the kids and I stayed overnight in a hut in Indonesia or anything (life goal) and frankly, my daughter's island dreads were taken down before she even stepped foot back onto U.S. soil, so...simmer down.
2. ICE CREAM 24/7
I am choosing to not talk about the over gluttonous behavior witnessed while on the cruise ship. A great motto, borrowed from my one and only is "you do you, bro." Several people on the cruise ship ate like there was no tomorrow, and that's their thing. Fine. What my picky eating children were most excited about was ice-cream around the clock. I know this isn't an overly extravagant idea, but seriously...Nothing helps to soothe a cranky, crispy, non napped toddler more than the lure of the magical chocolate soft serve ice cream cone. Paired with the fact that my skinny petite children each gained 2 lbs, was a win win.
3. SEASIDE THEATRE
Every night at around 7 P.M. or so the ship would play a movie on the big screen. We could watch comfortably while sitting in big fluffy chairs from the deck. The ship provided movie style popcorn and of course there was always ice cream. This was a nightly event that our family really enjoyed. Watching Cinderella, or Minions or any movie at home with four active kids confined to a theatre not really fun. However, watching Cinderella with enough space to move around, get up and get ice cream and occasionally jump in the pool all while mommy enjoys an adult beverage or two is a GREAT IDEA.
4. REAL CHERRY COKE
Is anything better than the grenadine syrup used to make real Cherry Coke? The ship has a special package that you have to purchase for pop. Although, if you ask for a pop while on the boat they will look at you funny and ask if you're basically a Yankee (which I am) because you say pop versus Coke. Which Coke by the way means any pop, or soda. Hence...Can I have a Coke, needs to be followed with Sprite after the bartender asks which kind. Seems backwards to me, but whatever. Anyhow, the point of this is that my kids all became huge Cherry Coke fans which I know that will always associate back to this vacation and that makes me smile.
5. COMPETITION GALORE
I'm just going to be honest. We're a pretty competitive bunch. Life is competitive. My kids have been racing to see who can brush their teeth the fastest, or who can get their bathing suits on first since they were born. I know some of that is inherently nature and a good portion of it might be nurture. However, it's just part of our family dynamic and it works for us. We have a lot of fun with it. Cruise life has SEVERAL games! Mini-golf, air hockey, pool, and basically every board game known to man. There was also a "sky course" which is an obstacle course at the very tip top of the highest deck of the boat. My older kids had a blast doing this, while me and my toddler were just smack talking each other during a round of mini golf (totally kidding).
6. FREEDOM
I am not a helicopter parent and repeat. I am not a helicopter parent. I'm really not. I read many cruise critics blogs. I also read many kids cruise blogs. What I took away from each and every one of them was let my older child have a little space and freedom to roam. I basically told him to explore the boat, with a time limit to be back of course. I let him show me things on the boat that he had found first before me. I led him lead our family around. I probably should have prefaced with he's 14 not 6. Anyway, by the end of the trip he had made friends that met nightly at the arcade. It was good for him. He had a blast. I myself only had 1 small freak out moment where I almost had him paged overhead because of course he must have fallen off the boat since it had been 2 hours since he last checked in. However, I resisted the urge and he appeared within 5 minutes. Did he make mischief of one kind or another? I hope so. Truly.
7. GOING OFF THE GRID
I will confess. My friends were not as excited about this concept. "A single mom with her 3 kids traveling solo outside of the country, hopping in cabs, what's the worse that could happen?" Quote from a few overly dramatic friends. Honestly though. I told my children that we would be turning off our devices ability to connect (mainly due to cost) but also to just literally, disconnect. Having that down time was worth every single second in my opinion. What we gained from doing this is instead of spending wind down time on our phones, or kindle or whatever, we spent it talking about our day, what we were excited about the following day and how much fun we were having.
8. PEACE
This planned vacation couldn't have come at a better time. Spring break for the kids always means they are ready to relax. It just happened to fall around my school spring break as well. The timing was perfect due to some unnecessary family curveballs that had just been thrown our way. However, this family has never really been one to shy away from any sort of curveballs and we didn't here either. We relaxed as a family and forgot about the fast paced moving world outside of our own vacation zone. I hope this is something my children take with them and learn to implement as they grow older. To remember to take time and pause when life calls for it.
9. ISLAND LIFE
While I was in Belize last year I had 7 wonderful days of letting go and living on island time. Although it was hard to emulate while on a cruise ship we still managed to make some headway. Taking my children back to Belize was so important to me. I wanted them to feel the unique and relaxed energy of the country. I wanted the impression of the kindness from the people to leave their mark on them as they did me. I decided to not say anything and just see what would happen. We decided to go on a snorkeling excursion. I wasn't able to get into the water with my oldest children because the water was too choppy for my youngest. An extremely professional tour guide took them in his group with only 1 other person. He treated them like they were his own. He held my daughter's hand when she was by the Coral. He pointed out a small shark to both of them (Yep, my kids were swimming with sharks, no biggie). I was still on the boat so the other shipmates made sure that I had plenty of rum punch. They even made a special stop so that my 4-year-old could swim with stingrays in a shallower part of the ocean. Let's just say, the hospitality of the Belizeans did not disappoint. We will be coming back to Belize as a family sometime in the near future for sure. You better Belize it (sorry, it never gets old to me).
10. CLOSENESS
I kept asking everyone who has cruised before. Is the room going to be big enough for me and 3 kids? The truth, it was a little tight. There was this awesome single bunk bed that comes down from the ceiling (which none of my children would sleep on), along with another single bed and a queen bed. A small bathroom with a shower, some drawers, a small closet, TV, and we also had a deck. So basically three of us slept in a queen while my oldest slept in the single. The drop down bunk bed was reserved for all the magnificent animal themed towel folding's, a toy box if you will. So yes, we were close. However, what I didn't anticipate was another kind of closeness. As I listened to my babies reminisce about our day, while we scrolled through our funny pictures eating ice cream and staying up way too late, I realized that I will never have back this day with them again. I'm not sure how many more days I will get to spend trapped with all 4 of us in a small room for the sake of vacationing. However, on those days we were definitely a family united not only by being in close quarters, but also by being "close" and for that I will always be forever thankful.