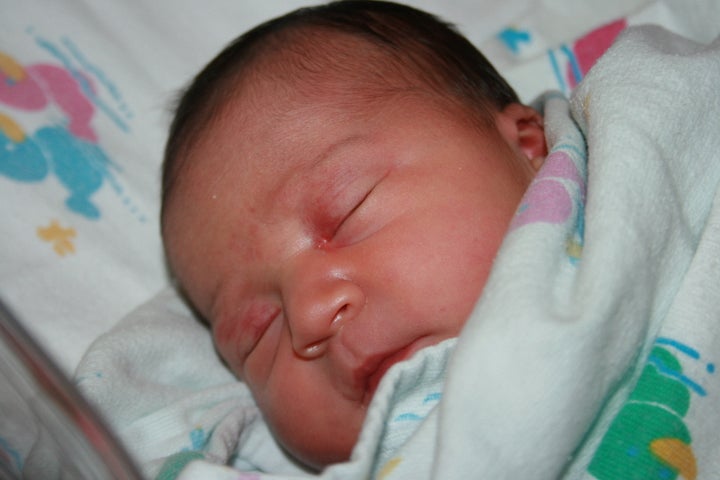 Babies are born all day, every day -- but few can say they were born on a day that only comes once every four years. Yesterday's Leap Year Day was business as usual in Miami's hospitals, birthing centers and at home, but those it welcomed are now quite unique.
At North Shore Medical Center in Miami, baby Aniyah McCray was born at 6:04 a.m. on Leap Year Day. Originally due on April 9, doctors kept her mother, Marandall, was in the hospital for a week before her birth since she was laboring early. Describing her new bundle as "quiet, lovable and gorgeous," McCray has been getting the million dollar question from hospital staff and friends.
"Everyone's asking when she's going to celebrate her birthday," she said. "Am I going to have it on February 28 or March 1?"
Aniyah's next birthday will be in 2016, and so will be the birthdays of all 18 babies born yesterday at Jackson Health's three hospitals. Flor Sagastume of Miami gave birth to her "curious and calm" third child, Flor, at 9:28 a.m. at Jackson Memorial Hospital in a scheduled Cesarean section.
"I asked the doctor to change the date on the C-section because I wanted her to have a normal birthday every year, but he said no," Sagastume said. "I figure there has to be something special because I think everything that happens is God's will."
Her 10-year-old son was also concerned about his new baby sister, asking how they would celebrate her birthday. Dad Alberto Sagastume joked that at least he wouldn't have to pay for her quincenera.
For now, they're planning on celebrating little Flor's birthday on either February 28 or March 1 with a special party on Leap Years.
Either way, Flor won't be alone. Famous Leap Year babies include Italian composer Gioacchino Rossini, entertainer Dinah Shore, actor Antonio Sabato, Jr., rapper and actor Ja Rule, and 1988's famous quadruplets Riley, Ryan, Roxanne and Rachelle Harris. Even more strange than a Leap Year birthday: all three siblings in Norway's record-holding Henriksen family were born on consecutive Leap Year Days in the 1960s.
Happy parents Michelle Stone and Adrian Saravia said their newborn son Milan's 2:30 a.m. water birth at the Miami Maternity Center meant more to them than just a party conundrum -- though there's that, too.
"2012 is a charged and important year in many cultures," Stone said. "In China, the most coveted year to have children is the year of the Dragon. Our son Milan was not only born as a water dragon, but on leap year 2012! This is a unique and auspicious date and one to be remembered for the rest of our and his life. This is a blessing and a very special day for all of us.
"Now," she added, "We just need to figure out the birthday celebration issue!"
Hold back your "awwws" with these Leap Year bundles of joy:
Calling all HuffPost superfans!
Sign up for membership to become a founding member and help shape HuffPost's next chapter
BEFORE YOU GO
PHOTO GALLERY
Miami's Leap Year Babies