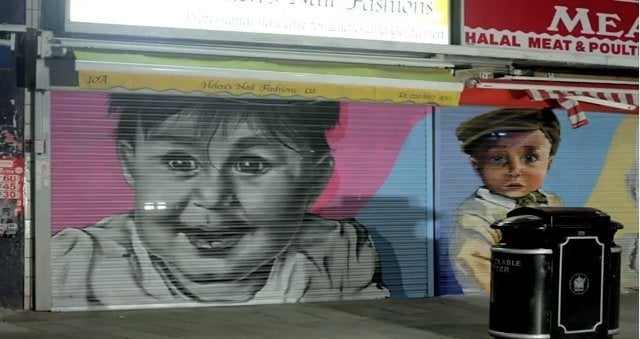 Now we can add baby graffiti to the list. No, we're not talking about graffiti created by tiny tots. We're talking the faces of babies, crudely painted on store shutters, stupefying would-be criminals with their cuteness.
Under the Ogilvy & Mather campaign "Babies of the Borough," four graffiti artists were dispatched this month to Greens End, a street in Southeast London badly hit during last year's London riots. Overnight, the artists painted the faces of five babies on the street's storefronts. The transformed shutters rolled down today in a video for BBC Magazine. Will crime go down with them? (Scroll down for a timelapse video of the process).
Let's review the logic. Tara Austin, the Ogilvy employee who masterminded the project, told a Bristol paper that the experiment was inspired by a 2009 paper on "baby schema," asserting that the proportions of a baby's face have an effect on adults. Researchers from the University of Pennsylvania and the University of Muenster found that "cuter" babies -- those with "large head, high and protruding forehead, large eyes, chubby cheeks, small nose and mouth, short and thick extremities and plump body shape" -- triggered stronger care-taking urges in adults, than did babies with different physical attributes.
But will Greens End baddies be charmed? The babies of "Babies of the Borough" all come from images solicited by Austin via calls aimed at residents of the surrounding suburb of Woolwich, requesting pictures of them as babies, or of their own babies. This means the painted babies are being rightly touted as "local" (Portland locavores might approve), but what of their baby schema quotient? A scan of the faces on display does indicate a good showing of chubby cheeks and small noses. However, the logistical problem -- that shutters have ridges, and these babies, by extension, have very ridgey faces -- may throw a wrench in the crime-fighting plan. Even without the ridge issue, can a painting of a baby ever match up to the real thing? And finally, is the whiff of desperation in the whole endeavor more bait to a nefarious teenage mind than repellent?
So far, the shop-owners at least seem delighted by their new mascots. Zaffar Awan, whose cell phone store was damaged by looters last summer, believes in the calming power of his shutter tot, baby Max, so much he told the BBC he wishes he could do business with the shutter down.
What do you think readers? Would one glance at Greens End make you reconsider your devious plans? Or do the shutter babies leave you cold?
WATCH a timelapse video of the "Babies of the Borough" project:
CLICK through for images of the babies:
Calling all HuffPost superfans!
Sign up for membership to become a founding member and help shape HuffPost's next chapter