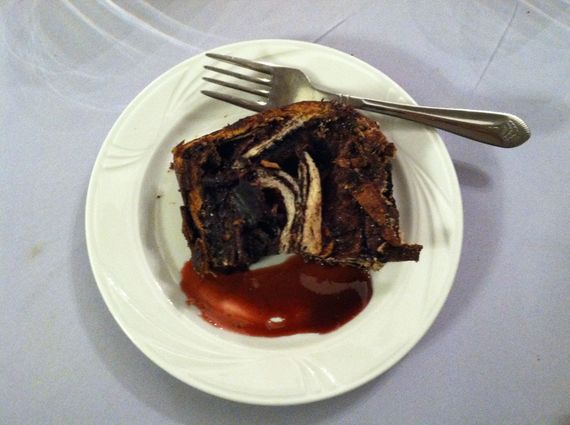 Six babkas. Eight people.
On November 2, while New York City marathoners ran off loads of calories, a group of eight babka-minded foodies gathered in Clinton Hill, Brooklyn, to mount a counter-marathon, a chocolate babka tasting. The participants timed the contest to base their babka purchase decisions for Valentine's Day on the results, and now you can, too.
Just as the NYC Marathon encompassed the city, the samplers gathered loaves from the Upper East Side (Eli's & Fairway at 86th), from Union Square (Breads Bakery), from the East Village (Zucker Bakery), from Gowanus (Lily's Bake Shoppe brand at Whole Foods) and from Williamsburg (Oneg Heimishe Bakery). The scouts collected the loaves fresh that morning, squeezing in a bit of exercise before the real contest. Master planner Amy Rothberger prepared for the competition throughout the prior year, tracking babka bakeshops and reviews in a zaftig spread sheet.
"Babka is labor intensive to make yourself. In a city with so many notable babka bakeries, all purporting to be the best, a babka tasting seemed inevitable," she explained. Only chocolate could qualify, since that would be the most delicious; cinnamon and other fillings just didn't make the cut. Contest categories included: Chocolatey-ness, Gooey-ness, Appearance, Texture, Slice-ability and Overall.
The top three:
1. Oneg Heimishe Bakery: The best traditional and most chocolatey (sold at $6.99 a pound). As one taster noted, "Everything a babka should be." The babka is certified pareve by the Central Rabbinical Congress of the U.S.A. and Canada.
2. Breads Bakery: The best "new school artisanal babka." Can be shipped nationwide. Baked three times a day. ($12.99 a loaf) Breads is not under kosher supervision.
3. Lily's Bake Shoppe: The best "dark horse" budget babka at $6.99 a loaf. Certified OU Pareve.
Along the way we learned the differences between babka, kokosh, krantz, all variations on a theme. The flatter version, kokosh, which means chocolate in Hungarian, is not braided. If you shop around for babka in Israel, it is best to ask for krantz, which means crown. My husband, Rabbi Mark Hurvitz, reminds me that in his family this treat was called "rotten cake' and the more "rotten" or full of chocolate, the better. In Tokyo, babka is sold from closed museum cases. Should you wish to try baking your own version, many recipes may be found on line.
Full disclosure: I sampled as well.
Between mouthfuls people mused: "Do you think raisins are OK?" "Hmm, this seems to be barely babka." "I think this one is a waste of calories." "Look at that pretty braiding." "That one's a monster."
Asked how she felt after the tasting, Rothberger confessed to being extremely full and wanted to drink only seltzer. The six critics hit the wall at the end and could not finish the eight babkas. Leftovers were shared with friends, some of whom had never tasted babka before. Rothberger still has a babka bounty in her freezer waiting its reincarnation as French toast.
Master chef and author, Yotam Ottolenghi, spoke about food of the diaspora not long ago in terms of "survival of the fittest," meaning only the best dishes from each cultural background in Israel survive. He also commanded us to, "Keep the babka." We will, Yotam, we will.
Since it's not easy to gather a sample of each babka available in New York City, we will have to schedule Babka Tasting: The Sequel.
Further fun babka facts:
1. Many of the city's babkas are baked by Green's Bakery, then repackaged and distributed. Owned by Joseph Ackerman, Green's supplies Dean & Deluca, Katz's, Russ and Daughters, Wegmans, Whole Foods and others.
2. Over 3,000 pareve, handbraided babkas pop out of the ovens at Green's each day, based on the recipe from Hungary that Ackerman's mother-in-law, Chana Green, used.
3. Oneg Heimeshe Bakery in Williamsburg recipe is also Hungarian; they use a Dutch chocolate mixed with sugar to fold into their mammoth babka. Lines get longer closer to Shabbat, so time your visit carefully.
4. Don't try to buy Heimeshe's babka in the summertime since the bakery closes and relocates to Monticello, New York.
5. In 2013, New York Magazine named Breads Bakery the "Best Chocolate Babka" in New York. Israeli-born chef Uri Scheft, whose parents emigrated from Denmark, opened his first Tel Aviv bakery over 10 years ago.
6. To learn how to make the best babka, Scheft hired a retired baker to train him. His ingredients in the shop on 16th Street include cultured butter from France and Cacao Barry chocolate mixed with Nutella in a brioche dough. He crusts the top with sugar syrup.