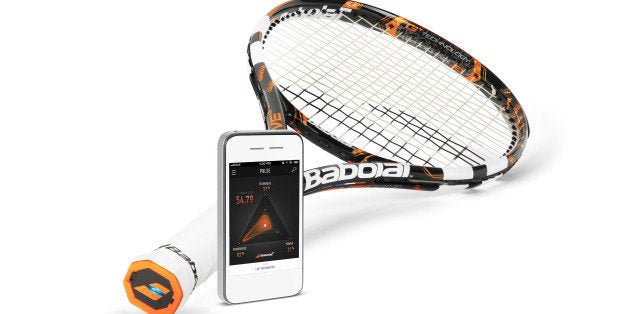 LAS VEGAS -- Meet the latest in tennis technology.
Babolat, the French racket maker, showed off its sensor-laden, connected tennis racket at the International CES here this week.

The racket, which is a version of its best-selling Pure Drive, has gyroscopes, accelerometers and a piezoelectric sensor in the handle. These sensors pick up a variety of data, including where the ball hits the strings, how much power goes into a shot and how much spin a player puts on a ball.
The new Pure Drive Play syncs to a smartphone or tablet using Bluetooth or USB, and presents the data in an accompanying app.
The idea, said Thomas Otton, Babolat's global communications manager, is that the more information players have about their game, the more they will improve.
"Today, a tennis player has no information -- only sensations," he said. "Now, all the necessary information -- you will have."
Babolat spent a decade developing the racket. It costs $399, $189 more than the Pure Drive, which does not have the sensors.
The connected racket, which weighs the same as the Pure Drive, has a power button on the handle. The battery lasts six to eight hours before it needs to be charged via USB.
The theme of connected "smart" objects, everyday items outfitted to collect data, is dominating this year's CES. In a recent report, Gartner, the technology research firm, said that this so-called "internet of things" will grow to 26 billion units in 2020, up from just .9 billion in 2009.
"All rackets will be connected," said Otton. "Kids -– in five, 10 years –- they will be looking for the blue [power] button, and if they don't find the button, [they'll say] 'hey, this is useless.'"
Related