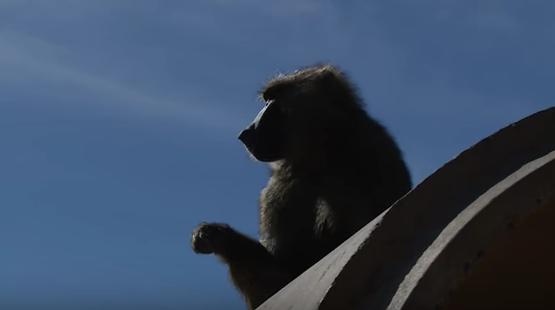 Four baboons held at a Texas biomedical research facility briefly escaped on Saturday after figuring out how to use a large barrel to break free.
The escapees were inside an open-air enclosure, part of a group of 133 male baboons not currently being used for any tests.
The enclosure is surrounded by walls that fold inward to prevent the monkeys from jumping out. That wall, however, was apparently no match for four of the baboons, who rolled a 55-gallon barrel into an upright position, then climbed up on it and jumped out of the enclosure, according to a statement from TBRI.
The large blue barrels, which were filled with grains, were inside the enclosure as enrichment items for the baboons — the idea being that the animals could roll the barrels to dispense food to "help mimic foraging behaviors," the statement said. The enclosure and the blue barrels can be seen in this video uploaded to YouTube by TBRI:
One of the four baboons turned back shortly after getting over the wall, though the other three continued on and managed to get past the fencing around the perimeter of the institute. One witness got footage of a baboon running down a road with research facility staff chasing him.
SNPRC employees were able to get all the baboons back into the enclosure, and they are "doing well," according to the statement.
Many people on social media, however, were moved by the escape and felt that the baboons should be relocated to a sanctuary.
SNPRC confirmed to KSAT that it had been fined for the violations.
Popular in the Community