When photographer and Navy veteran Vanessa Hicks took a photo of a newborn baby cradled in an American flag, she had no idea the controversy that would ensue.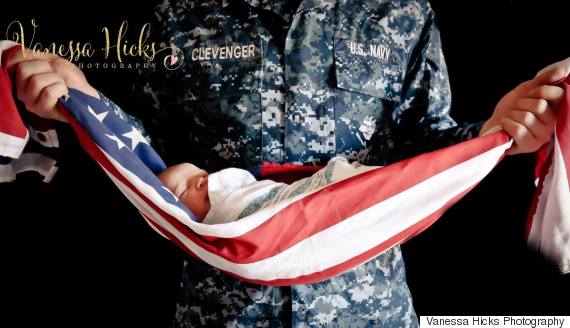 What some saw as a beautiful moment between parent and child, others saw as a desecration of the flag. According to USA Today, a Facebook page called "You Call Yourself A Photographer?," which has since been deleted, criticized Hicks, saying, among other things, that the flag is not a prop.
Critics cited the U.S. Flag Code, which states that the flag should not be worn as apparel or used a receptacle for holding or carrying anything.
I am very well aware of our U.S Flag code. I also know exactly what desecration of a flag is. It's when you pull into ports and you see protestors with our flag and have spray painted horrible things on it. It's when you watch the news and you see other countries burning our flags, and you are a young Quartermaster scared because you know you are just a few nautical miles from that exact country. I almost let these cyber bullies get me yesterday. I could have easily deleted the picture off of my business page and ended it with that. I almost did. Then I thought, WHY?
Despite the critical comments, Hicks received an outpouring of support from veterans and non-veterans alike. Wounded Army veteran J.R. Martinez took to Facebook in support of Hicks Friday.
As for Hicks, she told The Huffington Post in an email Friday that she has been overwhelmed by the positive messages sent her way.
"If a client came to me and asked to do another session with a flag, ask to do this shot," she said, "I would absolutely do it again!"
Calling all HuffPost superfans!
Sign up for membership to become a founding member and help shape HuffPost's next chapter
BEFORE YOU GO
PHOTO GALLERY
Two-Term Presidents