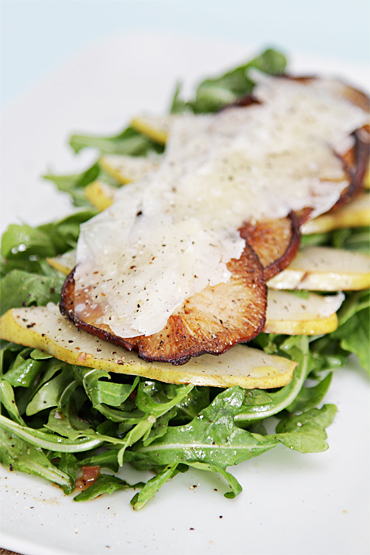 Who could resist the flavor of warm shiitake mushrooms paired with ripe pears, Parmesan and truffle oil? Could you? I certainly have no resistance!
This salad has been in my repertoire for many moons, and it always ends up being a favorite item on my fall menus (it also makes a festive appetizer for Thanksgiving).
The salad is quick to make, but the pears and the mushrooms do have to be prepped just before you're ready to serve. If you cut the pears ahead of time they'll turn brown and the mushrooms don't taste nearly as good when they're cold.
Gourmet-yet-simple, this recipe is one of my all-time favorites. It's a joy for me to share it with you.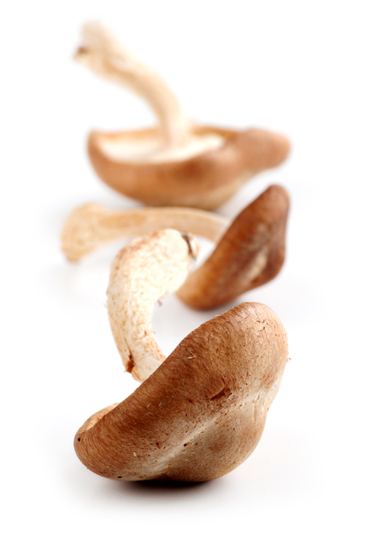 Baby Arugula Salad with Warm Shiitake Mushrooms, Pears, Parmesan Shavings and White Truffle Oil
Serves 4
active time: 30 min
For the vinaigrette
1 tablespoon finely chopped shallot
1 1/2 tablespoons aged sherry wine vinegar
1/2 teaspoon maple syrup or honey
1/8 teaspoon sea salt
freshly ground black pepper to taste
4 tablespoons extra virgin olive oil
For the salad
2 tablespoons unsalted butter
20 medium shiitake mushrooms - stems trimmed at the base of the cap and left whole
sea salt to taste
freshly ground black pepper to taste
5 oz (140 g) baby arugula - rinsed and spun dry
1 firm Bartlett pear - unpeeled, halved, cored, each half cut lengthwise in 1/8" slices
Parmesan shavings as garnish
4 teaspoons white truffle oil as garnish
Step 1: To make the vinaigrette - Place all the ingredients in a small bowl and whisk until well blended. Set aside.
Step 2: Heat a large heavy-bottomed non-stick frying pan over high heat. Add the butter. Once the butter has melted, add the mushrooms, cap-side-up, in a single layer and cook for 2 to 3 minutes, until the mushrooms begin to brown, pressing them down with a fork. Turn the mushrooms over and sauté for an additional 2 minutes until golden-brown. Sprinkle with salt and pepper and transfer to a plate.
Step 3: In a large bowl gently mix the arugula with two thirds of the vinaigrette. Divide the salad equally onto the center of four large plates, shaping the greens in a rectangular mound. Lay a few pear slices on top of each salad, in a row. Drizzle with the balance of the vinaigrette. Place 5 mushrooms on top of the pears, in a row and slightly overlapping. Garnish with a few Parmesan shavings. Drizzle with the truffle oil, finish with freshly ground black pepper and serve immediately, while the mushrooms are still warm.