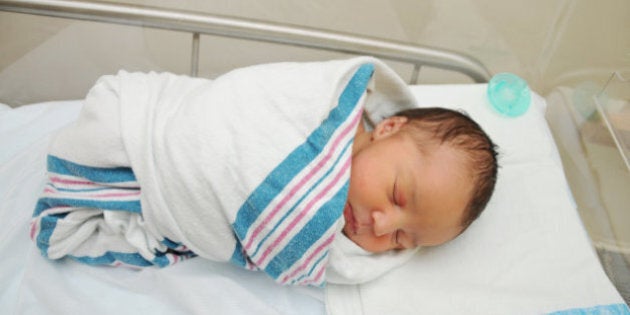 It's soft. It's cottony. It's primarily a creamy white colour and sports thin stripes in blue and pink. You've seen this receiving blanket in hospitals. You've seen friends' babies swaddled in it on Facebook and Instagram. Maybe a maternity-ward nurse handed you your newborn all wrapped up like a burrito in one of these iconic blankets.
"There was much my Facebook friends could surmise from the photo.... But what they knew for certain was that Athena had been born at the hospital. The dead giveaway? The blanket," writer Lisa Selin Davis says on Quartz.com of the photo she posted of her newborn daughter.
So what is this ubiquitous striped mystery blanket, and how did it get so popular? It turns out, all of these blankets seen on hospital beds and in maternity wards all over North America have a single origin.
They're called Kuddle-Up blankets, and they come from the U.S. company Medline based in Mundelein, Illinois. Yes, that's right: every one of these striped baby blankets comes from the same manufacturer.
"We sell approximately a million and a half units a year of just this one style, which is absolutely our number one style of blanket," said Jim Robertson, president of Medline's Medcrest textile division in an interview with NPR. He added that the blanket has been a Medline staple item since the 1950s and he estimates the company has produced 25 million of them since the 1980s.
They're flannel, and all-cotton, and according to the Medline website's marketing copy, they are "So soft, warm and fluffy, they work wonderfully as attractive crib or receiving blankets." Apparently hospitals across North America got the message on that one.
But here's another illuminating quote from Medline's site: "Choose from a variety of adorable nursery prints." Say what? That's right. Alongside the much-seen stripe, Medline's identical-in-size-and-fabric baby blanket offerings include duck and dinosaur prints, a baby footprint pattern and plain versions in off-white, pink and blue.
So why is the striped blanket here, there and everywhere? It's simple, the striped blanket is a little cheaper than the company's other versions, which has contributed to its popularity, says Robertson.
A bonus surely is that it is uniform and familiar. It must be instantly recognizable to nursing staff and support workers as they do their rounds. Those stripes aren't going to be confused with a layette blanket knitted by Granny. And honestly, the blankets are functional but not super-cute, so in photo opportunities it lets the emphasis be where it should -- on those adorable bundles of joy.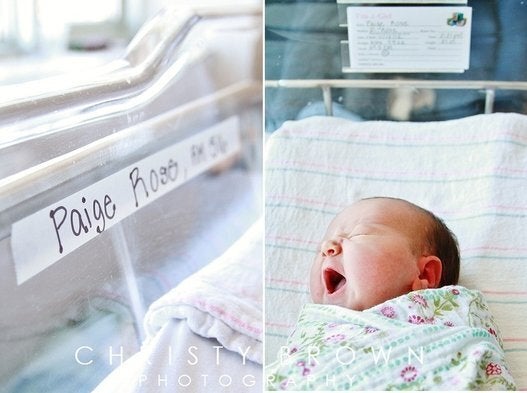 Newborn Photos To Get In The Hospital
Related