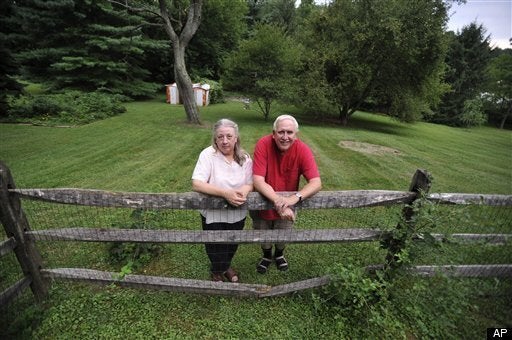 Written in collaboration with Katherine Warren
"Grow old along with me/the best is yet to be." Never has there been a time in human history when the words from the famous English poet Robert Browning have rung more true. More than a century ago, when Browning penned these words, the average life expectancy for Americans was 48 years.
Thanks to the triumph of public health and medical interventions, today we live in a world very different from Browning's, where 20-somethings are the new adolescents and 50 year olds are in the infancy of their second adulthoods.
Americans can now expect to live nearly twice as long than they did in the early 19th century, to an average age of 78, extending "the best" of years far beyond what Browning might ever have imagined.
No one knows this better than the baby boomers. New Year's Day marked the 65th birthday of this generation. Each day after January 1, 2011, another 10,000 "boomers" will turn 65. As the 79 million baby boomers born between 1946 and 1964 march towards their 65th birthdays, our nation must face the challenges of how an already strained federal budget will provide Social Security and Medicare benefits for future retirees.
An increasing incidence of chronic disease in this population, growing financial burdens on these federal programs, the declining number of primary care physicians and geriatric specialists in America, and the disappearance of pensions for many as a result of the economic crisis threaten this generation's "golden" years.
Against this backdrop, the American population is aging rapidly. In 2008, people aged 65 years or older represented 12.8 percent of the U.S. population, about one in every eight people. By 2030, one in five Americans will be over the age of 65. According to recent data from the U.S. Census Bureau, there are currently 79,000 people who have lived to be centenarians, (older than 100 years), in the U.S. today, a statistic that will reach more than 200,000 people by 2030.
While these demographic shifts are a testament to socioeconomic development and public health improvements, with them comes the challenge of a concurrent chronic disease pandemic. There is an urgent need to effectively address the increasing prevalence of age-related illnesses including heart disease, cancer, diabetes and neurodegenerative diseases such as Alzheimer's and Parkinson's.
Today, more than 75 percent of health care costs in the United States stem from chronic diseases, many of which are preventable. Over a million Americans die prematurely each year due to unhealthy lifestyle habits, including tobacco use, obesity, lack of exercise, and alcohol abuse. Although some of the secrets of longevity lie in our genes and biology, behavior is linked to as much as 50 percent of the cause of death worldwide. In fact, an important study of 3,000 Danish twins estimated that the heritability of human longevity was about 25 percent, with 75 percent of life expectancy attributable to lifestyle and environmental factors.
Despite these trends, current government and private sector support for prevention and public health programs accounts for only 3 to 5 percent of the $2.6 trillion of U.S. health expenditures. The good news is that the recent health care reform legislation, the Patient Protection and Affordable Care Act provides preventive care for older Americans, as Medicare recipients will no longer pay anything out of pocket for covered preventive services including yearly routine physical examinations, specific screening tests for heart disease, diabetes, some types of cancer, and bone density as well as smoking cessation programs.
In the first two months of 2011, more than 150,000 seniors and other Medicare beneficiaries have received an annual wellness visit. These new benefits represent a critical step forward in making chronic disease prevention a reality for this population.
But a real revolution in chronic disease care must include new models for management of these illnesses as well, including the delivery of innovative services through Medicare and private sector plans. Transformative changes are particularly critical for the baby boomer generation, of which nearly two-thirds (35 million people) have at least one chronic health condition.
When first established, Medicare was a hospital-based care system. Since then, outpatient services and medication benefits have been added. But this patchwork model requires modernization. Furthermore, the need for home based and long term care of the aging population must be addressed.
The Patient Protection and Affordable Care Act established the Center for Medicare and Medicaid Innovation (CMMI), which will support new models to update Medicare's service delivery system. The law will also foster changes to payment and service delivery programs that increase access to health care, promote efficiency and effectiveness, as well as boost patient satisfaction. The new center will support pilot projects that if proven effective can be scaled up in communities across the country.
One of the most promising chronic disease management models is the patient-centered medical home, with its focus on strengthening the primary care physician-patient relationship and coordinating care across all components of the health care system. Pilot projects are also evaluating new models of long-term care that foster clinical collaboration across multiple specialists with the increased use of health information technology.
The economic downturn that began in 2007 has hit the baby boomers particularly hard as many have lost their jobs and employer-sponsored health benefits. Access to health care is critical to promote health aging. Yet in 2009, about 8.6 million adults, ages 50 to 64, were uninsured, an increase of 1.1 million from 2008 as a result of record unemployment among this age group. Additionally, 9.7 million insured baby boomers have such high out-of-pocket costs relative to income that they are effectively uninsured.
Through the Patient Protection and Affordable Care Act, 17 percent of the 32 million uninsured people projected to gain coverage by 2019 will be ages 50 to 64. Those living in 16 states with high-uninsured rates, mostly in the South and West, will see the most gains from the legislation. With stronger consumer protections, the new health legislation will provide affordable coverage and also help protect baby boomers from loss of insurance due to economic hardship. This will provide them with access to both preventive and treatment services.
Another innovation available to improve health for baby boomers is the use of new media, tools that can bring important scientific knowledge to help consumers make informed health decisions. With more than 5 billion mobile phone users, 2.6 billion people on the internet worldwide, and 2.5 billion text messages sent every day in the U.S. alone, today's information revolution connects people to knowledge about healthy aging as well as to information about the prevention and management of diseases like never before.
Patient tools such as the CDC's "I Move U" for Twitter and Facebook-based sites including "PatientsLikeMe," where people can share information about illnesses and treatments, are important resources. Other sites provide information about medications and their side effects as well as with an interactive electronic medical record. There is an estimated 17-year science to service gap between the time of a new discovery in the lab to its widespread use in clinical settings. In today's information age, why shouldn't this dissemination of scientific information take a nanosecond?
In addition to promoting prevention and chronic disease management, both the public and private sectors must make enhanced investments in research-medicine's field of dreams. Research is the foundation for all medical and public health interventions to promote healthy aging and to find cures for the diseases that affect the baby boomer generation. Aging is, after all, the major risk factor for all chronic diseases.
Age-related diseases, such as Alzheimer's or Parkinson's, rob people of their health, place a burden on families, the health care system and our nation's economy. In the example of Alzheimer's, if a discovery was made from research to delay the onset of the disease by just five years, it could save an estimated $50 billion per year and reduce the number of people with the illness by more than 50 percent after 50 years. But research doesn't just happen. It requires sustained investments in science and in the career development of researchers here in the United States and around the world.
The aging of the baby boom generation represents the newest challenge for medicine and governments but also provides opportunities for rejuvenation and responsibility. Promoting healthy aging requires both personal and social responsibility, mobilizing all sectors of society. There is a recipe for healthy aging -- don't smoke, maintain a healthy weight, eat smart, be physically and mentally active, obtain lifesaving screening exams, enjoy strong connections to friends and family, and be an advocate for increased investments in research and establishing new health service delivery models.
The aging of the world's population challenges America as well as other countries and their governments to create 21st century health care systems and policies that address the needs of seniors. The wave of aging worldwide with its tsunami of chronic diseases underscores why actions are needed now to provide hope for a healthier and more prosperous future for today's baby boomers and for future generations -- in a world where hopefully "the best is yet to be".
Rear Admiral Susan Blumenthal, M.D. (ret.) is the Public Health Editor of the Huffington Post. She serves as Director of the Health and Medicine Program at the Center for the Study of the Presidency and Congress in Washington, D.C., a Clinical Professor at Georgetown and Tufts University Schools of Medicine, and Chair of the Global Health Program at the Meridian International Center. She served for more than 20 years in health leadership positions in the Federal government in the Administrations of four U.S. Presidents, including as Assistant Surgeon General of the United States, the first Deputy Assistant Secretary of Women's Health, as a White House Advisor on Health, and as Chief of the Behavioral Medicine and Basic Prevention Research Branch at the National Institutes of Health. Dr. Blumenthal has received numerous awards including honorary doctorates and has been decorated with the highest medals of the U.S. Public Health Service for her pioneering leadership and significant contributions to advancing health in the United States and worldwide and was the recipient of the 2009 Health Leader of the Year Award from the Commissioned Officers Association. Admiral Blumenthal has been named by the National Library of Medicine, The New York Times and the Medical Herald as one of the most influential women in medicine and by GQ magazine and the Geoffrey Beene Foundation as a 2010 Rock Star of Science.
Katherine Warren, an undergraduate at Harvard University, serves as a Health Policy Fellow at the Center for the Study of the Presidency and Congress.
References:
Alliance for Health Reform (2011). Boomers Come of Age: Covering Early Retirees and Other 50-64 Year-Olds. Retrieved January 26, 2011.
The Alzheimer's Association (1994). Alzheimer's Care Costs U.S. a Trillion Dollars According to Report. Accessed Jan. 18, 2011 <www.alz.org>
American Academy of Family Physicians, American College of Physicians, and American Osteopathic Association (2007). Joint Principles of the patient-centered medical home. Accessed February 1, 2011.
Bernhardt, J (2010). Healthy Aging 2.0: The Power of Digital Health and Wellness. Healthy Aging Globally: A Life Style Approach, Global Health Forum 2010.
Brookmeyer, R, Gray, S, and Kawas, C (1998). Projections of Alzheimer's Disease in the United States and the Public Health Impact of Delaying Disease Onset. American Journal of Public Health. Accessed February 1, 2011.
Center for the Study of Presidency and Congress Commission of U.S. Federal Leadership in Health and Medicine: Charting Future Directions. A 21st Century Roadmap for Advancing America's Health: The Path from Peril to Progress. Washington, DC: 2010.
Cohn, D and Taylor, P (2010). Baby Boomers Approach Age 65 - Glumly. Pew Research Center. Retrieved January 5, 2011.
Collins, SR, Doty, MM, and Garber, T (2010). Millions of Baby Boomers Will Gain Coverage Under Health Reform, Especially Those in Southern and Western States. The Commonwealth Fund. Accessed January 5, 2011.
Collins, SR, Doty, MM, and Garber, T (2010). Realizing Health Reform's Potential: Adults Ages 50-64 and the Affordable Care Act. The Commonwealth Fund. Accessed January 5, 2011.
De Cabo, R. The Science of Aging and Longevity. Healthy Aging Globally: A Life Style Approach, Global Health Forum 2010.
Henig, RM (2010). What Is It About 20-Somethings? The New York Times. Retrieved January 3, 2011.
H.R. 3590--111th Congress: Patient Protection and Affordable Care Act. (2009). In GovTrack.us (database of federal legislation). Retrieved March 11, 2011.
Mechanic, R and Altman, S (2010). "Medicare's Opportunity to Encourage Innovation in Health Care Delivery." New England Journal of Medicine. Accessed Jan. 18, 2011.
Nielsen Online (2010). The World in 2010: Facts and Figures. International Telecommunications Union. Accessed February 15, 2011.
U.S. Department of Health and Human Services (2010). Center for Medicare and Medicaid Innovation. Accessed Jan. 18, 2011.
Popular in the Community