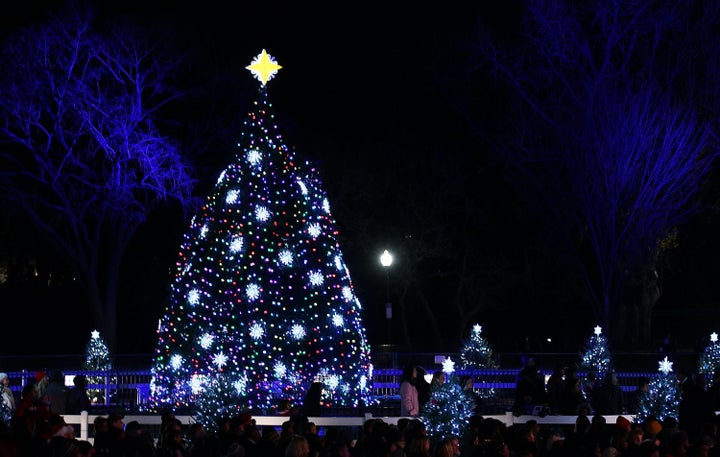 Everyone wants to achieve happiness over the holidays and who says you can't? It is often assumed that people in their 20s and 30s are the most excited and happy with their lives. But according to a recent survey from OurTime, the largest online dating community catering to singles over 50, the opposite is true. In fact, 82% are happier with their life now than when they were younger.
With age comes a wisdom, and by the time you're in your 50's you begin to see the larger picture without sweating the small stuff. Your 20s and 30s are all about "the next best thing" -- whether it be a job promotion, a new apartment or a fling. But now you're at the stage in your life where you can slow down and reflect on what makes you happiest, and with whom you would like to share this happiness with.
When it comes to love, you realize the significance and value of companionship. According to the OurTime survey, 89% of singles over 50 are at a point in their lives where they feel fulfilled and are looking for someone to share their lives with. They know what makes life rich and satisfying, and are able to express it. Don't be afraid to share with a potential partner what places you'd like to visit, what genre of movies is your favorite and most importantly, what aspects of a relationship are most significant to you.
And when it comes to the bedroom, don't think the same doesn't apply. Data throughout history show that fulfilled relationships boost mental and psychological health, as well as physical health. While most people think that once you hit a certain age, your desire for a sexual connection decreases, OurTime's survey shows that a whopping 95% of singles over 50 consider sex an important part of their romantic relationship. Furthermore, 77% feel more comfortable discussing sexual needs and desires with their potential mate than when they were younger so don't be afraid to speak up.
While you think this time in your life can't get any better, it can. Share it with someone special. Communicate your needs and desires. And while the year is wrapping up, take the time to appreciate what makes you happy. Think about goals you would like to set for yourself to achieve a satisfying relationship in the new year. What simple changes or resolutions do you want to make in 2012 to make you happy?
Whether you are beginning to date, or are in a long-term relationship, here are some helpful tips to achieve dating bliss around the holidays and for a successful start to a new year.
• Ask questions. Don't spend the entire first date talking about yourself. Instead, ask the other person questions about themselves, what they like to do, and their favorite activities. Someone who asks questions is seen as interesting and attractive on first dates. If your date asks you question after question, which may be a nervous defense to avoid having to talk about him or her, take charge and say, "Enough about me. I'd love to hear a lot more about you."

• Plan ahead. Take time to think about what you'll do and say on the first date. People often don't get second dates because they do mindless dating. They just don't put enough thought into their first-date presentation. The OurTime findings indicate that boomers are focused on compatibility and finding someone who makes them happy. So plan ahead, rehearse what you might say, and make sure you set your first date apart from the typical first date of drinks and a movie.
• Early on, don't sweat the small stuff. Don't focus on the small things or annoyances when looking for that someone special to date. Don't wonder whether he likes to ballroom dance or whether she loves to play golf. Instead, look for similarity in underlying values and attitudes. OurTime findings indicate that boomers are focused on compatibility. And, they are right in focusing on compatibility; studies show that similarity in underlying values and attitudes is what keeps relationships together over the long haul.
• Be positive and smile. If you are too serious, you might give off the vibe that you are "too much work to be with" and not much fun. Don't talk negatively about the weather, sports teams, politics, or anything else. Smiling will put your date in a good mood and generates a positive impression. Studies show that people are attracted to others who have a positive approach, are optimistic and look happy.
Already in a relationship:
• Slow down and appreciate. Yes, we are very busy as individuals. We take on too many responsibilities and tasks, particularly over the holidays. But don't put your relationship on the back burner. Don't wait until tomorrow. Take time today to notice what your partner is doing. Make sure your partner feels valued, loved, and appreciated. Remember that the OurTime results indicate that baby boomers are more confident in what they want out of life -- and companionship is at the top of their list!
• Learn how to be a better listener. Seventy percent of those surveyed would be absolutely willing to talk candidly about their sexual needs and desires with their potential mate. Are you sure you're ready to actively listen to what your partner has to say? Active listening is a conscious behavior that requires more than your ears. It uses your eyes, your body, and your mind. You need to be able to really hear what your partner is saying to you before you ask additional questions. When your partner reaches a stopping place, think for a few seconds, and then respond. If you don't entirely understand or want more details or clarification, ask for it.
• Check body language. Miscommunication can occur when y our partner misinterprets the message or information you send to him or her. Pay attention to your body language and whether it is consistent with what you say. When you talk with your partner, make eye contact, nod your head, turn your body toward your partner, and lean forward rather than away from your partner. Also, use body language cues that convey confidence.
• Practice talking sex with same-sex friends. Do you have to talk about sex with your partner to have a sexually satisfying relationship? No, but it certainly can't hurt. Studies show that talking openly about sexuality can significantly improve your relationship and sex life. But many baby boomers may not have a vocabulary to discuss sex with their partner. They may have learned at a very early age that sex isn't something they discuss with others. If this is the case, try to discuss sexuality openly with your same-sex friends, and ask them for advice and help. And remember, differences in desires and wants between you and your partner don't mean that you and your partner are incompatible.

Calling all HuffPost superfans!
Sign up for membership to become a founding member and help shape HuffPost's next chapter