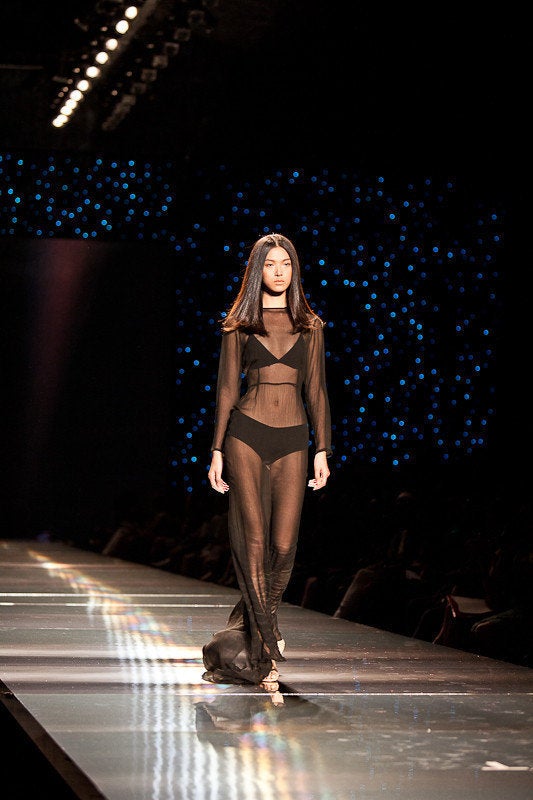 Fashion Week has come to a close. For the last seven days, New York was abuzz as the celebration of chic sets the standard for global style. And as all of this pageantry took center stage, as a woman over 50, I feel like a kid whose nose is pressed up against the candy store glass. I can see the beautiful fashion confections but they remains tantalizingly out of reach.
For me, all the hoopla is one humongous marketing platform where high fashions meets titan brands like American Express, Fiber One, Maybelline and Mercedes-Benz. All this marketing muscle is aimed squarely and almost exclusively on women in the "prime" 18-to-49 target.
We woman of the 50+ set are on the fashion outside looking in.
This seemed to be a puzzle. You would think that these fashion companies and brands would want to reach women 50+. We are brand loyal, affluent and drive much of the spending decisions in our households. Yet from fashions or brand messages that are geared to a woman 32, ideally with an anorexic build, the 50+ group is routinely sidelined, ignored and generally absent from the scene. It's not an overstatement to say Madison Avenue is making a fashion statement about Boomers -- we somehow just became style-challenged.
I pondered this puzzle aloud with a colleague, Peter Hubbell, CEO of BoomAgers. As a former Saatchi Board member who recently launched his agency focused on Boomers, Peter's expertise in marketing goes deep given his years leading the largest of brands like P&G.
His explanation for why we women Boomers are ignored was a sobering revelation.
Historically, he explains, as mass marketers, Madison Avenue has long focused on 18-to-49-year-old segment as that coincided with the coming of age of a massive generation. In 1964, the first of the Baby Boomers turned 18 and that was the birth of the fashionable 18-to-49 age group. At 80 million strong, there was good reason for brands like Pepsi to declare that it was the choice of a "new generation."
It was the dawn of the modern age of branding and consumerism (think Mad Men) where a pair of jeans worn by James Dean became an iconic uniform of youthful rebellion selling millions of jeans really fast. The math was compelling for marketers. Whether influencing hemlines or headlines, this generation's sheer size has created the big brands that matter. Madison Avenue simply followed the money and created an advertising industry to market to this very sizable and increasingly affluent segment.
Alas, while once the darlings of Madison Avenue, Boomers now appear to be its fashion victims. In some perverse Peter Pan kind of way, while Boomers have aged, the tactics of Madison Avenue have not. By 2014, all those 80 million Boomers will be 50 or older, and yet, despite the size of the group, if you are outside the 18-to-49 main audience that Madison Avenue targets -- you've crossed the industry's arbitrary line that divides the alleged "haves" of the 18-49 cohort from the "have-nots" of the 50+ segment.
That's a costly mistake many marketers make, Hubell says. Why?
In 5 years, 50 percent of the U.S. population will be 50+ and they will purchase more than 50 percent of all consumer packaged goods. Less than 5 percent of advertising dollars target them.
These same people will control 70 percent of disposable income ('nuf said).
Between now and 2030, the 18-to-49 segment is expected to grow 12 percent, while the 50+ segment will expand 34 percent.
People 65 and older will soon outnumber children under 5 for the first time in history.
The Boomers have been, and will continue to be too important to ignore, despite the marginal treatment from Madison Avenue. And as Madison Avenue mulls, the strong brand fashionistas are moving. Pantone, for example, a global authority on color, just released its Fashion Color Report for spring 2013. Care to guess what one of the next trendy colors is going to be? Gray.
William Arthur Ward once said: "Ignore me, and I may not forgive you. Encourage me, and I will not forget you." Listen up Madison Avenue: Ignore us at your own peril.