Adrienne Herrick seems to have that sixth sense mothers talk about. When her daycare called her at her call center job on Aug. 12, she knew immediately that something was very wrong.
When she got to Botsford Hospital in Farmington Hills, Mich., a police officer met her at the door. He told her that her 5-month-old baby boy, Cameron Herrick, was in critical condition.
Cameron had somehow swallowed his infant pacifier and it was lodged in his throat. Doctors immediately began performing life-saving measures on Cameron, but they couldn't remove the pacifier.
"It was the scariest case in my 10 years of practicing," said Dr. Angel Chudler, who met paramedics wheeling in Cameron at the entrance to Botsford Hospital that day.
Pacifiers are a common accessory to any infant like Cameron Herrick. Babies have a strong reflex to suck on things, as anyone who has stuck their finger in a baby's mouth knows all too well (good luck getting your thumb back!) More than satisfying a biological instinct, pacifiers often soothe infants and help them fall asleep. They may also reduce the threat of sudden infant death syndrome (SIDS). In fact, the American Academy of Pediatrics (AAP) recommends that babies up to 1 year old use pacifiers at bedtime and while napping because studies suggest that pacifiers cut that risk.
"That pacifier is as big as his face," mother Adrienne Herrick told The Huffington Post. She still doesn't understand how such a large object could have gotten so far down her son's throat.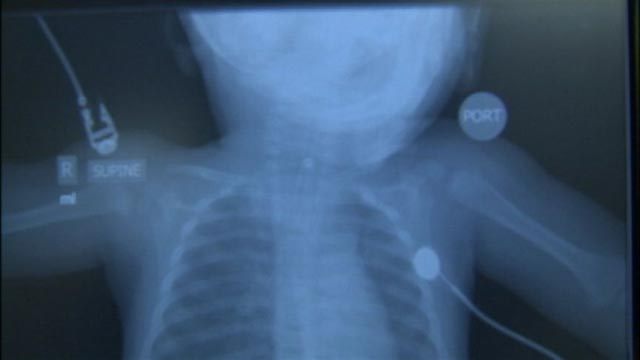 Cameron Herrick's X-ray from Botsford Hospital. Doctors had to perform a rare needle cricothyorotomy to get Cameron enough oxygen for the 5-month-old infant to survive surgery after swallowing his pacifier (via Fox 2 Detroit video).
While an infant choking on a pacifier is a rare occurrence, it isn't unique. The nonprofit Kids In Danger reported that, as of 2012, 12 pacifiers had been recalled for posing safety risks to infants. A review of recent product injury reports from SaferProducts.gov, the consumer incident database at the US Consumer Product Safety Commission, shows 68 reports of choking incidents and other safety hazards involving pacifiers through mid-2011. Read more about the pros and cons of pacifiers.
In the rate occasion that an infant swallows a pacifier, the impact is life-threatening. Cameron was facing almost "certain death", according to Botsford Hospital, which chronicled the emergency on their website.
Cameron was turning grey and his heart rate was dropping. Doctors told Fox 2 Detroit that he was only receiving 20 percent of a normal infant's oxygen supply. Every breath he took meant that large pacifier slipped farther down his throat. That meant doctors had to do a rare cricothyrotomy, inserting a needle into his trachea so he could receive oxygen around the pacifier obstructing his airway.
That bought doctors enough time to wheel Cameron into surgery, where a team of doctors, nurses and surgeons worked to remove the pacifier, piece by tiny piece, until his tiny trachea was clear again. The baby was then transferred to Children's Hospital and put in a medically-induced coma until he could recover.
Now 7 months old, Cameron is healthy and happy, his mother said. She is, too.
"I would give every single doctor in this hospital an organ if I could, I told them that." Herrick said. "They saved both of our lives. They saved his life ... and I wouldn't be here if they hadn't saved him."
But she says Cameron won't be using a pacifier anytime soon. Her grandma went home and threw them all out.
"He sucks his thumb now," Herrick told The Huffington Post. "I don't care. I'll get him braces when he gets older."
She summarizes that awful day in one simple sentence: "It's a day he'll never remember, and a day I'll never forget."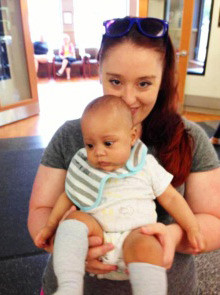 Cameron Herrick and his mother Adrienne returned to the Botsford ER to personally thank the hospital staff for saving Cameron's life after the infant swallowed a pacifier. Photo courtesy of Botsford Hospital.
Calling all HuffPost superfans!
Sign up for membership to become a founding member and help shape HuffPost's next chapter
BEFORE YOU GO
PHOTO GALLERY
10 Reasons Why Maternal & Child Health Matters