A horrific car crash that ejected an 8-month-old girl ended with what is being called a miracle after the infant was found unharmed in a storm drain, fire officials said.
Firefighters searching for the child along an Arkansas highway Friday made the discovery after coming upon the drain in the center of the median, Texarkana Fire Marshal Steven Johnson told The Huffington Post.
"They could see the baby, the 8-month-old, looking up at them" from between the drain's bars, he said. "They just reached down into it and pulled her out." 
"She just has a couple scratches on her," Johnson said. "She did not cry until she got into the ambulance."
Johnson credited Smith and fellow firefighter Josh Moore with finding the child, with the help of a good Samaritan at the scene. The station said Moore was visibly emotional as he spoke to reporters. 
"Up until we heard her, I was just worried about it being more of a recovery rather than a rescue, but once we heard her, it was just a sigh of relief," he told the local TV station.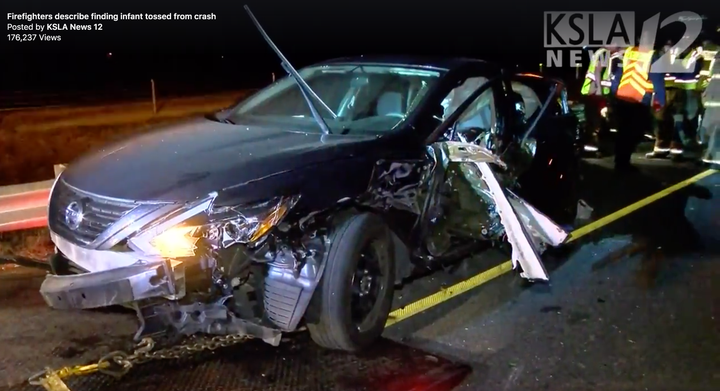 "They were just relieved," Johnson said, "and I believe one of the firefighters described it as a miracle."
Moore echoed that sentiment.
"There had to be some kind of divine intervention for her to end up being OK," he told the station.
No injuries were reported in the crash, which involved an 18-wheeler. The driver of that truck was cited for an improper and unsafe lane change, KSLA reported.
Police told the station that the infant was sitting in a car seat at the time of the crash, but the seat was not properly installed and the baby was not properly fastened. There were no citations related to the lack of restraints. 
REAL LIFE. REAL NEWS. REAL VOICES.
Help us tell more of the stories that matter from voices that too often remain unheard.
BEFORE YOU GO