I recently traveled to Zambia to report on an organization that works to save baby elephants -- many of them are victims of the current poaching crisis in Africa.
The ongoing slaughter of Africa's elephants has left tens of thousands of elephants dead.
Teased out of these numbers are entire families: mothers, aunts, sisters, cousins, fathers, and brothers. Some of them, of course, are babies. In some instances, in fact, it's the babies the poachers have specifically targeted. The 2012 poaching rampage inside Bouba Ndjida National Park in Cameroon lasted nearly three months. Toward the end of the massacre, in which 650 elephants died, Celine Sissler-Bienvenu, of the International Fund for Animal Welfare (IFAW), surveyed the scene.
She deduced -- based on the lacerations she found on some of the calves' bodies -- that the poachers possibly used the babies as "a way for a poacher to be trained on killing elephants. Or, we also think it may have been a tactic: To torture the younger elephants to get the adults to come around. So they [could] kill them all."
The number of calves that have perished in this current poaching wave is unclear. Also unknown is how many babies survive. And even if a calf manages to outlive an assault, the chance of that youngster making it in the wild without its mother is negligible.
This past March, a baby elephant did make it through a widely publicized massacre in Chad, which left more than 86 elephants dead, including pregnant females. According to Jenny Webb, cofounder of Wildlife At Risk (WAR), a Netherlands-based organization working to help orphaned wildlife, the calf ran 30 miles away from the massacre site, and then ran 30 miles back--presumably to find his mother.
Despite WAR's efforts to save the baby, Webb says he died a few days later. "[Before I got to Chad] villagers tried to help him, but unfortunately they gave him cow's milk, which is a death sentence. The cow's milk poisoned his system. When I got there, I could tell by just looking into his eyes that his eyes were already dead. He had already given up."
Amid the tragedies, however, there are surprises. Some elephant babies do survive. And this is when elephant orphanages are needed.
Six young elephants currently live at the Elephant Orphanage Project (EOP) in Zambia, one of only two official orphanages in all of Africa. The elephants range in age from four months to three years, and they roam their seven-acre homestead in a kind of affectionate, pachyderm gang.
At some point, each elephant had been traumatically separated from its biological family, so the youngsters have stitched together a new one. "These elephants stay together because they are now living as a family unit," says Rachael Murton, the project manager of EOP.
"By nature elephants are herd animals. So, even though they were are all initially complete strangers, they've formed a surrogate herd, a surrogate family, and they've have all become very close to one another."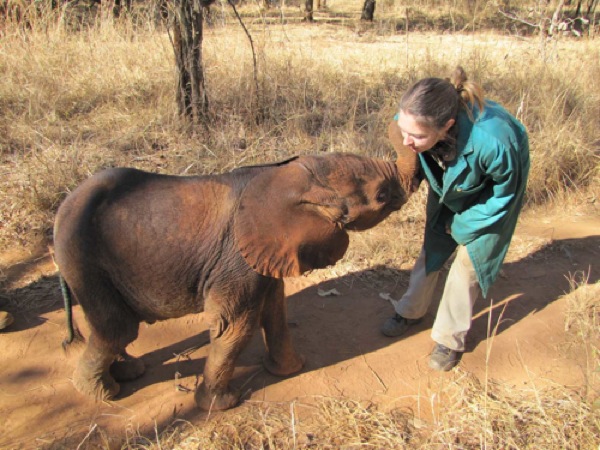 Murton, a U.K. native, has been with the Elephant Orphanage Project since its inception in 2007. The nursery -- officially called the Lilayi Elephant Nursery -- is located just outside the capital city of Lusaka.
Inside the gates, the elephants are kept under the collective eye of a group of human "keepers," who not only provide the toddlers security but also feed them bottled milk formula every two to three hours around the clock.
When an elephant arrives at the nursery, it is given a name, often based on the circumstances of its rescue. Musolole, for example, was a five-month old when poachers shot his mother in 2011.
Officers from the Zambian Wildlife Authority (ZAWA) -- the wildlife resources arm of the Zambian government -- heard the gunshot. They found the poachers as they were hacking the tusks out of the mother's face, her calf standing nearby.
Gunfire was exchanged, and two ZAWA officers ultimately died; one of them was named Musolole.
"It was a traumatic case," Murton says. "We didn't understand the full story until we got there. We just had a phone call saying, 'Look there's a tiny elephant -- you need to go to this location and pick it up.' And when we got there, [the officers] were emotional because two of their colleagues were shot dead. But they also had managed to rescue this baby elephant."
The officers asked Murton to name him Musolole. "There was so much pressure that this young elephant didn't die on us," Murton says. "Everyone was seeing him as a symbol of hope." Today, Musolole is a sociable and healthy two-year old.
When EOP was launched, rescuers brought in two orphans a year. Now, Murton says, the organization receives six to seven calls annually. She attributes this swell to the surge in poaching, from which "Zambia is no exception."
But she also thinks there is increasing awareness about EOP. First, the nursery gives free, daily talks about the project and the elephants. Also, EOP has a weekly presence on a rural community radio show.
Murton believes this show was instrumental in the rescue of the most recent elephant, a four-month old named Nkala. "The community, as soon as they found him, phoned ZAWA and said, 'Send up the elephant orphanage, we've heard about them on the radio!' And that was great, the fact that the community -- rather than eating Nkala or leaving him [to die] -- knew there was a place that he could go."
Nkala has been at EOP for more than a month now. A tiny thing, he's inquisitive and confident, but hasn't fully integrated with the herd.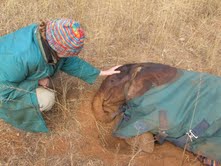 "He's still going through a bit of a depression," Murton says, stroking him. "He's lost his family, and he's not entirely bonded with these other elephants yet. He's probably very sad. It can take a long time."
To read more about what happens to the elephant orphans when they are ready to be released back into the wild, please go to the complete article, which was originally published in National Geographic.
Calling all HuffPost superfans!
Sign up for membership to become a founding member and help shape HuffPost's next chapter